How The Good Doctor Fans Are Handling Shaun And Lea's Big Reveal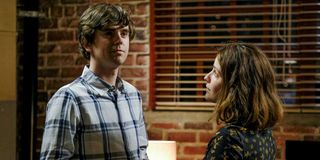 Spoilers ahead for Episode 11 of The Good Doctor Season 4 on ABC, called "We're All Crazy Sometimes."
ABC's medical drama The Good Doctor just set up quite the complicated life update for Freddie Highmore's Shaun and Paige Sparal's Lea, who dropped a major bombshell on everyone in the final seconds of the episode, telling Shaun that she's pregnant. The news came as a surprise to many fans watching, and while some were ecstatic that "Shea" will be having a baby, others are interested in different storylines.
Arriving home after getting Lea's car back from the impound lot, Shaun and Lea couldn't stop talking about what happened. Shaun told Lea she'd been crazy and that he needed to help her see what's right, but when Lea admitted to Shaun that she just found out she's pregnant, Shaun didn't say anything. With the background music swelling over Freddie Highmore and Paige Spara's emotional acting, the scene was quite moving, with one user tweeting:
On the opposite end of the pregnancy-appreciation spectrum, the viewer below expressed much disappointment with the writers of the show, which she doesn't appear to love as much as she used to, due to Shaun and Lea's storyline:
Although Shaun and Lea will be adding a baby to their already busy lives, some fans don't care as much about seeing that storyline. play out. Rather, they want to see more of Morgan and Park, who have been getting closer ever since Park moved into Morgan's place. For example:
The Good Doctor was not the only show on Monday night to end on a cliffhanger going into a weeks-long hiatus. The CW's All American, as well as FOX's 9-1-1 and 9-1-1: Lone Star, also had their most recent end in ways that were simply too much for fans, like the one below. (SPOILERS for 9-1-1!)
Although a lot of fans are pointing out how unlikely and impossible this storyline is, considering who Shaun is, most are very happy for the couple and excited for Baby Murphy to make its way into the world:
After starting off as friendly neighbors, Shaun and Lea's relationship has been consistently rocky at points, between the pandemic, their move-in together and Lea's divorce. However, the two never stopped fighting for each other, even if they were seeing other people. When the series began exploring their physical intimacy throughout Season 3, with Shaun asking his coworkers for advice, I doubt audiences predicted the pair would take things to the pregnancy level so soon.
What this news means for Shaun and Lea moving forward is unclear, but when the series returns in two weeks, the two will be discussing it with each other, as well with people like Dr. Glassman and Claire. While Lea has doubts and is scared, Shaun makes it clear that he's excited and he wants to have the baby. Go figure. What will happen with Shaun, Lea and the baby? Find out when The Good Doctor returns to ABC on Monday, March 22 at 10 p.m. ET.
Passionate writer. Obsessed with anything and everything entertainment, specifically movies and television. Can get easily attached to fictional characters.
Your Daily Blend of Entertainment News
Thank you for signing up to CinemaBlend. You will receive a verification email shortly.
There was a problem. Please refresh the page and try again.