Is The Good Doctor Going To Ruin Shaun And Lea's Relationship After The Latest Development?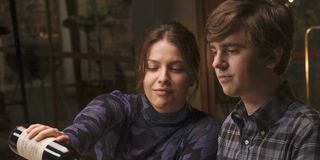 (Image credit: ABC)
Spoilers ahead for Episode 8 of The Good Doctor Season 4 on ABC, called "Parenting."
Shaun and Lea have faced their share of challenges on The Good Doctor from almost the very beginning, and their relationship didn't suddenly become easy as soon as they officially got together at the end of Season 3. Still, the fourth season has seen their relationship survive everything from a pandemic that kept them physically apart to a very early move-in together to a reveal about an ex-husband, and they just overcame the latest challenge of her parents visiting. But will the next episode ruin everything despite the latest positive development in "Parenting"?
The arrival of Lea's parents didn't actually pose as much of a problem as Lea feared, although not for a lack of tactlessness from her parents toward Shaun. For his part, he took their comments about his autism in stride and established himself as the person who loves Lea most in the world, ultimately impressing her parents.
In the very same episode, Lea even made strides toward impressing Dr. Glassman, who got some screentime and is always going to worry about Shaun no matter what. Shaun and Lea sure seem like an unsinkable ship after "Parenting," and if not for the trailer for the next episode, I wouldn't think there was all that much to worry about with the team of doctors at St. Bonaventure other than Dr. Lim refusing to deal with her PTSD.
Unfortunately, the trailer for the next episode revealed a twist that could ruin everything wonderful that The Good Doctor has built with Shaun and Lea over four seasons of ups and downs. Just when the ups were outnumbering the downs, a third party could come in to mess things up. Take a look:
Things were going so well! The trailer reveals that Shaun has been talking to the new radiology resident and thinks she's "very talented," and that of course shouldn't be a big deal. Shaun is allowed to talk to women, after all! Unfortunately, there must be something that stands out about it for Park to mention it, and Shaun is even accused of crushing on this newcomer. The final shot of the trailer is even the new doctor seemingly going in for a kiss with her hand on his face.
In Shaun's defense, he isn't leaning into her in the trailer, and promo footage can always be misleadingly cut. Besides, breaking them up when they live together seems needlessly complicated. Still, he says that he's having thoughts that he doesn't want to have, and wonders "shouldn't loving Lea make it go away?" There's even a shot of Lea looking upset. Whether or not the kiss actually happens, it looks like this could be one of the bigger obstacles Shaun and Lea face in their relationship so far.
Not that this really helps, but I will say that the actress playing the radiology resident looks a lot like Paige Spara, to the point that I honestly thought the resident was Lea at first in a couple of the shots. Seriously, if you told me that the actress who plays the resident is Spara's stand-in, I would have no trouble believing it. That wouldn't justify Shaun kissing her if that's what happens, but I do wonder if the resemblance will be relevant to the plot or not.
Unfortunately, fans will have a bit of a wait before seeing what happens between Shaun and this newcomer. The Good Doctor won't be back with its next new episode until Monday, February 15 at 10 p.m. ET on ABC. There are plenty of viewing options otherwise, but what happens next for The Good Doctor's central relationship will have to remain unknown for another few weeks.
Resident of One Chicago, Bachelor Nation, and Cleveland. Has opinions about crossovers, Star Wars, and superheroes. Will not time travel.
Your Daily Blend of Entertainment News
Thank you for signing up to CinemaBlend. You will receive a verification email shortly.
There was a problem. Please refresh the page and try again.