The Good Doctor Will Explore The 'Physical Intimacy' Between Shaun And Lea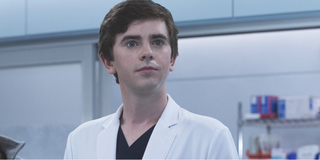 Spoilers ahead for The Good Doctor's Season 3 fall finale, titled "Friends and Family."
In the fall finale of The Good Doctor, Dr. Shaun Murphy had to deal with past demons while visiting his estranged and terminally ill father, Ethan. While that family reunion didn't go according to plan, Shaun found surprising comfort in the arms of Lea, and not budding romantic partner Carly. The Good Doctor showrunner David Shore has confirmed that the series will explore the "physical intimacy" between those two characters going forward.
Season 3 of The Good Doctor, which got a 25% boost in ratings last week, hasn't been easy on Freddie Highmore's Shaun. The recent family reunion was probably meant to offer some closure, but it ended with Ethan lashing out at Shaun for his brother's death. Understandably upset, Shaun willingly accepted Lea's embrace, and in fact seemed way more comfortable receiving affection from her than from Carly. Was this done on purpose?
Here's what The Good Doctor's David Shore had to say about it:
It's an interesting direction to take with Shaun and Lea, because Carly is still very much in the picture on the romance side. If Shaun's comfort level with Lea does factor into his future with Carly, then it sounds like only the beginning of the end for the latter. Remember that disastrous first date in the Season 3 premiere?
Speaking of Carly, she probably won't be pleased with this turn of events. After all, Lea and Glassman tried to persuade Shaun to call her about his trip to see his family, but Shaun decided against it. That will come back to haunt him and it sounds like things will only get worse before they get better.
In his interview with TVLine, David Shore says that Carly will call Shaun out about his decision to push her to the side.
Prepare for rough waters ahead! Hopefully, Carly and Shaun will be able to sort through this kerfuffle and find some solid ground when The Good Doctor picks back up on Monday, January 13 at 10 p.m. ET on ABC.
In the meantime, be sure to check out our complete TV guide to see what else is premiering before the end of the year, as well as all the shows coming in 2020.
Your Daily Blend of Entertainment News