The Smart Way The Jack Reacher Novels Are Being Adapted For Amazon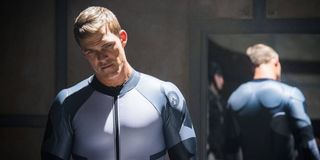 Adapting a beloved novel for a movie or television series is no easy task, just ask the Game of Thrones show runners. Most book adaptations are forced to leave out a number of details from the source material due to runtime constraints, which may upset longtime fans. However, the upcoming Jack Reacher series at Amazon has a smart way of navigating the dense source material.
Alan Ritchson, who will play the iconic Jack Reacher in the television series, recently revealed exactly how the show will cover the long-running book franchise. He shared the details on Amazon's upcoming adaptation in an interview with Collider:
According to Ritchson, the team behind Jack Reacher will be covering a book every season. He went on to explain why the approach would be so enjoyable for fans, highlighting the slow burning thrills that the books are known for. Hopefully, this means that the cast and crew will be able to cover more territory from each novel, without having to leave plot sections on the cutting room floor.
The Jack Reacher series is based upon the popular book franchise by British author Lee Child. Since releasing the first entry, Killing Floor, in 1997 Child has written a total of 25 Jack Reacher novels, selling over 60 million copies world-wide. The books follow Jack Reacher, a former US Army Major, who doles out vigilante justice in his escapades across the United States and Europe.
It sounds like Amazon will be picking up the story right where it all started and then devoting a season to each subsequent book, which may please fans of the series. The upcoming Amazon show isn't the first time Jack Reacher (not to be confused with Amazon's Jack Ryan) has been adapted. Hollywood icon Tom Cruise starred in 2012's Jack Reacher and it's 2016 sequel Jack Reacher: Never Go Back.
While the big screen adaptations weren't necessarily loved by critics, they made a decent chunk of change at the box office. I can only imagine how they would have played out if Dwayne 'The Rock' Johnson wasn't passed over for the titular role of Jack Reacher. Despite interest from Tom Cruise himself, a more visceral third entry into the Jack Ryan movie series has been shelved.
Fans of the Jack Reacher series may be in for a wait. While the idea of dedicating a whole season to each book is certainly promising, it will undoubtedly take a bit more time to complete. As of now, there's no release date for the show, but you can stay up to date on the latest heading to a small screen near you with CinemaBlend's 2021 winter and spring premiere schedule.
Into tracksuits by Paulie Walnuts, the Criterion Channel and Robert Eggers.
Your Daily Blend of Entertainment News
Thank you for signing up to CinemaBlend. You will receive a verification email shortly.
There was a problem. Please refresh the page and try again.