The Office Fan Attempted To Use John Krasinski's' Face In Bizarre Unemployment Scam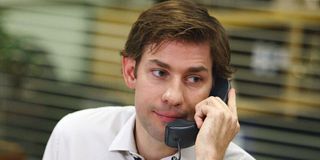 The Office has experienced a surge in popularity in the years since it ended its nine-season run in 2013 thanks to streaming services, and now one man in Michigan has attempted to use star John Krasinski's face for a scam that not even Jim Halpert would have tried on Dwight Schrute. Krasinski's face was used in one man's effort to scam unemployment benefits in Michigan.
A man in Michigan submitted a fake ID with a photo of John Krasinski to try and fraudulently receive unemployment benefits, according to the Unemployment Insurance Agency (via Detroit Metro Times). Krasinski is arguably best known for playing Jim Halpert on The Office (although he has made a name for himself in drama and action-packed projects in the years since), but the photo chosen by the man isn't one from Krasinski's later years as Jim. Take a look:
It's hard to say what the oddest thing about this man trying to use a photo of John Krasinski for unemployment benefits is, but there is no shortage of options. First and foremost is, of course, that Krasinski is very recognizable as an actor. Between The Office, Tom Clancy's Jack Ryan over on Amazon in the title role, and A Quiet Place (with a sequel that just received a new premiere date), Krasinski has starred in high-profile projects across multiple genres. If you're going to steal somebody's identity, a successful actor isn't the way to go!
Of course, the man – whose first name is evidently Husayn – did use a picture of John Krasinski looking younger than the present day, so the photo does more or less fit with the listed date of birth in 1998. And since it's just a shot of Krasinski's head, there's no way to tell that that Krasinski is well above six feet tall.
Still, it seems that Husayn simply filled in either his own information or some non-John Krasinski information for the details of the ID, and choosing an image of a man not wearing glasses for an ID that's labeled "corrective lens" seems a little short-sighted. Sure, there are always contact lenses, but all things considered, I'm not surprised that Husayn was caught for a number of reasons.
Maybe this man watched the episode of The Office of Jim stealing Dwight's identity a few too many times? Or maybe he thought all it would take is the right amount of confidence to pull off an "Asian Jim" scenario, even if Randall Park was not involved. It's not clear what consequences the man will (or won't) face for attempting to scam unemployment benefits, but I'm guessing that it's safe to say that he won't try this again.
If you want to see the real John Krasinski in action back in his Jim Halpert days, you can find The Office streaming on Peacock now that it has made its move over from Netflix. Peacock reportedly paid a pretty penny to get the classic NBC show back from Netflix and hold exclusive rights.
Resident of One Chicago, Bachelor Nation, and Cleveland. Has opinions about crossovers, Star Wars, and superheroes. Will not time travel.
Your Daily Blend of Entertainment News
Thank you for signing up to CinemaBlend. You will receive a verification email shortly.
There was a problem. Please refresh the page and try again.