Netflix Head Honcho Explains Why The Streamer Is Not Worried About Losing The Office Or Friends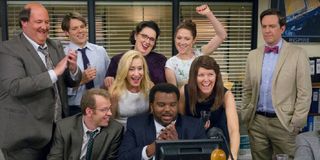 Although Netflix renewed their to deal to keep streaming Friends, the popular NBC comedy is officially saying goodbye come January 2020, which is when the series will be moving to HBO Max. Meanwhile, NBC's other hit comedy, The Office, is slated to leave the streaming service in 2021. While millions of subscribers have enjoyed watching these shows on Netflix, the streaming giant is not very concerned about losing either.
When it was announced last year that Friends would be leaving Netflix on January 1, 2019, fans were upset and took their grievances to social media. The outcry was such that it didn't take long for Netflix to broker another (brief) deal with AT&T and WarnerMedia to extend the streaming life of the popular comedy. That deal only lasted an additional year, though. With the news that The Office will also be saying goodbye eventually, many assumed Netflix would lose out on a ton of subscribers.
However, speaking at Vanity Fair's New Establishment Summit (via CNN), Netflix's chief content officer, Ted Sarandos, says he isn't concerned about losing both Friends and The Office and he has a pretty good reason for why that is.
He's got a point. Netflix has already invested billions of dollars over the years to bring subscribers original series and they've proven they can compete with other networks in this arena.
With everything from Orange is the New Black to Mindhunter, and The Crown to On My Block, the streaming service has a lot to offer their viewers. They also shelled out a lot of money for Seinfeld, so there's plenty for fans to look forward to.
Losing Friends and The Office was going to happen eventually, as it was only a matter of time until new streaming services scooped them up. At the end of the day, the loss is unlikely to be completely catastrophic for Netflix. In fact, Ted Sarandos isn't shy about taking some of the credit for Friends and The Office's "enduring success." After all, their availability on Netflix allowed a new generation of fans to access and enjoy both series. I can't argue with that.
In terms of original programming, Netflix is on a roll, debuting a plethora of new shows and movies each month. For the first time ever, the streaming service released the ratings for their most-watched shows from the last year. Unsurprisingly, Stranger Things took the top spot with over 64 million viewers.
With so many shows to watch on Netflix, though, a guide is always needed. So, be sure to check out all the new movies and TV shows coming to the streaming service in November which will help carry you through the loss of Friends and The Office.
Your Daily Blend of Entertainment News