Legends Of Tomorrow Star Explains Why Charlie And Zari's Kiss Was Cut From Season 5 Finale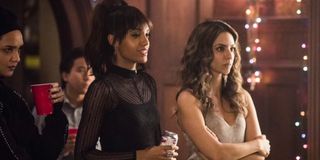 Season 6 of DC's Legends of Tomorrow finally premieres in early May, but some fans are still not over the Season 5 finale, especially after learning that a kiss between Maisie Richardson-Sellers' Charlie and Tala Ashe's Zari was cut from the final product. Now Richardson-Sellers is revealing to fans the reason for the removal.
Making tough decisions is part of everyday life, and no matter how much you love something it comes with a sacrifice. Maisie Richardson-Sellers took to Twitter after fans were wondering why Charlie and Zari's kiss was cut from the Season 5 finale. The actress mentioned that the tone of an emotional scene would have been changed by the kiss, and by trusting their instincts, they knew it was the right call:
The kiss in question would have happened between Charlie and Zari 1.0, according to executive producer Keto Shimizu. Charlie, knowing she'd never see Zari again since she would have gone back into the Totem, as she couldn't exist in the same timeline as her brother, Behrad, decided to take a leap of faith and kiss her goodbye. Both Zari and Charlie said their farewells to the Legends in the finale and went their separate ways. The already-emotional goodbye would changed a lot if the kiss had not been cut, so it seems like this choice was for the better, as it would have brought a completely different feeling into the scene.
Although it is possible Zari 1.0 could make a return, despite being locked away in the Totem, the possibility of Charlie returning has yet to be seen, as Maisie Richardson-Sellers officially departed the series after Season 5. How much would have changed, with both the scene and overall storyline, had they kept in the Zarlie kiss? Even though Charlie would have still left and Zari would have still been locked in the Totem, would the kiss have changed anything between the two Legends or even their teammates?
Only time will tell if Zari and Charlie can ever be together for real, and it would depend on whether or not Zari and Behrad can exist in the same timeline at some point.
While Legends of Tomorrow lost several cast members last season, it appears that won't be stopping the underdog Arrowverse series from kicking off Season 6 with a bang. Season 5 ended with fearless leader Sara (Caity Lotz) getting abducted by aliens and beamed up to a spaceship as the team wasn't looking. Without their captain, the Legends will be going a little bonkers, so it will be nice to get back to the lighter tone of Legends of Tomorrow, which made the show what it was.
Legends of Tomorrow premieres on Sunday, May 2, at 8 p.m. EST.
Passionate writer. Obsessed with anything and everything entertainment, specifically movies and television. Can get easily attached to fictional characters.