Legends Of Tomorrow Delivered A Big Zari And Constantine Twist, But Will It Stick?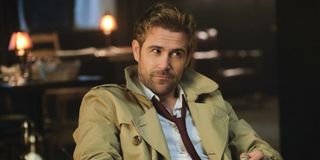 (Image credit: The CW)
Spoilers ahead for the May 19 episode of Legends of Tomorrow Season 5, called "I Am Legends."
Legends of Tomorrow went full Walking Dead and threw its heroes into the zombie apocalypse with "I Am Legends," which started out with some laughs but ended with a lot of death and despair. Before the zombies started chomping on Legends and the Fates started stabbing on board the Waverider, Legends of Tomorrow delivered an intriguing twist for Constantine and Zari, but I have to wonder: is it actually going to stick?
Zari and Constantine were teamed up from almost the beginning of the episode, when she gave him a well-deserved lecture about quitting smoking after his brush with death due to lung cancer earlier in the season. Their bickering continued as they went on a side quest to find a car to transport the Legends to London, slightly offset by the fact that Zari was in very real danger. The zombies weren't interested in Constantine due to his lack of soul, and his temporary immortality meant he was pretty safe anyway.
That wasn't the case for Zari, and she ended up having to trust Constantine to use magic to stop and then restart her heart to save her from the zombies. The tension just continued to build, and it finally broke later in "I Am Legends" when they started declaring that they would rather be with any other person at the end of the world. Naturally, since this is TV, they hooked up!
Normally, I would expect that Legends of Tomorrow would carry on with this development and force both characters to deal with the consequences, potentially with a little bit of Nate drama thrown in. Despite the Legends frequently using time travel to change things, they don't usually undo their own moves unless there were catastrophic repercussions. Considering what has been released about the next episode combined with how "I Am Legends" ended, however, Legends of Tomorrow might have a way to get out of any fallout from the hookup.
"I Am Legends" ended with some pretty big deaths, including Gary, Astra, and seemingly Sara. While Sara wasn't confirmed as dead like Astra was, even she wasn't going to escape being swarmed by ripping and tearing zombies. The rest of the Legends seemed pretty doomed as well, with only Charlie escaping to try and get the rings and stop the madness.
In photos for next week's episode, called "The One Where We're Trapped on TV," Sara is alive, well, and looking like the Legends of Tomorrow version of Star Trek's Captain Kirk, with Ava as Spock and Mick as Khan Noonien Singh. Other images show Astra up and at 'em, as well as several Legends dressed up and looking like they wandered onto the set of Downton Abbey. Among those dressed for Downton is none other than the dearly departed Behrad. No Supernatural this time, though!
Basically, it looks like Legends of Tomorrow is undoing some of the biggest things it did in Season 5 so far, and it seems Charlie and her sisters aren't wasting any time in making changes with the Loom. That's not to say that the changes will all stick and the characters who were killed off will all be back, but there are no guarantees that much of what happened in "I Am Legends" (including Zari/Constantine) will matter once "The One Where We're Trapped on TV" makes its changes.
Interestingly, the episode description courtesy of The CW doesn't mention any of the characters who were killed off or Zari and Constantine:
Legends of Tomorrow fortunately managed to finish production on its 2019-2020 TV season, which wasn't the case for the other Arrowverse shows. The show could still end on a cliffhanger, but not an unplanned one like what The Flash and Batwoman delivered. Of course, Batwoman will have an even bigger development to deal with next season after star Ruby Rose's big decision. For now, new episodes of Legends of Tomorrow air Tuesdays at 9 p.m. ET on The CW.
Most of The CW's series won't be back in the fall as usual in the 2020-2021 TV season, but there are plenty of shows to look forward to in the not-too-distant future. Be sure to check out our 2020 summer premiere guide for your upcoming options!
Resident of One Chicago, Bachelor Nation, and Cleveland. Has opinions about crossovers, Star Wars, and superheroes. Will not time travel.
Your Daily Blend of Entertainment News
Thank you for signing up to CinemaBlend. You will receive a verification email shortly.
There was a problem. Please refresh the page and try again.