After Shootings, Hawaii Five-0 Actor Daniel Dae Kim Took His Thoughts About Anti-Asian Violence All The Way To Congress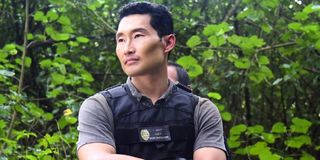 (Image credit: Hodinkee Youtube)
You may know him as the lovesick husband on Lost or the level-headed detective from Hawaii Five-0 but, in real-life, actor Daniel Dae Kim is also an advocate for justice. Following the Atlanta shootings this past week, Kim appealed to Congress about the rise of anti-Asian violence in America.
At a Congressional House Judiciary subcommittee hearing, Daniel Dae Kim virtually addressed the representatives and asked for the passage of the No Hate Bill and the Covid-19 Hate Crimes Act. Per Deadline, Kim said:
The situation that Daniel Dae Kim refers to in his address is the growing number of occurrences of violence and hate against Asian Americans. There have been numerous reports of attacks against Asian American citizens across the country as of late, many of which involve the elderly. Many believe the attacks directly correlate with the rise in racist rhetoric aimed at Asians in regard to the coronavirus pandemic. The latest tragic event in this growing patten was an incident in Atlanta, Georgia, which saw the murder of eight people, six of whom were Asian women, by a white man.
The situation received even more attention after the Cherokee County sheriff's spokesperson gave a statement to the press, saying the alleged killer was having "a really bad day" and that the murders were not racially motivated. In response to the officer's statement, Daniel Dae Kim said this to the subcommittee:
The Hawaii Five-0 actor also participated in a roundtable interview for Asian entertainers recently that included the likes of Olivia Munn, George Takei and Hari Kondabolu, to name a few, addressing the ongoing plight of Asian Americans. Takei noted that racism against Asians has a long history that dates to Japanese internment camps during World War II and beyond. The panel also discussed the need for further and deeper Asian representation in media, as well as the need for solidarity between the various minority groups. Daniel Dae Kim said at the panel:
It is disheartening to think that in many cases, necessary change and conversation happen only after shocking tragedies, as with the recent shootings in Atlanta. But perhaps we can all take a page out of the book of veteran actor Daniel Dae Kim, and others like him, by being proactive for causes that matter.
Freelance writer. Favs: film history, reality TV, astronomy, French fries.
Your Daily Blend of Entertainment News
Thank you for signing up to CinemaBlend. You will receive a verification email shortly.
There was a problem. Please refresh the page and try again.