Dang, Hawaii Five-0's Daniel Dae Kim Has Actually Been In A Ton Of Major Shows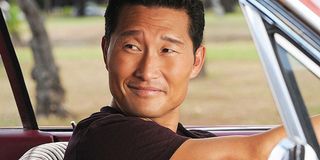 Daniel Dae Kim may have most recently been in the news for his bout with the virus currently spreading around the world, but he's also just had a sick run on TV recently, hopping from Hawaii Five-0 to The Good Doctor and now New Amsterdam. In fact it's been a solid run of TV shows for the actor, particularly in the network sphere, and if you know anything about Daniel Dae Kim, his iconic roles don't stop there.
In fact, Daniel Dae Kim has solidly done work on some major TV programs since his breakthrough in Lost back in 2004, though it's worth pointing out he had big roles in Crusade and Angel and even 24 before becoming a household name. Let's take a look at some of his biggest roles below.
Hawaii Five-0's Chin Ho Kelly
On CBS' recently ended popular series, Daniel Dae Kim played Chin from 2010-2017. He ultimately left the series before the end of its run due to himself and co-star Grace Park not being happy with their salaries at the network. The network ultimately did not reach an agreement with the actors, but they were still fondly remembered by the fanbase until the end of their runs.
Lost's Jin-Soo Kwon
Though Daniel Dae Kim was technically on Hawaii Five-0 for more episodes, Lost was really the series that brought the actor to the forefront and made him a household name on television. Jin is credited with appearing in 116 episodes of the hit series and the actor actually had to re-learn Korean for the role after having not spoken it since he lived at home with his parents.
New Amsterdam's Dr. Shin
Daniel Dae Kim was actually expected to be introduced on New Amsterdam at the end of the most recent TV season. However, NBC executives ultimately pulled that episode from the schedule, as it was expected to follow a flu epidemic hitting the hospital. Obviously, the timing wasn't great and it's unclear whether that episode will see the light of day; however, Kim will be rejoining the show for the 2020-2021 TV season in what is expected to be a recurring role.
The Legend of Korra's Hiroshi Sato
He's a man of many talents and did voicework for the popular animated series The Legend of Korra as well. Unlike some of the other shows listed so far, Hiroshi Sato only appeared in seven episodes of the iconic show's run. He popped up from 2012-2014, but as I said before, Daniel Dae Kim has been a part of a lot of big shows over the years, so voice work should be no surprise. Speaking of…
The Good Doctor's Dr. Jackson Han
Like New Amsterdam, Daniel Dae Kim was involved in The Good Doctor in an acting capacity. But The Good Doctor has also allowed the actor to flex his muscles elsewhere. He also executive produces the ABC series starring Freddie Highmore, which has been on the air since 2017. Also acting in the series you also executive produce? Not too shabby.
ER's Ken Sung And Other Guest-Starring Roles
Paging the doctor... again. No, but seriously, if you want to get into all of the guest stints Daniel Dae Kim has signed on for, he's been in even more shows than you can count. This includes Star Trek: Enterprise, in which he had a three-episode stint, as well as one off stints on a wide variety of major shows like Charmed, Walker, Texas Ranger, CSI, Without A Trace, NYPD Blue, and Beverly Hills 90210. Another big guest stint? Daniel Dae Kim had a role on ER well into that show's run, appearing during several episodes in 2003 and 2004. Back in Season 10, the actor played a social worker at the hospital for several episodes.
24's Tom Baker
Just before landing the role in Lost Daniel Dae Kim finally started gaining momentum on network TV. From 2001-2003 he popped up occasionally on Angel. Then, around the same time, he landed gigs with Star Trek: Enterprise and ER. Just before Lost, he nabbed a role in 2003-2004's 24 season, playing Tom Baker, going on field assignments with Jack Bauer during his stint on the show (which encompassed Day 2 and Day 3 that season). Then Lost came calling and the rest was history
These are some of the big shows that have come to define Daniel Dae Kim's lengthy and prolific career, but they aren't his only roles. He also has done voice work in 20202 for She-Ra and the Princesses of Power and appeared in the British series Flack. Hopefully, on New Amsterdam he'll end up being a good fit and will stick around for some time to come. There aren't a lot of people who have constantly been able to push forward a TV career like Daniel Dae Kim has and we hope he keeps sneakily adding big hits to his resume for years to come.
This poll is no longer available.
Your Daily Blend of Entertainment News
Reality TV fan with a pinch of Disney fairy dust thrown in. Theme park junkie. If you've created a rom-com I've probably watched it.