Watch Tony Hawk Break Into Tears As He Lands Last Ollie 540 Ever At Age 52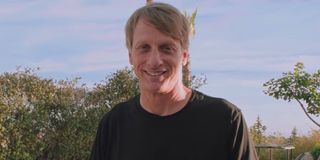 Even if you don't know anything about skateboarding, you probably know a little something about the one and only Tony Hawk. He is still the most recognizable name in skateboarding, even though his career first took off back in the '80s. His name is one that brings up nostalgic feelings for millennials and Gen Xers alike, a feeling that is very real in one of his recent social media posts which shows him, now at age 52, brought to tears after landing his iconic Ollie 540 for the very last time.
Tony Hawk has always been an inspiration, but this latest endeavor really just takes the cake. In a recent Instagram post, Hawk shared a throwback of his first landed Ollie 540, a stunt that he basically invented, along with his most recent and final landing of the same move. In the recent video, we can see Hawk get very emotional over having landed the move, likely both because it's the mark of the end of an era and that it proves the groundbreaking skateboarder still has the skills to accomplish such a difficult move. Check out the post below:
Not only is the Ollie 540 an insanely difficult stunt, it's one that was thought to be impossible before Tony Hawk landed it, even by Hawk himself. He says in his caption that he started attempting it as a joke but by changing his approach, started to believe it was within reach. It's incredible that we have the first on-camera landing, which you can see in slow motion, in his throwback.
While landing a seemingly impossible trick may seem like it would be a once in a lifetime happening, Tony Hawk pioneered many tricks during his skateboarding career. That's what makes Hawk one of the greats of the sport: not only was he great at skateboarding, he pushed the limits of the sport to prove the impossible wrong.
The success he saw with landing wild stunts came with a cost to his body, though. Tony Hawk has seen tons of injuries during his career: he's been knocked out several times, he's broken bones, and even lost teeth due to wipeouts. This is a big reason why he has now retired the difficult trick. He's just not willing to take such a big risk with his body anymore. We really can't blame him though, as he has definitely given enough to the sport. It's obvious it's not a decision Hawk has taken lightly based on his reaction in the video.
Even though he's saying goodbye to one iconic stunt, that doesn't mean he's retiring his board, though. It'd be pretty hard to ground a dude nicknamed Birdman, and he's got plenty of years left in his wings. It's hard to see such a legend be brought to tears, but we are so grateful he would share this touching moment. We'll definitely be on the lookout for more epic throwbacks or developments from the pro skateboarding king.