American Idol Judge Luke Bryan Injured His Hand During A Fishing Trip, And Ouch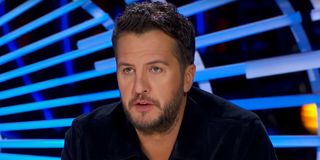 American Idol judge Luke Bryan is making sure to still take a trip here and there, you know in between finding the next big musical star on Idol. However, the country artist may need to rethink his vacation ideas. A recent fishing trip went south for Bryan and the result is sure to make anyone feel his pain. No really, we're talking a major ouch.
Luke Bryan recently went on a fishing trip but he got a little too "hooked" on the activity. The singer posted on Instagram a video, with the caption "Dammit," which says it all. In the video, which comes with a warning due to its graphic nature, Bryan has a fishing hook in his hand, which does not look the slightest bit comfortable.
The video, which is not a pretty sight to see, could serve as a warning for anyone who enjoys fishing, wants to go fishing and maybe isn't super used to fishing, though I'm sure accidents like this happen all the time. However, Luke Bryan is being candid in a moment of vulnerability and showing his fans that he deals with accidents just like his fans. Many of the comments are empathizing with Luke Bryan, relating to him, while others are just very, very punny or suggesting that this could be the source of a new song.
American Idol is currently in its 19th season and just wrapped "Final Judgement." The next episodes will be "All Star Duets and Solos" meaning everything is on the line. The recent episode rounded out the Top 24 for the season, but not without a little controversy, as per usual. Fishing has been known to be a relaxing activity, so that might be why Luke Bryan decided to get away for a little bit, even though it probably didn't help much after he injured his hand.
While the country singer's injury does seem like it hurts quite a bit, hopefully it won't take away from his judging duties on the singing competition as these next few weeks are about to get very crucial. With American Idol dwindling down on contestants, Luke Bryan needs to be there for every step of the way, which he surely will be. He's been a judge since Season 16 when the series returned after a two-year hiatus, just like Katy Perry and Lionel Richie.
With the coronavirus pandemic, things for Idol have been handled differently, especially with auditions and the controversial eliminations. Luke Bryan's fishing trip could be an indication that he has a little more time on his hands or that he's just gearing up for the final weeks of the season as they get closer and closer to finding the next American Idol. Whatever the case, Bryan seems to be okay, and we are thankful for that. Just make sure the next time you go fishing to be careful and not get too hooked on it.
Your Daily Blend of Entertainment News
Passionate writer. Obsessed with anything and everything entertainment, specifically movies and television. Can get easily attached to fictional characters.
Your Daily Blend of Entertainment News
Thank you for signing up to CinemaBlend. You will receive a verification email shortly.
There was a problem. Please refresh the page and try again.