Who Is The Masked Singer's Chameleon? Here Are Our Best Guesses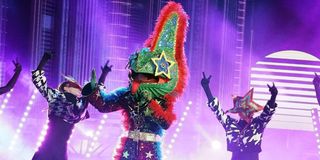 I truly feel The Masked Singer Season 5 has been the series' best to date, and part of it is tied to the quality of contestants and the stars that have been unmasked so far. We've seen some pretty big names like Danny Trejo and Logan Paul already unmasked, and another big reveal could be on the way when The Chameleon is finally revealed on the Fox series.
The Chameleon isn't the most talented singer in The Masked Singer Season 5, but in his defense, he hasn't really tried to be. He's done rap classics like Nelly's "Ride Wit Me" and 50 Cent and Nate Dogg's "21 Questions" -- and he's crushed both of them handily. There's a definite showman in Chameleon's swagger, but is it one of a musical artist or of a trained actor?
The Clues For The Chameleon
The clues for The Chameleon are all over the place, with everything from video game tech teases to french words thrown up on the screen. We also know that Chameleon lost someone close to them, but beyond that, there's a lot of seemingly random clues here for folks (like myself) to sort through.
With that said, these random clues really start to line up once one gets on the trail of who Chameleon really is or at least could be. Let's get into the possible guesses floating around the web and explain why I'm 95% sure The Chameleon couldn't be anyone else.
Is Dwyane Wade On The Masked Singer?
NBA legend Dwyane Wade dominated the court and did a vast majority of it while with the Miami Heat. Though he was a superstar player in his own right, his most memorable NBA run would happen during LeBron James' era in the Heat, where the two plus Chris Bosh won a couple of championships. Wade is tall enough to be Chameleon, and while I've never heard him rap, I'd think I could karaoke those songs as an average Joe. Definitely a possibility, and with Wade's lessened celebrity these days, he has the time for a show liked The Masked Singer.
Is Wiz Khalifa In Season 5?
Chameleon is all about height, and it doesn't take much searching for the tallest rappers out there before Wiz Khalifa's name comes up. Wiz Khalifa found a lot of mainstream success with his music and has been in the biz from a very young age. Obviously, he'd have no problem rapping the songs Chameleon has done so far, and the video game references could be a weird veiled reference to The Wizard, which is kind of like Wiz?
Could Snoop Dogg Be The Chameleon?
The Doggfather, Snoop Doggy Dogg, the D-O double G. Snoop Dogg is definitely Chameleon height, and as one of the best rappers of the old-school era, he could rap circles around those songs. Snoop Dogg has been a popular guess for some on the internet, though one that I'm obviously skeptical of. There are some contestants on The Masked Singer that, try as they might, are unable to hide their voices from being recognized in song. Snoop Dogg's voice is so distinct I don't think he'd be able to prevent audiences from discovering his identity even if his voice went through the modulator. For that reason, I'll say Snoop Dogg is a guess, though not a very good one.
Nick Cannon Is A Great Guess, But Also Probably Wrong.
The host of The Masked Singer was suggested by one of the panel after his first performance, and as much as I want this guess to be true, I just can't buy it. First off, it would be a dicey PR move, to say the least, if the Fox series released a fake announcement that Cannon had been diagnosed with COVID-19 and would miss the opening weeks of the competition. Had he been off the show for any other reason, I would absolutely join in on the speculation that Cannon is about the pull off the best surprise of the series yet, but given what we know, I just don't see it being him. And if it is, that's going to be sticky for the network to explain.
The Best Guess?
Chameleon is a tall dude, that's for sure, but I'm not of the belief that he's a baller like Dwyane Wade. No, instead, I think he's the sizably tall rapper Wiz Khalifa. The rapper is a respectable 6'4, and as anyone would expect, could breeze through some of the more popular rap songs of today without much issue whatsoever. Plus, the stage presence shows the moves of a guy who knows his way across a stage.
The clues were a bit random, though one key clue in the second clue package blew the whole thing open for me. A black mannequin was shown with yellow tape draped over it, similar to what you'd see at a tailor's shop. Black and yellow are the colors associated with the Pittsburgh Steelers, and of course, "black and yellow" is the name of one of Wiz Khalifa's biggest songs. Finally, the "tailor" clue almost had to be a reference to Taylor Gang, the independent label founded by Wiz Khalifa.
Finally, the rainbow and clues about losing someone line up with Wiz Khalifa's loss of his sister in 2017. His sister, Doren "Lala" Thomaz, was transgender, which ties into the rainbow as a symbol of the LGBT community. Given all those specific ties, it's hard to see The Chameleon being anyone else. But we'll just have to wait and see.
The Masked Singer invited The Chameleon onto its program, and only time will tell if he'll end up winning The Masked Singer Season 5. After all, singers who have performed mainly rap songs have gone far in the competition, with Bow Wow's Frog making it as far as the Final 3. Chameleon could do the same if he plays his cards right, though the talent in Group B maybe a little too loaded for him to survive in the lineup much longer.
Do you agree that Wiz Khalifa is The Chameleon? Sound off in our poll and catch The Masked Singer on Fox Wednesdays at 8:00 p.m. ET. Do you agree with our guess for the Chameleon? Make your voice heard either way in the poll below. For more on Season 5, be sure to read our recent speculation on The Seashell and how one clue may have blown her secret identity completely.
This poll is no longer available.
Your Daily Blend of Entertainment News
Mick likes good television, but also reality television. He grew up on Star Wars, DC, Marvel, and pro wrestling and loves to discuss and dissect most of it. He's been writing online for over a decade and never dreamed he'd be in the position he is today.
Your Daily Blend of Entertainment News
Thank you for signing up to CinemaBlend. You will receive a verification email shortly.
There was a problem. Please refresh the page and try again.