After Snoop Dogg's Awesome Frozen Video Goes Viral, Idina Menzel Responds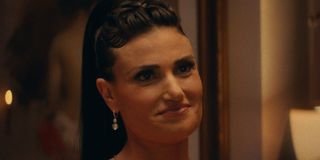 We're living in unprecedented times, and as we tread through them, unexpected developments just keep on happening. One of the more recent surprises has to be Snoop Dogg jamming out to Frozen's earworm "Let It Go." I mean with so much going on, it's not a bad way to relax and reflect.
But hold on to your reindeer sleigh because in wake of Snoop Dogg's amazing, and kind of surreal, Frozen video, Idina Menzel herself has responded. The actress shared a video on social media, in which she jammed out to Snoop Dogg's own catchy song, "Drop It Like It's Hot." Check it out:
I'm not sure what's better: Snoop Dogg and Idina Menzel rocking out to their songs or Idina Menzel originally thinking Snoop Dogg's song was called "Drop It Like It's Hard." Still, I suppose crazier things have happened, like when Snoop Dogg remixed his song for a Hot Pockets ad.
"Let It Go" first released in 2013 to the delight of kids everywhere. The Frozen soundtrack was so popular that it became the first album of its kind to garner 1 million downloads. Fans loved it so much at the time they made plenty of songs inspired by Frozen's tracks, especially "Let It Go." Still, this eventually became an ever-present, inescapable annoyance for some parents. Idina Menzel admitted it might be annoying to parents, but she is grateful for the song and believes it's been a gift to her career.
Indeed, after the popularity of Frozen, Idina Menzel has done several appearances as the character Elsa on Disney shorts and video games. And, of course, she returned to voice Elsa in the financially successful Frozen II, a movie which did considerably well at the box office, but it did include the Oscar-nominated hit, "Into the Unknown." That song, while popular, hasn't exactly had the same cultural impact that its predecessor has had.
Even today, "Let it Go" is still a go-to song for many Disney fanatics, and it's gradually found a place for itself among the ranks of the greatest Disney songs. Just recently, actress and singer Amber Riley performed her own rendition of the song as part of the Disney Family Singalong, which also included iconic tunes like "Be Our Guest" and "Friend Like Me."
Fans have also compared "Let it Go" and other Frozen tracks to songs from more contemporary Disney flicks, one of them being Moana. Both films have strong soundtracks, and it's honestly hard to compare "Let it Go" and "For the First Time in Forever" to "How Far I'll Go" and "You're Welcome."
With Snoop Dogg and Idina Menzel jamming out to their songs on social media, it seems high time the two collaborated. Perhaps a remix of "Let It Go" featuring Snoop Dogg is in order? I certainly think so.
Both Frozen and Frozen II are now available to stream on Disney+.
Your Daily Blend of Entertainment News