The Flash: 5 Things I'll Miss Without Cisco After Carlos Valdes Departs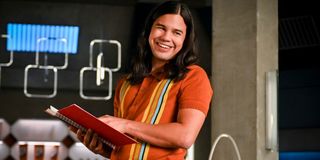 Carlos Valdes and Tom Cavanagh are officially leaving The Flash at the end of Season 7, marking the end of an era for the series. Both men have been with the show since the beginning, and while both were integral parts of its success, I have to admit I'll miss seeing Cisco on The Flash most of all.
I've said for years that Cisco Ramon is the glue that has held Team Flash together, and I'll say it again now that he's on the way out. The Flash will be forever changed without his presence, and there's plenty that I'll miss with Cisco gone that other characters could only hope to live up to.
Cisco's Bromance With Barry
Though the married life has kept Barry and Cisco from hanging out as much as they used to in the earlier seasons, the bromance between the two has remained real. The two have almost always had each other's backs, and if one stepped out of line, they were always the first to put the other in check. The two also went through some rough times, like when Cisco discovered Barry's time manipulation inadvertently led to his brother's death.
And yet, even in the lows, the two moved past it, and Cisco was even Barry's best man at his wedding. It makes me wonder who Barry is going to turn to if he's having one of those issues he can't just share with his wife after Cisco leaves. Chester is a new option, although, given his newness to the team, he may not be as effective as a shoulder to cry on as Cisco would've been.
Cisco's Rad T-Shirts
I can't count the number of times I've watched The Flash over the years and seen Cisco Ramon rocking a t-shirt that I wanted for myself. Whether it's some witty novelty t-shirt (such as the one seen above) or just a particularly rad-looking superhero shirt, who among us hasn't been the slightest bit envious of Cisco's t-shirt game?
And while I'd probably never personally purchase a shirt for The Big Bang Theory, I do love that The Flash had Cisco wear them over the years as a nod to Sheldon Cooper's Flash t-shirts. No one on Team Flash has that type of wardrobe, though I have hope the series will continue the tradition of trendy t-shirts when Carlos Valdes is gone. Perhaps Cisco can donate some of his t-shirts to someone on Team Flash on his way out?
Cisco's Villain-Naming Was On Point
While it's true that most of Cisco's names he came up with were the pre-existing names already there in The Flash comics canon, there was always something special about the flair he brought to each naming scene. There was always something special when a new villain arrived on the show because you just knew a scene where Cisco dropped the bomb on the villain's name was coming.
With Cisco gone, who will take up the mantle of naming villains? I'm not sure Caitlin can be nearly as creative to come up with names (especially now that Killer Frost is headed to prison), and the same could be said about Barry and Iris. I hate to put the burden on Chester's shoulders, but he does seem like the obvious Cisco successor given their shared interests. Perhaps the show will just drop the villain naming ceremony altogether, which would be a bummer but ultimately necessary if they can't find someone else to do the process justice.
Cisco's Constant Pop Culture References
The Flash could get pretty heavy at times, but no matter how bleak things could get, Cisco could always bring some levity to an episode with a random Yoda reference or something of that nature. It's not like Cisco was always trying to take the heat out of a situation. He just had a geek brain that was always dialed into the pop culture similarities of his sci-fi world.
One thing I'll definitely miss is the references to Marvel, which I never thought would fly in an Arrowverse show. There was something odd about the implication that the Marvel comics and movies exited within the Arrowverse, a place where actual people like Superman and Batman exist. I guess even people living in a world of superheroes need escapism from time to time, and they'd actually enjoy more stuff about superheroes? Cisco did anyway, and as someone who was a superhero, I guess that would be on-brand for him.
The Convenience Of His Vibe Powers
Speaking of superpowers, it cannot be stated enough just how much the show improved when Cisco was fully realized as Vibe. Heroes could arrive on the scene at a moment's notice without being a speedster or carried there by Barry, Cisco could travel between Earths and keep in contact with other characters, and it was just cool for Cisco to be the guy who wasn't always the one chilling back at the lab. It's hard to imagine what The Flash will be without Cisco and his powers.
I occasionally wonder if The Flash staff feels the same way, as they found a way for Cisco to use his powers via tech after he took the metahuman cure. Vibe's powers have been a crutch the show has relied on for various travel explanations for some time and if Barry needed some extra backup. Now it's looking like at the end of Season 7 that Barry could be the only person on Team Flash left with powers if Killer Frost is still in prison. Season 8 could definitely have some Season 1 vibes in that regard, though I'm sure The Flash will ultimately bring in some more metas down the stretch to further help Barry keep Central City safe from harm.
The Flash airs on The CW Tuesdays at 8:00 p.m. ET. For more on Season 7 and some of the other surprises that are in store for fans, read up on the important character who will make her triumphant return in the 150th episode right here.
Mick likes good television, but also reality television. He grew up on Star Wars, DC, Marvel, and pro wrestling and loves to discuss and dissect most of it. He's been writing online for over a decade and never dreamed he'd be in the position he is today.
Your Daily Blend of Entertainment News
Thank you for signing up to CinemaBlend. You will receive a verification email shortly.
There was a problem. Please refresh the page and try again.