Ian Somerhalder And Paul Wesley Were 'Fighting' As The Vampire Diaries Was Ending, But The Reason Is So On Brand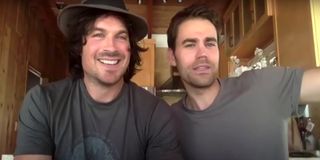 Say it isn't so! Ian Somerhalder and Paul Wesley, the actors who played bloodsucking brothers Damon and Stefan on The Vampire Diaries, were once locked in a battle to the death. Well, sort of. The on-screen brothers had one issue that came up between them as the long-running series was wrapping.
In a recent video interview with Mario Lopez on Access Hollywood, Ian Somerhalder and Paul Wesley discussed the contentious issue they butted heads on during the filming of the series finale: which of the two vampire siblings would get the axe. Paul Wesley revealed:
Paul Wesley's Stefan was indeed the one to die, his death heartbreakingly coming shortly after finally marrying Candice King's Caroline. Ian Somerhalder wasn't having it, though. Somerhalder took issue with Wesley's comment that he was jealous that Damon didn't get to die.
It's definitely worth pointing out that there's absolutely zero animosity between our favorite swoon-worthy vamps. When sharing the story of their fight for the finale, Ian Somerhalder and Paul Wesley were promoting their new brand of bourbon, Brother's Bond (prompting me to imagine what it would be like if Damon and Stefan ever tried to run a business together, and immediately burst out laughing).
Ultimately, as any fan of The Vampire Diaries will know, it was Stefan who perished in the series finale "I Was Feeling Epic" (and for good this time - no more resurrections). Damon, however, had become human (thanks to Bonnie) and lived the rest of his life married to Elena (Nina Dobrev).
While this was a happy ending for the Delena shippers, I can see Ian Somerhalder's point. Damon and Stefan were such a unit throughout the show's run that it was difficult to see their destinies lead them down different paths. Personally, I was pleased that Elena and Damon ended up together, but naming one of their children Stefanie isn't exactly a perfect substitute for Stefan.
Unlike Stefan, however, The Vampire Diaries universe lives on. Legacies, airing on The CW, tells the story of Hope Mikaelson, the daughter of Klaus and Hailey. Her character originated on The Originals (see what I did there?), a previous spinoff of The Vampire Diaries. Legacies follows Hope as a teenager and features several characters that had been introduced on The Vampire Diaries, including Alaric, Lizzie, and Josie.
The third season of Legacies is currently airing on The CW on Thursdays at 8 pm ET, and the full runs of both The Vampire Diaries and The Originals are currently streaming on Netflix.
Actor, singer, and occasional dancer. Likes: fashion, books, old buildings. Dislikes: cilantro, the NJ Turnpike, sneaker wedges.
Your Daily Blend of Entertainment News
Thank you for signing up to CinemaBlend. You will receive a verification email shortly.
There was a problem. Please refresh the page and try again.