Yellowstone Season 4: 7 Quick Things We Know About The Next Season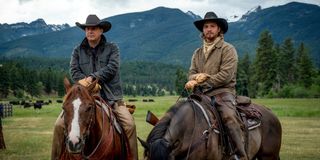 Time to giddy-up. There's a new season of Yellowstone on the horizon. Following last year's nerve-wracking Season 3 finale, Yellowstone fans have been champing at the bit to see the latest addition to the Yellowstone saga. But details continue to be slim. Given the shocking turn of events that occurred in the most recent hour, it's understandable that Taylor Sheridan and his cast and crew have kept quiet about what's yet to come. But we're learning some notable facts — and hearing a few rumors — about this season, which we'll share right now! Here's what we know (so far) about Yellowstone Season 4.
Yellowstone Season 4 Is Set To Air Sunday, November 7, 2021 On Paramount
Yellowstone is back on the saddle. Following a period of uncertainty regarding Season 4's production schedule and eventual release, it was revealed that filming began in late summer/early fall 2020 and it continued through November. Typically, Yellowstone premieres in June, and fans were hoping we'd have a new season of Yellowstone to watch this summer, however the Yellowstone teaser Paramount released in July 2021 dashed those hopes. In the brief video, we're told to expect Yellowstone Season 4 this fall. And then in August, it was announced that Yellowstone Season 4's premiere date was set for Sunday, November 7, 2021.
Production Completely Moved To Montana In Season 4, Though The Show Also Reportedly Filmed In Fort Worth, TX
Though Yellowstone, the show, is set in Montana, production on the first three seasons has been localized in Utah, with a portion of shooting taking place in Darby, Montana. With Season 4, however, the production took place entirely in Montana, which could be related to the cost of filming reportedly becoming cheaper in recent days, as well as the show receiving more funds from the executives at Paramount on account of its growing success. Even though Yellowstone is sticking to Montana nowadays, there were also reports that production took place (albeit briefly) in Fort Worth, TX, which makes sense if they filmed some scenes connected to the spin-off, Yellowstone: 6666.
Kevin Costner Is Set To Return In Yellowstone Season 4, Though He's Coy About John Dutton's Future
It's hard to imagine Yellowstone without Kevin Costner's looming star presence. His noted involvement in this prestige series is one of the main reasons why people were drawn to check out the show, and it has given the actor one of his finest star vehicles in years — especially at a time when Hollywood isn't particularly inclined to fund the sort of western projects that feature his A-list presence. Nevertheless, it would be a mighty big shame if Costner was no longer the central focus of Yellowstone, but that shouldn't be a concern leading into Season 4. The Oscar winner will be reprising his role as John Dutton, though it is unclear what the future will hold for the character moving forward.
In an interview to promote Let Me Go (which is worth a watch), Kevin Costner remained coy about John Dutton's future, cryptically admitting that "there's an ending that" we're "gonna see," and one that Costner hopes is "powerful." From there, the actor noted that he tries to make things that have a "dramatic arc," and Yellowstone is no exception. Whether we see the tail-end of that arc in Yellowstone Season 4 remains to be seen.
Kelly Reilly Is Expected To Appear, Though Beth's Fate Remains Unknown
During the explosive Season 3 finale, the fate of Kelly Reilly's Beth Dutton was deemed uncertain. The troubled character faced her fair share of woes over the course of the narrative, and this latest hurdle continues to test Beth's resilience. While we can't say for certain if she's alive, there's good reason to believe that Reilly will return for Season 4.
In an Esquire interview, Kelly Reilly discussed Beth's fate following Season 3's finale in vague terms, though she implied that Beth lives to see another day — though she'll probably be pretty shaken up after this whole ordeal. As she noted in the discussion, there's the lingering question of whether or not the Dutton family will see a happy ending in this ongoing saga. The actress openly wonders whether "happiness [is] something that is an ultimate end goal" for Beth. She didn't elaborate too deeply but, based on Reilly's phrasing here, one can assume that Beth remains among the living.
Jefferson White Claims Yellowstone Season 4 Is The 'Best Season Yet'
Expectations are certainly high for Yellowstone Season 4. The western drama series only continues to grow its following, and Season 3's bombastic blowout of a finale suggests that there are major ramifications in store for this newest block of TV. The showrunners and stars are (obviously) staying mum about what's gonna happen this time around, but one actor isn't afraid to share his fond feelings for this new season.
In a recent interview, Jefferson White, i.e. Jimmy Hurdstrom, claimed that Yellowstone Season 4 is not only great but the "best season yet." He noted that these new episodes are "incredible" and he praised the production for the "transformative" effect it had by shooting entirely in Montana. The actor also teased fans by claiming that, while Season 3 had a slow-burn pace, Season 4 "starts out at this breakneck pace" that will keep fans glued to their screens. White is especially fond of the Season 4 premiere, which he distinguishes as his "favorite episode of the show." There you have it, folks! Get hyped.
Yellowstone Season 4 Isn't Expected To Be The Final Season
If you're worried that Yellowstone is winding down its lonesome road, fret not. There's reason to believe that the western drama will continue down its trail past Season 4.
The website for the Chief Joseph Ranch, where Yellowstone is often filmed, states that they are completely full with reservations in 2021, and they noted that the filming schedule for 2022 is currently "not available." While this information doesn't guarantee that Season 5 is filming there, there's reason to believe that Paramount will hold tight to this pivotal location in the hopes of filming at least one more season at this ranch. Certainly, Taylor Sheridan has noted that he has an ending for Yellowstone in mind, and it sounds like he's aiming to drive the series toward that conclusion, rather than try to extend the show indefinitely.
In short, Season 4 hasn't been announced as the last season, so it might be safe to assume there will be at least one more, but we'll have to wait and see.
Yellowstone Fans Can Look Forward To More Than Just Season 4
It's no secret that Paramount is in the Yellowstone business. The company is clearly overjoyed by the show's continued — and growing — success, and they want to capitalize on it, particularly with their newfound streaming service, Paramount+.
In the next couple of years, we'll see not one, but two spin-offs set in the Yellowstone universe. They're titled (at least tentatively) Yellowstone: 1883 (premiering Sunday, December 19 on Paramount+) and Yellowstone: 6666. The former is set to be a prequel that follows the early settler days of the Dutton family; the latter is expected to follow the day-to-day trials and tribulations of one of America's most historic and foundational ranches. Certainly, both shows should appeal to anyone who loves the rough-and-tumble old-fashioned charm of Yellowstone, and we'll learn more about these upcoming shows in the months ahead. But rest assured, Yellowstone Season 4 isn't the end of this popular program — not by a longshot.
Additionally, it's worth noting that Those Who Wish Me Dead's Finn Little is rumored to appear in Yellowstone Season 4 as a pivotal character, though that casting information hasn't been confirmed. For more updates on Yellowstone, keep up with CinemaBlend!
Your Daily Blend of Entertainment News
Will is an entertainment writer based in Pittsburgh, PA. His writing can also be found in The Playlist, Cut Print Film, We Got This Covered, The Young Folks, Slate and other outlets. He also co-hosts the weekly film/TV podcast Cinemaholics with Jon Negroni and he likes to think he's a professional Garfield enthusiast.
Your Daily Blend of Entertainment News
Thank you for signing up to CinemaBlend. You will receive a verification email shortly.
There was a problem. Please refresh the page and try again.