Yellowstone 6666: 8 Quick Things We Know About The Paramount+ Spinoff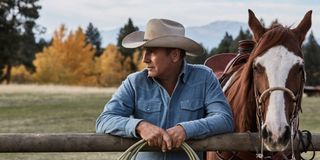 Make no mistake: Paramount is going all-in on Yellowstone. Taylor Sheridan's popular western drama series has turned into a sizable (and surprising) hit for the newfound Paramount Network, and the channel is extremely eager to expand this TV universe — notably with a number of exciting new streaming spinoffs. Recently, the studio announced that Yellowstone: 1883 would take us back to the early settling days of the Dutton family. Then in February 2021, it was revealed that Yellowstone: 6666 would follow suit by telling us a separate story inside this expanding TV universe. Details remain slim about this Yellowstone spinoff, but we've rounded up every bit of info that we know, which we'll share now. Here are the latest updates on Yellowstone: 6666.
Yellowstone: 6666 Is Coming Exclusively To Paramount+
Yellowstone: 6666 is finding pasture on Paramount+. Much like Yellowstone: 1883, this new spinoff series will premiere exclusively on the service, in their continued effort to expand their original film and TV content, notably in a combative streaming landscape.
Certainly, if you were already incentivized to get the service with Yellowstone: 1883, you'll have extra reason to hold onto the streaming platform once this spinoff series makes its way to the mountain. It's unclear when Yellowstone: 6666 will premiere on Paramount+, however. So far as we can tell, Yellowstone: 6666 is in the early stage of development. It might be a year — maybe two — before it gets added to the service's collection of original content. Of course, we'll keep you posted on all the latest details.
The Spinoff Series Will Focus On The Four Sixes Ranch
The Four Sixes Ranch, i.e. 6666, is one of the most historic and long-lasting ranches in America. It's a land filled with age and ancestry, one that expands into the far recesses of Texas. The ranch digs deep into its roots of the country's foundations and it carries many remembrances beneath its earthy grounds. It makes sense that Hollywood finally decided to explore that hallowed pasture. While we've seen a few depictions of the Four Sixes Ranch in the past, this newly-announced Yellowstone spinoff should (one hopes) give the legendary, centuries-old land a Hollywood depiction that befits its fine antiquity.
The Yellowstone: 6666 Logline Promises A Spinoff Series That Explores 'Where World-Class Cowboys Are Born And Made'
Considering the spinoff's recent announcement, we're still figuring out the nitty-gritty details about Yellowstone: 6666. But the show's logline gives us a general (if still vague) idea of what we can expect. As the write-up notes, the upcoming series focuses on the majestic, long-standing ranch, which is "steeped in the history of the West" like no other. Encompassing an entire county and "operating as it did two centuries before," this wide swath of land is where "the rule of law and the laws of nature merge in a place where the most dangerous thing one does is the next thing." The logline wraps up by noting that "the 6666 is synonymous with the merciless endeavor to raise the finest horses and livestock in the world." It's also "where world-class cowboys are born and made."
We'll learn more about these world-class cowboys whenever Yellowstone: 6666 debuts.
Ryan Bingham And Jefferson White Are Rumored To Reprise Their Roles As Walker And Jimmy Hurdstrom
Especially compared to Yellowstone and Yellowstone: 1883, we might not spend a lot of time with the assorted Dutton family in Yellowstone: 6666. But we could be seeing two familiar faces: Ryan Bingham and Jefferson White, better known as Walker and Jimmy Hurdstrom, respectively. The oft-maligned guitar player and rodeo hopeful are rumored to appear in this spinoff series, with each actor playing a more substantive role than they do in Yellowstone, but that hasn't been officially confirmed. Of course, we should have a better idea of who is — and isn't — in this Four Sixes series in the days to come, though fans speculate that one Yellowstone mainstay will factor into the plot.
Kelly Reilly Might Play Beth Dutton In Yellowstone: 6666
Along with Ryan Bingham and Jefferson White reportedly reprising their Yellowstone roles, some fans are starting to wonder if Kelly Reilly will hop on to play Beth Dutton in Yellowstone: 6666. On Instagram, the actress shared a photo of herself on horseback overlooking the 6666 Ranch. In the caption, she wrote, "Dream come true riding out on the 6666 ranch today." Now, it's possible that Reilly simply wanted to pay her respects to the legendary Texas land. But it's also possible that Reilly is teasing her followers by letting them know that she'll be at the center of this upcoming Yellowstone spinoff.
Following an explosive Season 3 finale, Beth Dutton's fate became unclear. This tease gives Yellowstone fans hope that not only will Kelly Reilly's character walk away with her life but she'll also thrive with her newest adventures on the Four Sixes Ranch. We'll find out what fate meets Beth — good or ill — with the arrival of Season 4 later this year.
The Spinoff Series Is Expected To Focus On New Characters And Expand The Yellowstone Universe
With Yellowstone and Yellowstone: 1883, the focus has stayed (or will stay) primarily on the lives and struggles of the Dutton family. While the central family is expected to be featured, in some capacity or another, in Yellowstone: 6666, the desire here is to expand the widening story — or broaden the horizons, as it were — and give us a richer look at the Yellowstone universe and the various personalities who inhabit this western world.
As Outsider.com reported, the intent of this new series is to introduce "new characters and storylines alongside world-class talent and actors." The writers went on to note that they're excited to bring these new shows to the legions of Yellowstone fans worldwide. Hopefully, the fans will like what the writers cook up with this third Yellowstone series.
The Legendary 6666 Ranches Were Bought In December 2020, Possibly By Executive Producer Taylor Sheridan
In May, it was reported that the legendary 6666 Ranches, which span across hundreds of thousands of acres across west Texas, found new ownership. The famous farmland was put on sale in December 2020, meaning that a new era was set to fall upon the Four Sixes. If you think it's merely coincidental that Yellowstone show creator and executive producer Taylor Sheridan happened to announce a brand new spinoff series centered around this historic piece of Texas land at this time, you better think again.
Shortly after the deal went through, it was rumored that Taylor Sheridan was the man who bought this land, a report that was later confirmed. As Star-Telegram noted, Sheridan leads a buyer group behind the monumental purchase, which carries a hefty $347.7 million tag, as it was stipulated in the will of Annie Marion, the longtime owner.
Taylor Sheridan is no stranger to this land. More specifically, Yellowstone has filmed scenes in this location, notably in Season 4, and we should expect Yellowstone: 6666 to shoot across these wide, sprawling lands whenever production decides to gear up. Certainly, this momentous purchase and spinoff series aren't incidentally connected.
Taylor Sheridan Wants To Better Represent Texas With Yellowstone: 6666
Texas is a proud state. It's a land with a long, historic past, one that's filled with culture, heritage, and legacy. There are a lot of men and a lot of tales buried beneath that soil, and there's a duty to do it right. It makes sense that Taylor Sheridan wants to return to those plains. As Entertainment Weekly notes, Sheridan and his wife, Nicole Muirbrook, have made their way back to The Lone Star State, which Sheridan believes will help him represent Texas and the perspectives that he wants to explore throughout this storied state. The Oscar-nominated scribe claims there's a "responsibility that comes" with presenting characters located in this part of the country, particularly when a writer wants to depict "a sense of class and confidence" that "every Texan seems to embody."
Here's the full quote from Yellowstone's show creator:
Be sure to follow CinemaBlend for more Yellowstone coverage.
Your Daily Blend of Entertainment News
Will is an entertainment writer based in Pittsburgh, PA. His writing can also be found in The Playlist, Cut Print Film, We Got This Covered, The Young Folks, Slate and other outlets. He also co-hosts the weekly film/TV podcast Cinemaholics with Jon Negroni and he likes to think he's a professional Garfield enthusiast.