Kevin Costner: 11 '80s And '90s Movies To Watch If You Like The Yellowstone Star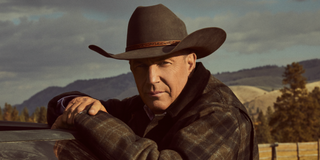 Nowadays, Kevin Costner can be seen frontlining Yellowstone, Paramount Network's western-drama series from creator Taylor Sheridan (Hell or High Water, Sicario). While the show has become more of an audience favorite than a critical darling, it has given its familiar star more notice and popularity than he's received in years.
In a career filled with peaks and valleys, Costner has seen both highs and lows in equal fashion. He's been involved in some of the biggest movie disasters in cinematic history, but the actor/director is also behind some of the most celebrated films of the '80s and '90s. Certainly, it's a credit to his charisma and appeal as a performer that he continues to find relevance away outside his missteps. Costner's filmography is filled with many highlights and several enjoyable pleasures. If you only know him from this ongoing TV series, check out some of these notable titles.
Dances With Wolves (1990)
Not a lot of filmmakers have the distinction of winning Best Picture with their directorial debut. Alas, that was the case for Kevin Costner with Dances with Wolves, 1990's acclaimed western epic that he also produced and starred in. Based on the book by Michael Blake, who also adapted the screenplay, this bold, sweeping tale is notable for its sharp cinematography, grandiose ambitions, and noble intentions, and it cemented Costner as a premiere Hollywood talent.
While he wouldn't find the same success with his belabored and largely ridiculed sophomore feature, The Postman, this first feature is an astonishing success in its own right, defying expectations and providing an idealistic, old-fashioned tale of the West that simply isn't made on this size and scale anymore — though it has, admittedly, earned criticism for its inaccuracies. Still, Dances with Wolves became Costner's grandest achievement.
Stream It On Starz here (opens in new tab).
JFK (1991)
While Oliver Stone's political dramas can ultimately be divisive, as you'd probably expect, 1991's controversial-yet-acclaimed JFK is typically seen as one of his best films. Featuring an astonishing roster of actors, including (but not limited to) Kevin Bacon, Tommy Lee Jones, Laurie Metcalf, Joe Pesci, Jack Lemmon, Walter Matthau, Donald Sutherland, John Candy, Wayne Knight, Vincent D'onforio, Michael Rooker, and more, Stone certainly intended this movie to be a powerhouse, and that certainly became the case. It received eight Oscar nominations, two of which it won.
For Costner, making this film shortly after his Best Picture winner, it continued to cement his status as one of the biggest film stars of the '90s. In the role of Jim Garrison, the district attorney through whom we follow this sprawling web of conspiracy and political deception, he brings intrigue to this 188-minute presidential assassination exploration.
Stream It On HBO Max here (opens in new tab).
The Untouchables (1987)
Directed by Brian de Palma and written by David Mamet, The Untouchables had some heavy pedigree. And that's before mentioning the cast. Kevin Costner, Robert De Niro, Andy Garcia, Sean Connery, Patricia Clarkson, and Charles Martin Smith fill out the cast, and it's a hell of an ensemble. Certainly, that's understandable when you're telling the story of the titular special agents who took down legendary gangster Al Capone, played by De Niro.
It's a story worthy of the big screen, and it expectedly garnered good notices from critics and audiences alike, many of whom were taken by its top-notch cast and stylistic flourishes. As the man at the forefront of this operation, Costner brings his dutiful attention and burning sense of intrigue to his leading role, resulting in another cinematic win for the actor. It helps to team up with the right people.
Stream It On Starz here. (opens in new tab)
Field Of Dreams (1989)
In the narrow category of "movies that can make your dad cry," Field of Dreams is a rarely-disputed champion. The Oscar-nominated sports drama is a highly sentimental but ultimately emotionally engaging look at hope, desire, perseverance, and fatherhood. Its sweet-natured presentation evokes films of old, the type of good ole' fashioned American movies that James Stewart might've frontlined once upon a time.
Nevertheless, Kevin Costner brings refined grace and sincerity to the lead role, capturing the right sense of middle America determination and persistence that continues making him an endearing and likable lead actor in the right parts. Certainly, Field of Dreams is the type of film that ultimately plays to his strengths as an actor, resulting in what's easily one of his most well-known and most revisited movies on his expansive filmography. Though he's built quite a movie legacy for himself.
Stream It On Showtime here.
Tin Cup (1996)
While Kevin Costner is more commonly associated with baseball, at least when it comes to sports cinema (as we'll discuss in finer detail in just a bit), he also made a contribution to the notably smaller genre of golf movies. Said contribution was Tin Cup, a predictable-but-nevertheless-appealing rom-com where Costner stars as a golf prodigy who lets his ambitions take away from his promising career. Now working as a golf instructor, he falls for his pupil, who happens to be the girlfriend of his rival.
In terms of plotting, you generally know where this is gonna go. Nevertheless, the dialogue is sharp, the film carries an affable appeal, and Costner's performance was widely praised, resulting in a Golden Globe nomination. While Tin Cup is considered more amusing than amazing, there's nothing wrong with watching something light and breezy, especially on date night.
Stream It On HBO Max here (opens in new tab).
The Bodyguard (1992)
Admittedly, 1992's The Bodyguard isn't a film that I especially cared for. But it's hard not to see the appeal. And it's certainly easy to see why it became such a cultural phenomenon. This romantic drama-thriller isn't without its slattering of cheese over its melodramatic story, but it features Whitney Houston giving a sparkling lead performance in her acting debut. It's clear that, even beyond her incredible voice, the late Houston was a star. She lends that star power to this otherwise mediocre vehicle (in my view, at least) with radiant wit, present charm, and a clear and earnest desire to give it her all. Certainly, The Bodyguard is elevated by her performance, and she shares some sensual moments with her on-screen co-star, Kevin Costner. While his character's cold-front demeanor is maybe a little too icy, Houston still brings out his charm.
Stream It On HBO Max here. (opens in new tab)
For Love Of The Game (1999)
Some folks might only know Sam Raimi from his massive budget blockbusters or his smaller horror credits. If so, that's a shame. They're missing out on the expansiveness of his filmmaking talents, which includes some overlooked dramas. A Simple Favor, for instance, is among his greatest. Likewise, For Love of the Game is sometimes considered an underrated or, at least, overlooked baseball movie with a big heart and a clear reverence for the game (as the title suggests).
While Kevin Costner's familiar brand of nostalgic sentimentality might've dipped too far into sappiness for some viewers, particularly as critics weren't as taken with this one, it has gradually become an audience favorite following its release. Therefore, if Field of Dreams and Bull Durham are the only Costner baseball movies that you watch or recognize, give this one a swing.
Stream It On Starz here. (opens in new tab)
Bull Durham (1988)
Speaking of Bull Durham, if you haven't had the chance to check out this sports movie classic, you're missing out on what's often been considered one of Kevin Costner's best and most iconic movies. Based (in part) on writer/director Ron Shelton's own experiences in minor league baseball, this sports rom-com has widely been considered one of the best sports movies of all-time, if not the absolute best, and a lot of credit should be given to Costner.
It has been said that this is his most charismatic and funniest role, particularly since it plays to his good nature and appeal as a performer. It also knows the ins and outs of baseball (no pun intended) in a way that showcases the first-time filmmaker's understanding and passion for the sport, allowing us to share the excitement and enthusiasm beyond the bountiful laughs and engaging romance.
Stream It On Starz here (opens in new tab).
Robin Hood: Prince of Thieves (1991)
Hollywood has had mixed success when it comes to bringing the fable of Robin Hood to the big screen. Disney's animated feature is considered a classic, and 1938's The Adventures of Robin Hood is even more revered. But other attempts haven't been quite so successful. Movies frontlined by Russell Crowe, Taron Egerton, Patrick Bergin, and others weren't well-received, and there are others that have garnered mixed responses. When it comes to Robin Hood: Prince of Thieves, it might not be considered the best or the worst when it comes to film adaptations of the classic fable, but it definitely has its admirers. While it's hard to get past his unconvincing English accent, Kevin Costner throws himself into the title role and commits — even when supporting a less-than-spectacular mullet. Plus, this film inspired Mel Brooks' Robin Hood: Men in Tights.
Rent It On Amazon here. (opens in new tab)
No Way Out (1987)
Throughout the mid-to-late '80s, Kevin Costner was really coming into his own as a movie star. Following a steady train of critical darlings and several commercial hits, Costner continued his acting rise with 1987's No Way Out, a neo-noir political thriller also starring Gene Hackman and Sean Young. In its modernized spin on 1940s suspense films, this acclaimed genre tale was considered one of the key films which helped pave the way for Costner's forthcoming stardom. His role highlighted the attentive introspection and budding charisma that's often keenly seen in his best leading roles, resulting in a movie that might not be as talked about as often as Costner's later, more well-regarded films, but it's a solid, well-liked thriller which established Costner as a performer building an impressive resume for himself. Certainly, many of the films he made next continued to impress.
Stream It On Starz here. (opens in new tab)
Silverado (1985)
There's no denying Kevin Costner's long-standing love of westerns. The actor prides himself in working as often and as consistently as he can in the genre, one that went out of fashion well before he became a movie star. Certainly, that tradition continues with Yellowstone, and it's evident in his three directorial efforts, including 2003's underrated Open Range. If you share Costner's love and fondness for westerns, you should make a point to check out 1985's Silverado.
Lawrence Kasdan's throwback features a starry cast, including Kevin Kline, Danny Glover, Brian Dennehy, Jeff Goldblum, John Cleese, and Rosanna Arquette, in addition to Costner. Though its nostalgic presentation might've prevented it from becoming a cinematic classic, it's generally been hailed as a straight-shooting, likably appealing hark to old-fashioned cinema, which certainly falls under Costner's affable wheelhouse. The rising actor's sensibilities fit and served this picture well.
Do you love Yellowstone? What's your favorite Kevin Costner movie? Be sure to let us know in the comment section below!
Your Daily Blend of Entertainment News
Will is an entertainment writer based in Pittsburgh, PA. His writing can also be found in The Playlist, Cut Print Film, We Got This Covered, The Young Folks, Slate and other outlets. He also co-hosts the weekly film/TV podcast Cinemaholics with Jon Negroni and he likes to think he's a professional Garfield enthusiast.
Your Daily Blend of Entertainment News
Thank you for signing up to CinemaBlend. You will receive a verification email shortly.
There was a problem. Please refresh the page and try again.