Yellowstone Prequel: 6 Quick Things We Know About Y: 1883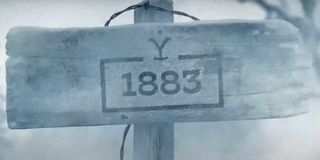 Yellowstone is expanding. The popular Paramount Network western drama show has captivated audiences with its first three seasons, and the network is showing few signs of slowing down with their cable favorite. Rather, they're now saddling up a Yellowstone prequel spin-off, Y: 1883, which will premiere exclusively on Paramount+ later in 2021.
Details are limited otherwise, but we do know some key bits of information about this streaming exclusive. We expect more facts to arrive in the months ahead, especially with its recent Super Bowl LV teaser announcement, but here's what we know so far.
Y: 1883 Follows The Dutton Family Embarking On A Journey Through The Great Plains Towards The Last Bastion Of Untamed America
Similar to Yellowstone, Y: 1883 will follow the Dutton family. However, as the original series tracks the modern-day adventures of the owners of the largest U.S. ranch, Yellowstone's prequel spin-off explores "the Dutton family as they embark on a journey west through the Great Plains toward the last bastion of untamed America." It'll serve as a "stark retelling of Western expansion," and it's set to be "an intense study of one family fleeing poverty to seek a better future in America's promised land," i.e. Montana.
While prequels often have to climb the steep hill of figuring out "why this story needs to be told," Yellowstone's spin-off show has an intriguingly dramatic concept to traverse through, at least, exploring how the Dutton family became the prosperous landowners we know them as in their hit series. Hopefully, Y: 1883 lives up to the high standards placed on Paramount Network's biggest smash. But we won't have to wait too long.
Y: 1883 Could Keep Yellowstone Going After Its Impending End
The end seems near for Yellowstone. While the fourth season is set to debut later this year, it's uncertain how many more installments are expected to come thereafter. As co-creator Taylor Sheridan noted, he has an endpoint in mind for the series, and he'll need to follow the straight-and-narrow line to its outlined conclusion. But whether that means one more season or, say, 12 isn't determined yet. Nevertheless, the ending is nearing, but it's clear that Paramount doesn't want to close the ranch anytime soon. Rather, by making this prequel series, the studio is hoping to continue this newfound franchise — even if Yellowstone decides to wrap up its tale sometime in the near future.
Since Y: 1883 will take place 100-plus years prior to the events of Yellowstone, there's no pressure to wrap that show up prematurely. It can continue as long as it sees fit, without directly interfering with Yellowstone's timeline. Thus, Y: 1883 will keep the show's story going, even if it's soon set to end.
Here's what Taylor Sheridan told Deadline:
1883 Was An Important Year In Yellowstone's History
If you're familiar with Yellowstone National Park's historical past, you'll know that 1883 wasn't uneventful. As Looper reported, this was the year when construction on the Northern Pacific Railroad reached their north boundary. Notably, this rail line connected U.S. territories together in a significant way. Additionally, 1883 was eleven years after President Ulysses S. Grant signed the Yellowstone National Park Protection Act, which (you guessed it) recognized this vast and famed land as the world's first national park.
While there's no confirmation (at the moment) that these real-life historical events are tied into this upcoming spin-off series, it doesn't seem incidental or coincidental. The story of how the Dutton family sought their fortune in the promising land of Montana will most likely tie into these major historical events for Yellowstone National Park, thus providing a line through which this prequel series connects to Yellowstone's expansive narrative. Of course, this is mostly speculation at this point. But it seems more likely than not that these real-life events will shape the narrative of this new show.
None Of The Yellowstone Stars, Including Kevin Costner, Are Currently Signed On To Appear This Forthcoming Prequel Series
Considering that Y: 1883 is set to take place over 130 years prior to Yellowstone, you can safely assume that the main characters behind Paramount Network's hit series won't be involved. Unless they incorporate flashbacks (or, rather, flash-forwards), it makes no sense to include them, though it should be noted that no Yellowstone stars, including Kevin Costner, are signed on or expected to appear in this prequel/spin-off.
Admittedly, the cast of Y: 1883 hasn't been announced. Therefore, a few familiar actors might be involved, perhaps as characters separate from the ones we see in the series. Most likely, Y: 1883 will feature a completely new cast in addition to its brand-new batch of characters, with many of these aforementioned characters serving as the direct lineage of Yellowstone's assorted personalities. We don't know anything about these characters for now, obviously, but we'll get our chance to meet them soon.
Y: 1883 Will Premiere On Paramount+ Later In 2021, As It Was Announced During A Very Brief Super Bowl Teaser
We still have to wait to see any footage from Paramount+'s forthcoming Yellowstone spin-off series, but we got an enticing glimpse from its all-too-brief 10-second teaser during Super Bowl LV. Featuring some ominous narration declaring that "I don't care if you live or die. But should you live, you tell them about me..." this snowy announcement trailer throws us right in the middle of a CG-blizzard as we slowly discover a sign that says, Y: 1883, which is revealed to be the title of this streaming show. If you're looking to find out more from this teaser, you're out of luck. These Super Bowl commercials are extremely expensive, and Paramount+ surely wants to leave us intrigued to discover more.
While we don't learn a hell of a lot from this extremely-short teaser, it does a decent job of making us curious to find out what the hell this new show will be. Check it out below:
This Yellowstone Prequel Is Part Of Taylor Sheridan's Multi-Year ViacomCBS Contract, In An Effort To 'Franchise Marquee Shows'
There's no doubt about it: ViacomCBS is in the Taylor Sheridan business. The Oscar-nominated screenwriter behind Hell or High Water and the Wind River director played a crucial hand in turning Yellowstone into an unlikely success for the burgeoning Paramount Network, especially in its early days. Now that the show is a certified hit, Paramount wants to keep a good thing going with this Yellowstone prequel, which is part of Sheridan's newfound multi-year contract with the conglomerate company.
As ViacomCBS noted in a press release, the company is looking to expand its creative outreach by making "franchise marquee shows and IP" that brings in a returned audience and a renewing profit. While that is mostly just a bunch of business jargon, it's apparent that Paramount is very happy with the show's continued success, and they're hoping Y: 1883 keeps Yellowstone's growing, thriving audience invested in the series' recently-established brand for the foreseeable future. Only time will tell on that front.
Are you excited to see Y: 1883 on Paramount+? Let us know in the comments below!
Will is an entertainment writer based in Pittsburgh, PA. His writing can also be found in The Playlist, Cut Print Film, We Got This Covered, The Young Folks, Slate and other outlets. He also co-hosts the weekly film/TV podcast Cinemaholics with Jon Negroni and he likes to think he's a professional Garfield enthusiast.
Your Daily Blend of Entertainment News
Thank you for signing up to CinemaBlend. You will receive a verification email shortly.
There was a problem. Please refresh the page and try again.