A Regé-Jean Page Bridgerton Season 2 Cameo? Shonda Rhimes Has Thoughts About That Idea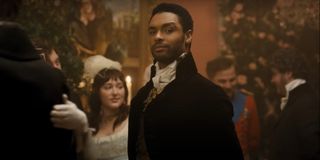 (Image credit: Netflix)
Bridgerton became a pop culture phenomenon after its release on Netflix last year. It reigned at #1 in the Top 10 for weeks and had some of the raunchiest sex scenes to ever stream on the platform. But actor Rege-Jean Page's exit after just one season left some confused and distraught. Nonetheless, executive producer Shonda Rhimes has some thoughts on that Simon cameo idea floating around for Season 2 – and Bridgerton die-hards aren't going to like it much.
Over the years, the Shondaland brand has become practically synonymous with grand romantic gestures and love stories. From Grey's Anatomy to Scandal to How to Get Away with Murder, Shonda Rhimes has never shied away from bring back a past paramour – whether they be dead, scorned, or just unexpected. Apparently though, when it comes to Rege-Jean Page's character Simon on Bridgerton, bringing the star back even for a cameo won't do. Rhimes said during a Hollywood Reporter roundtable:
On the one hand, it's intriguing for Shonda Rhimes to lament that a Simon cameo in Bridgerton's next season or even playing around with this dynamic "doesn't make sense." Surely then, Grey's Anatomy and Scandal would have never made it past their first seasons if this were the case. McDreamy would not be made manifest seasons after his death. Most Shondaland fans love her shows for that very reason: the love stories are always full of missed chances, longing, and changes that always seem to come full circle.
On the reverse side, however, it really doesn't make sense for a Rege-Jean Page cameo to happen when you figure in that this is not a Shondaland original story but a series of books. Page and others have confirmed that Simon was only ever set up for the one-season arc and that the next will focus on the Anthony Bridgerton character, per the sequence of the books. Yet other rumors have been circulating that though Page was invited back by Netflix in some capacity (with lot of money in the deal), he supposedly wanted to capitalize on his astronomical Bridgerton success and pursue bigger projects.
Still… for there to be no sign of Simon or Daphne in Season 2, as though they've disappeared into a sex-fueled oblivion, seems just odd. When it comes to these Regency-era period pieces, the audience's investment in the characters' lives in the long run is what often drives their popularity.
Moreover, the Queen and other side characters in Bridgerton are getting their own origin story treatment in a Shondaland spinoff, limited series. It would be easy then for fans to just say have a Simon spinoff as well but, at that point, why not just keep it all together under Bridgerton?
Perhaps the idea of Simon being part of the Bridgerton world won't be cast away entirely. Rege-Jean Page might be able to squeeze it in between his next SNL stint or between a potential James Bond film, maybe?
Freelance writer. Favs: film history, reality TV, astronomy, French fries.
Your Daily Blend of Entertainment News
Thank you for signing up to CinemaBlend. You will receive a verification email shortly.
There was a problem. Please refresh the page and try again.