Bridgerton Apparently Has A Kardashian Connection And Now Fan Kim Kardashian Is Freaking Out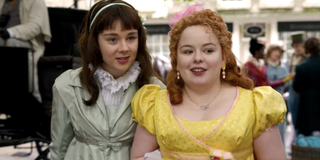 There are a lot of things which one can now say about Netflix's Regency-era romance, Bridgerton. We can all agree that it was a hit of epic proportions, which has now made much of the main cast way more famous than they were prior to the show's debut. We can say that the sexytimes were epic and probably inspiring for many. And, we can also agree that everyone is at least slightly bummed that Regé-Jean Page won't be back to join the Bridgerton Season 2 cast. But, we seem to be just now finding out that the show has a bit of a Kardashian connection, and, wouldn't you know it, Kim Kardashian herself is freaking out about it.
Much of the world who sampled Bridgerton in Season 1 walked away with a serious love for the drama-filled romance, and that includes the many celebrities who watched the show. Kim Kardashian is one of these admitted famous folk, and while she came to the series a bit later than most (which she can certainly be forgiven for, considering her life as of late), when she finally had the chance to check out Bridgerton she quickly became a big ol' fan.
Now, though, Kardashian has heard directly from star Nicola Coughlan (Penelope Featherington herself) about a connection that Bridgerton has with Kardashian's uber famous family, and it has caused the Keeping Up with the Kardashians star to fangirl over the series even more. Take a look at their Twitter exchange, so we can discuss!
Wow, Kim! That's a lot of exclamation points, right? I counted 20 among Kardashian's 34 word reply to Nicola Coughlan, and if that's not a sure sign of a beautiful freak out, I don't know what is. Though, to be fair, if any fan saw that a Bridgerton star chose to tweet right at them, it would make most of us go gaga, as well. Add to that finding out that you and your family were actual inspirations for some of the characters on the series, and it's likely that a response from some viewers would be nothing but exclamation points.
I watched all of Bridgerton Season 1 pretty quickly, and have been continuing to think about the show quite a lot since late December 2020 when it was released (It's my job, OK?), and even though I hadn't automatically guessed at this tidbit of information from Nicola Coughlan being a fact, I can definitely see how it factors now that we're all clued in.
If you think about the Featherington family there are some similarities to the Kardashians. First off, and, I think, most obviously, the ladies in the clan (of whom there are four; three daughters and their mother) are very serious about fashion and standing out in whatever they wear. If the Kardashians had been around in Regency London they might not have made some of these exact sartorial choices, but there's no way people wouldn't have talked about whatever it is they did wear.
On top of that, Penelope, Prudence, and Philipa have a very strong guiding hand in their mother, Lady Portia. She puts tons of effort into making sure they have suitable matches, are well groomed for society and stay on the social radar as much as possible. It would even be fair to say that Portia is the true head of the family.
I can absolutely see Nicola Coughlan and her fellow Featheringtons gabbing about Kim, Khloé, Kourtney, and Kris as they were fitted into those brightly colored, wildly patterned clothing and enjoying every minute of it, can't you? Speaking of those fittings, Coughlan revealed yet another connection that Kardashian has with Bridgerton, which made Kim even more excited. Apparently, the same person who made her corset for the Met Gala immediately moved on to making Coughlan's for the show. And, Kardashian responded with a lot of additional joy:
I think we all need Kim Kardashian to recover from her fainting spell quickly, so that she can actually have a shot at visiting the Bridgerton set while Nicola Coughlan and the other Featherington ladies partake of a fitting. This would be exactly the kind of thing we all need to see right now!
Bridgerton will be back for Season 2 on the streamer in the near-ish future, with there being plenty more where that came from. Until then, check out what's new on Netflix in April 2021!
Your Daily Blend of Entertainment News
Yennefer's apprentice, Gilmore Girl; will Vulcan nerve pinch pretty much anyone if prompted with cheese...Yes, even Jamie Fraser.
Your Daily Blend of Entertainment News
Thank you for signing up to CinemaBlend. You will receive a verification email shortly.
There was a problem. Please refresh the page and try again.