Ewan McGregor's Star Wars Cameo Hype Is Giving Me Flashbacks To Paul Bettany's WandaVision Mess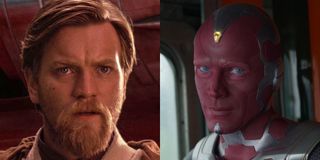 As the Star Wars franchise moves forward, fans remain excited about a number of upcoming projects, particularly those headed to the small screen. Obi-Wan Kenobi is definitely among those shows and, with the series having recently kicked off production, the hype is only growing. Ewan McGregor is headlining the show, as he returns to his fan-favorite role as the titular Jedi Master. While the actor can't say much about the limited series, he did recently tease a special cameo, which is making me excited -- and giving me flashbacks to Paul Bettany's WandaVision mess.
Marvel Cinematic Universe fans likely remember that while WandaVision was on the air, co-lead Paul Bettany had a bit of fun trolling fans, who were already picking apart episodes every week. During an interview, Bettany explained that he got to work with someone on the show that he'd "longed to work with all of my life" and said that he and the person had "extraordinary" chemistry. Many fans assumed he was referring to a totally new MCU character but, after the show unveiled a white variation of Vision (also played by Bettany), many began to wonder if that was the cameo the actor was referring to. Bettany would later confirm this was the case.
Needless to say, a number of viewers were left disappointed by Paul Bettany's playful deception and, even now, some Marvel fans may still feel a bit burned. But after Ewan McGregor's recent Obi-Wan Kenobi tease, could Star Wars fans be in for a similar situation? These were McGregor's exact words during his recent appearance on Jimmy Kimmel Live!:
On the surface, Ewan McGregor's words do seem to run somewhat parallel to those made by Paul Bettany. It's honestly hard not to feel mixed emotions, though, as there could indeed be a special cameo planned. But on the other hand, some may be hesitant to accept them due to the experience with Bettany.
There are, however, reasons to believe that Ewan McGregor is telling the truth. May the Fourth is a major day among Star Wars fans and those that work within the franchise, so there's a firm chance a major scene with a significant cameo was planned for that day. Also, McGregor hasn't proven to be nearly as much of a prankster as Bettany has over the years.
It's going to be a while before we find out the truth behind this Obi-Wan Kenobi cameo, but there's reason to believe that Ewan McGregor is a man of his word. However, you can bet that until the scene actually airs on our screens, many fans -- like Obi-Wan -- might have a bad feeling about this.
Covering superheroes, sci-fi, comedy, and almost anything else in film and TV. I eat more pizza than the Teenage Mutant Ninja Turtles.
Your Daily Blend of Entertainment News
Thank you for signing up to CinemaBlend. You will receive a verification email shortly.
There was a problem. Please refresh the page and try again.