Rick And Morty: The Coolest Season 5 Moments We've Seen From The Trailers So Far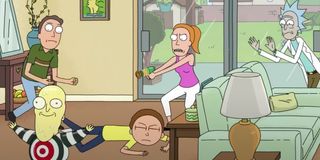 Rick and Morty Season 5 will arrive toward the end of June on Adult Swim, and as of this writing, we've gotten three official Rick and Morty Season 5 trailers that have given us big hints about what's to come in the new episodes. As usual, the trailers are absolutely stacked with action, a lot of characters we've never seen before, and a lot of situations that don't make sense. That doesn't mean it's all still not super cool, and by seeing it, I'm all-the-more thrilled at what's in store for everyone when the new season premieres.
I could sit here and give a detailed breakdown of every scene, how they're all (seemingly) related, and what it means for Rick and Morty, but I won't get into that minutiae. Instead of doing that, I drilled down on 5 moments from the Season 5 trailers that really have me pumped, and what I think they mean could be in store for audiences in the upcoming season.
Rick, Beth, And Jerry In A Hellraiser Knockoff Universe
The moment that I saw Rick running around in bondage, I hoped this meant the show was going to pay homage to the Hellraiser franchise. Further scenes of twisted faces and torture in a hellish environment only seem to boost this argument, which I'm entirely on board with. Let's be honest, hasn't everyone thought at least once the Cenobites had some sort of kink that factored into their violence?
What I love most about the scenes is just how utterly ridiculous Beth and Rick look in order to fit in. Beth has what looks to be several darts embedded into her face and a copious amount of makeup, and Rick has a massive hole in the center of his stomach and has a swordfish in between it? Hellraiser fans may get a little miffed about this episode, though truthfully, I'd think horror fans can probably take a joke when it comes to franchises they love compared to other fandoms.
Rick Firing A Rick-Shaped Gun In Season 5
Rick Sanchez is brilliant, but he's also got a huge ego. A lot of his most questionable moves in the history of Rick and Morty have come from the fact that he can and will do whatever he wants at any given moment. Rick is also an incredibly egocentric person, so it totally tracks that he'd create a gun that looks like himself that is also completely badass.
As one can see from Rick's outfit, this looks to happen during Rick and Morty's episode that pays homage to Voltron, which should be another treat. I have to wonder if things go a bit south, though if Rick is out of his mech and fighting people off with a gun that looks like himself. I wonder, is there also a gun that's shaped like Morty? Well, let's be honest, if there is a Morty gun, it's probably not nearly as cool or as effective as the Rick gun.
Morty And Summer: Is That A Young Jerry?
The Rick and Morty Season 5 trailers showcase a couple of scenes with Morty and Summer with someone who looks to be around their age and looks sort of like them. Judging from the hair and the green shirt, my prevailing theory thus far is that this is a younger version of their dad Jerry. I can't be sure of course, but there's just something about that face that makes me think he'd have a coin collection that won't retain its value over time.
If it's not Jerry, and I have a strong hunch that it might be, perhaps this is a cousin of the Smith family? That would also be interesting, considering we've only been teased with fake members of the Smith family in the past. I'm still holding out hope Beth and Morty are tasked with keeping a younger version of their father alive to save their own existence. Plus, what would it be like to see young Jerry, and is he better or worse than the Jerry we know that's an adult?
Rick And Morty In A Blade Universe
I always love it when Rick and Morty reference the movies (as evidenced above), especially when a reference is made for no other reason than to show us what the characters would look like in some other major franchise. The moment where Blade is referenced in the scene is exactly that, and as far as the scene shows, it doesn't really mean much in the grand scheme of things.
At first, I assumed these were Death Crystals, but after a brief review of that episode, these crystals are a different color. Also, Rick and Morty aren't dying in their Blade scene, so this can't be a Death Crystal. I'm curious as to what these crystals do and why they're showing the characters an alternate timeline. Does it have anything to do with the fact that Rick is dying? I have way more questions than answers here but I am excited to see what answers come in Rick and Morty Season 5. Apparently, it's tied to our next entry?
Rick Sanchez Will Get A Nemesis In Season 5: Mr. Nimbus
I don't know what I expected when it was revealed that Rick Sanchez would get a nemesis in Season 5, but it certainly wasn't this. At the very least, I guess I assumed another intellectual science type to be someone to serve as an adequate rival and not some sexy-looking fish man? I mean, pop culture has basically trained us to believe these types are the weakest among powered individuals, even if that's not actually true.
I guess if Rick and Morty were a show that did the predictable thing, it wouldn't be so wildly popular that it caused civil unrest at a number of McDonald's locations nationwide. From what little we see of Mr. Nimbus (weird name for a water-based nemesis, by the way), I'm definitely eager to see how he rivals Rick and whether or not these two will have an ongoing rivalry or this will just be a one-and-done encounter.
Rick and Morty Season 5 premieres on Adult Swim Sunday, June 20, at 11:00 p.m. ET. I'm pretty jazzed for the release, though I'm suspicious just how much footage we've seen, even though it feels like a lot. For example, I'm not sure we saw one character from the past who we know for sure will be in the upcoming season.
Your Daily Blend of Entertainment News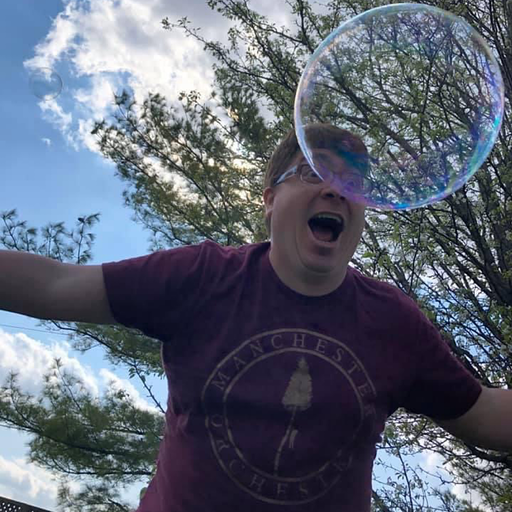 Mick contains multitudes and balances his time reporting on big happenings in the world of Star Trek, the WWE, reality television, and other sci-fi shows.