Original Hellraiser Author Joins The HBO Series To Deliver 'Ancient Elements Of Horror'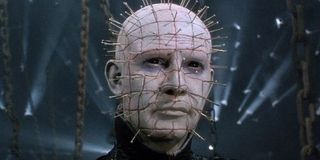 It was announced in April that the HBO execs were looking to adapt the Hellraiser horror film franchise into a television series, both of which are based on Clive Barker's novella The Hellbound Heart. Now, Barker has also joined the Hellraiser series, and he's eager to bring to life the "ancient elements of horror."
After originally writing and directing the Hellraiser movie (the first in the ten-film franchise), Clive Barker is rejoining the horror world on the TV side of things. The franchise has become a cult classic and global hit. In addition to the films, Hellraiser has also spawned books, comics, and video games. Now that it's getting the TV treatment, the author is boarding the Hellraiser series as an executive producer, and he couldn't be happier at the prospect. Here's what Barker said in a statement (via Deadline):
The "darkest evil" sounds rather chilling, but it's pretty exciting to have Clive Barker back with the material he originally brought to life. I obviously don't think the films would've been successful without his vast imagination and world-building. It only seems right that he'll have a hand in bringing the beloved Hellraiser franchise to another medium.
The TV series itself will not be a reboot or a remake of the original film and novella, but a continuation and expansion of the mythology the Hellraiser franchise has already been building for the last three decades. The HBO series will be written by Battlestar Galactica's Mark Verheiden and Krampus' Michael Dougherty. THe show will be directed by David Gordon Green, whose TV directing credits include Vice Principals and The Righteous Gemstones.
It is worth noting, however, that the HBO series is separate from the Hellraiser remake that was announced last year. That film is being directed by Night House's David Bruckner, from a story by Batman Begins scribe David S. Goyer.
As of this writing, it's unclear how many episodes the Hellraiser series will have, and there's no indication as to when it is scheduled to be released. It seems like it's in the early stages of development, so my guess is that we probably won't see the completed series for some time. Either way, it's great that Clive Barker is on board, and I think it'll make the series that much better.
Stay tuned to CinemaBlend for all the latest updates on HBO's Hellraiser series. In the meantime, be sure to check out our 2020 fall TV premiere guide for more options.
Your Daily Blend of Entertainment News
Thank you for signing up to CinemaBlend. You will receive a verification email shortly.
There was a problem. Please refresh the page and try again.