After Workplace Investigation And Fan Speculation, Bull Is Losing A Major Character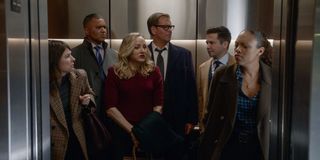 There's a big shake-up happening on CBS' Bull. After allegations of toxicity on the set and an investigation, both a producer and a lead actor on the series are exiting the network drama. The move comes after there was already fan speculation that Freddy Rodriguez, who plays Benny, might be leaving the show. Along with Rodriguez, producer Glenn Gordon Caron will also not be returning to Bull.
Publicly, Freddy Rodriguez has not spoken about his exit; however, there has been a whole subplot within Bull featuring Benny potentially running for DA on the series. The Season 5 finale had Benny doing well in the polls early on. It seemed like the series could be setting up Benny for a push onto a new team-- and in fact there was plenty of speculation about Benny leaving TAC ahead of the finale.
Spoilers for the finale are in this paragraph, obviously. Instead, Bull ended up taking on a case featuring the DA who had recently stepped down, helping that man, Sherman, to victory and back from the throes of disgrace. It would have been an easy opportunity to write the character off, but Benny got his job back and seemed free to continue working for TAC at the end of the Season 5 finale. So, I suppose we'll have to wait and see how the Season 6 premiere explains any changes that have been made to the TAC team.
The news of Freddy Rodriguez's exit comes after THR published a report indicating a workplace investigation had been undergone after several writers (who later quit) had complained about a producer on the series. That producer, Glenn Gordon Caron, has also exited Bull along with exiting the overall deal he had in place with CBS after a workplace investigation was undergone looking into the "anxiety" of employees who worked for the show.
For Freddy Rodriguez's part, reports indicate the actor will be leaving the series as part of the workplace investigation. CBS has not commented on the circumstances regarding the actor's exit. For the past five seasons, Benny Colón had been a mainstay on the TAC team, appearing onscreen alongside Michael Weatherly's Jason Bull, Geneva Carr's Marissa Morgan, Jaime Lee Kirschner's Danny James and Chris Jackson's Chunk Palmer.
This isn't the first time that Bull has seen controversy. A confidential settlement that later came out occured after actress Eliza Dushku spoke to series lead Michael Weatherly about how she felt about comments he had made to her while working together on set. After that conversation, her character was written out of the show, later leading to a settlement with the network. At the time, Glenn Gordon Caron was involved in the back and forth between Weatherly and Dushku. Weatherly later apologized for the comments.
Freddy Rodriguez has not spoken publicly about his exit from Bull. He was supportive of the finale of the CBS show, which aired earlier in May, but the report broke about Rodriguez and Glenn Gordon Caron's exits after that finale aired on the 17th. Since then, Rodriguez has been dealing with a death in the family, noting on Twitter that the last two years have been "tough" and have featured "so much loss."
It was actually a hallmark year for Bull, which hit its 100th episode milestone in April of 2021. At the time of the exits, Bull had already been renewed for Season 6 on CBS. Two new showrunners, Kathryn Price and Nichole Millard, both writers on the series, will take over next season.
Your Daily Blend of Entertainment News
Reality TV fan with a pinch of Disney fairy dust thrown in. Theme park junkie. If you've created a rom-com I've probably watched it.