Last Man Standing: How To Watch The Tim Allen Series Streaming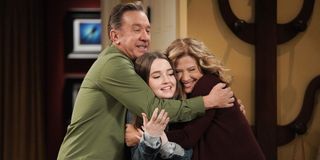 CinemaBlend participates in affiliate programs with various companies. We may earn a commission when you click on or make purchases via links.
After nine seasons, a cancellation by one network and rebirth on another, Last Man Standing came to an end in May 2021, bringing closure to a series that helped make Kaitlyn Dever a household name. But now that the Tim Allen TV show is over, you may be wondering where you can go back and watch Last Man Standing streaming from the very beginning.
Long gone are the days where you either had to record episodes of shows like Last Man Standing while they aired live or a rerun after the fact because it's never been easier to catch up with Tim Allen's Mike Baxter and the rest of his clan with nothing more than a few clicks. Below is a breakdown of all the different ways you can watch the show as well as another classic sitcom featuring the iconic comedian.
Where To Watch Last Man Standing Streaming
Whether you're a longtime Last Man Standing fan or have caught an episode here or there, chances are you want to know how you can watch it all from the very beginning. No matter which camp you fall into, you will be glad to hear that all nine seasons of the popular sitcom are streaming on Hulu. Hulu. subscribers need only search for Last Man Standing, and start watching nearly 200 episodes of Mike Baxter navigating the ever-changing world around him.
Stream Last Man Standing on Hulu. (opens in new tab)
In the event you don't have a Hulu subscription, don't feel like adding another streaming service to your collection, or just want to own the complete series, we've got you covered as well. You can currently purchase digital copies of all nine seasons of Last Man Standing as well as the first eight seasons on DVD.
Buy Last Man Standing on Amazon. (opens in new tab)
Buy Last Man Standing Seasons 1-8 on DVD on Amazon. (opens in new tab)
Will Last Man Standing Be On Netflix?
There was once a time in which the first five seasons of Last Man Standing were streaming on Netflix, but the series was pulled from the streaming giant in September 2017, just a few months after the show was given the axe by ABC. Though the timing made it appear as if the cancellation could have led to the show's Netflix departure, Last Man Standing actually left the platform following the the start of a major streaming deal signed by 20th Century Fox (the show's production company) in 2017 to bring many of the studio's series to Hulu.
How To Watch Home Improvement
If that special appearance by Tim "The Tool Man" Taylor in Last Man Standing Season 9 has you wanting to revisit the classic '90s sitcom, you're in luck because we have everything you need to know about watching Home Improvement. Unlike Last Man Standing, the comedy series centering on Tim Allen's accident prone TV host and his family isn't streaming anywhere (for now, at least), but you can watch episodes online.
Your best best for starting a Home Improvement marathon is to buy digital copies of all eight seasons (and a whopping 204 episodes) on Amazon. Or you could buy the complete series box set that comes in an amazing tool box.
Buy Home Improvement on Amazon. (opens in new tab)
Buy Home Improvement on DVD on Amazon. (opens in new tab)
And while Last Man Standing and Home Improvement won't be producing any new episodes, there are a ton of new and returning shows on CinemaBlend's 2021 Summer TV schedule.
Your Daily Blend of Entertainment News
Philip grew up in Louisiana (not New Orleans) before moving to St. Louis after graduating from Louisiana State University-Shreveport. When he's not writing about movies or television, Philip can be found being chased by his three kids, telling his dogs to stop yelling at the mailman, or yelling about professional wrestling to his wife. If the stars properly align, he will talk about For Love Of The Game being the best baseball movie of all time.
Your Daily Blend of Entertainment News
Thank you for signing up to CinemaBlend. You will receive a verification email shortly.
There was a problem. Please refresh the page and try again.