Freaks And Geeks And 10 Other Funny TV Shows We Wish Were On Streaming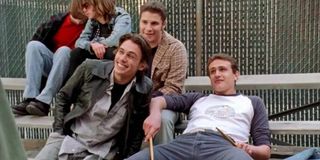 We have been blessed with the ability to cut the cord and instead choose to watch whatever we want, whenever we want, and with just the push of a button. It is a gift that I also believe we seem to take for granted for these days and have even allowed the titles that are currently available on streaming to distract us from classics that are much harder to find, like Freaks and Geeks, for instance. In fact, that short-lived, but much-loved cult favorite is just one many great TV comedies that cannot be found on any common streaming service at the moment.
It occurred to me recently how many times I have forked out some extra cash to safely and legally revisit a series that used to fill my life my laughter, whether it was by a digital rental or paying out the ass for a rare, used DVD copy. It happens quite frequently with many TV shows, often due to the cost of upholding contracts with certain streaming services, licensing disputes over music used throughout the series, or the distributor's own refusal to comply with modern times (I'm assuming?). Some explanations for a series' MIA streaming status are even more mysterious than others.
We, unfortunately, do not have the answers to those mysteries and instead have to wait until we may one day be able to enjoy our favorite funny TV shows at no extra cost than a monthly subscription. The following are 11 cherished and deeply missed examples, starting with one of the most important and accurate depictions of teen angst ever.
Freaks And Geeks
Before they went on to revolutionize comedy on the big screen, series creator Paul Feig and executive producer Judd Apatow revolutionized comedy on the small screen at the cusp of the 21st Century with this 1980s-set period piece that offered an unusually, and often painfully, realistic portrayal of America's youth for TV at the time. Tragically, the Emmy-winning Freaks and Geeks was cancelled by NBC after only 12 episodes (out of 18 produced), but lives on through the A-list careers it helped jump start, including Linda Cardellini, James Franco, Seth Rogen, and plenty more.
Undeclared
Judd Apatow tweeted in 2020 that Freaks and Geeks' streaming chances do, indeed, rely on clearing music rights - adding that the same goes for his 2001 follow-up series (also starring Seth Rogen) which offered another endearing and honest look at youth, but from the perspective of the modern college student. However, Undeclared would suffer the same fate as Freaks and Geeks, but at least got to endure a full 17-episode season on Fox and is also remembered today as a big break for A-listers like Jay Baruchel and Charlie Hunnam before Sons of Anarchy made him a household name.
It's Garry Shandling's Show
Before Freaks and Geeks or Undeclared, Judd Apatow was a writer and producer on The Larry Sanders Show, where he became friendly with star and co-creator Garry Shandling. Of course, you can watch that acclaimed showbiz satire on HBO Max, but what you cannot stream today is the more meta and wonderfully irreverent It's Garry Shandling's Show., in which the late, beloved comic played a man aware he is the star of a sitcom who would frequently interact with his studio audience from 1986-1990. You can purchase the innovative Emmy-nominee on digital, but not even a subscription to its original network Showtime will allow to stream it.
Dr. Katz, Professional Therapist
Garry Shandling once lent his voice to this cult series, as well as many other notable comedians who would present their material in the form of a therapy session with co-creator Jonathan Katz's crudely drawn, cartoon alter ego. Also starring Bob's Burgers and Archer star H. Jon Benjamin and Laura Silverman (sister of Sarah), Dr. Katz, Professional Therapist was Comedy Central's first original animated series, running from 1995 to 2002, but even among all the content available from the network's own website, this Emmy winner is nowhere to be found.
Blossom
Modern audiences know her as Amy Farrah Fowler on The Big Bang Theory, but in the early 1990s, Mayim Bialik played the eccentric teenage title character of Blossom - the only female in a house overrun with men, specifically her single father and two older brothers. Following its removal from Hulu in 2019, I was initially surprised this fun and (for its time) edgy sitcom was not at least available on Peacock given its five-season NBC run, but it was distributed by Disney's Buena Vista Television, meaning it could find a home on Disney+ someday.
Home Improvement
I would hope the same for this long-running ABC comedy whose title references both Tim "The Tool Man" Taylor's job hosting a bumbling home-improvement program and his frequent lessons in maintaining a family household with more than just a hammer and nails. If Home Improvement does not return to streaming anytime soon, former series lead Tim Allen has expressed interest in a one-off revival and claims co-stars Patricia Richardson and Richard Karn would also be game.
The Drew Carey Show
While Home Improvement topped the ratings on ABC, current The Price is Right host Drew Carey was practically the face of the network in the mid-to-late-'90s as host of the first US edition of Whose Line is it Anyway? and star and co-creator of his own self-titled sitcom in which he played a Cleveland office worker prone to bizarre misadventures with his drinking buddies, including Whose Line's own Ryan Stiles. Unfortunately, not only is The Drew Carey Show unavailable to stream anywhere, but only the first of its nine seasons is can even be purchased on DVD or digital, which we can blame copyright issues over its catchy, best-known theme song for.
Night Court
Another sitcom that can boast a catchy theme song is the hilarious Night Court, a hilarious, multi-Emmy winner following an unusual judge (the late Harry Anderson) and his equally irreverent colleagues while working the late shift of at hall of justice in Manhattan. While fans are currently unable to stream the funniest cases from its 1984-1992 run, former The Big Bang Theory star Melissa Rauch is reportedly executive producing an upcoming sequel series for NBC that will focus on Harry Stone's daughter, Abby, as she follows in her judicial father's footsteps and will feature John Larroquette's return as slimy prosecutor Dan Fielding.
Soap
Speaking of sequel series, the mid-to-late 1970s classic Soap is also known as the predecessor of popular spin-off Benson (led by the late Robert Guillaume), which is available to Roku users on the streaming device's own exclusive platform. However, you cannot even use that site (or any other that I can find) to watch this uproarious, beloved parody of the extreme melodrama found on daytime soap operas featuring a young Billy Crystal in his first starring role in a TV series.
Get Smart
Speaking of Billy Crystal, I think most agree he deserves a spot alongside all-time comedic greats like Mel Brooks, who, along with the late Oscar-nominee Buck Henry, created this brilliant send-up of the spy genre that ran around the same James Bond ruled the cinema in the late 1960s. Yet, Get Smart, starring the great Don Adams as the bumbling titular secret agent Maxwell Smart, and even the 2008 big screen update with Steve Carell and Anne Hathaway are currently without a streaming home.
The Adventures Of Pete & Pete
Before its 1992 premiere, there was nothing in the world of children's television quite like Nickelodeon's The Adventures of Pete & Pete (originally a series of one-minute shorts about a pair of synonymously named brothers and their crazy town) and rarely has anything come close to its unique blend of surrealist absurdity with relatable coming-of-age themes. This is why, after discovering its lack of streaming options, I personally spent a considerable amount of money on used DVD copies of the first two seasons and would have bought the third had it not inexplicably vanished soon after its initial release announcement - one of the series' many mysteries that fans are still eager to solve to this day.
What do you think? Do you still hold out hope that Season 3 of The Adventures of Pete & Pete will eventually see the light of day, or have you already had your fill of '90s Nickelodeon nostalgia by now? Let us know in the comments and be sure to check back for additional information and updates on the when these hilarious classics may be available stream, as well as our own recommendations for funny favorites you fortunately can stream at the moment, here on CinemaBlend.
Jason has been writing since he was able to pick up a washable marker, with which he wrote his debut illustrated children's story, later transitioning to a short-lived comic book series and (very) amateur filmmaking before finally settling on pursuing a career in writing about movies in lieu of making them. Look for his name in just about any article related to Batman.
Your Daily Blend of Entertainment News
Thank you for signing up to CinemaBlend. You will receive a verification email shortly.
There was a problem. Please refresh the page and try again.