Logan Paul Is Getting Clowned Hard Over Claims That Floyd Mayweather Actually Knocked Him Out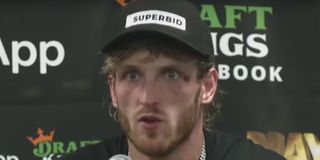 YouTube megastar-turned-boxer Logan Paul gave himself immense credit following his Showtime exhibition bout against boxing icon Floyd Mayweather, stating he went toe-to-toe with the legendary pro for 8 rounds without being knocked down or knocked out. There's no real debate over the first part of Paul's statement, but in regards to the second, Paul is getting clowned by quite a few folks online who believe the YouTuber actually did get knocked unconscious during a key moment during their fight.
At one point during Logan Paul and Floyd Mayweather's pay-per-view bout, Mayweather landed a counter shot on Paul that looked and sounded absolutely devastating. So devastating, in fact, that Paul stumbled forward and appeared to hang onto his opponent before regaining his footing. To be expected, perhaps, some viewers found it to be a highly suspicious moment during the fight, and ran with the clip online, claiming it to be clear evidence that Paul was briefly knocked out and only remained in the match because Mayweather was holding him up.
Logan Paul ultimately completed the fight without being knocked down to the canvas, but the clip in question has led some to believe he only stayed upright because Floyd Mayweather wanted the fight to go the distance. There haven't been any highly publicized incentives for Mayweather to intentionally keep Paul in the fight in such a way, but that hasn't kept some from speculating the fighter had a motive, as it went in the post above. Of course, there were more than a few like the poster below that wanted to rag on Paul's fighting skills more than they wanted to wave conspiracy flags.
If Logan Paul was indeed knocked out and intentionally kept upright by Floyd Mayweather, that would obviously severely weaken the narrative that Paul remained in the fight on his own merit. Considering Paul was so proud of that aspect after the exhibition was over, people started sharing this clip and other not-so-positive messages while tagging him and his brother Jake Paul, no doubt hoping to get a rise out of one or both of the outspoken siblings.
Typically never one to sidestep controversy, Logan Paul hasn't had much to say thus far about the knockout allegations surrounding his exhibition bout. Critics and fans alike are trying to get his take on it, though, as replies to his last post on Twitter have an increasing amount of comments antagonizing Paul for the moment, though not all are as succinctly stated as this.
Of course, it's possible that less people would be pointing out the alleged knockout moment if one of the Paul brothers would quit declaring full-on victory for the exhibition bout. While Logan Paul has been humble in his response and has said he considers it a victory just to get the opportunity to fight Floyd Mayweather, his aforementioned brother and prominent troll Jake Paul has repeatedly claimed online that Logan actually won the fight. As one would imagine, the responses to those erroneous claims tend to have more of a conspiracy theory bent in terms of the fight's legitimacy.
We may never know the full story behind this moment in the fight, or even if there is a full story. Ultimately, it's hard to say how much it even matters. If Logan Paul did get knocked out by Floyd Mayweather and still fought the rest of the fight, does that really hurt his overall credibility? It's a different situation to consider what Mayweather's intentions would have been in such a situation, but that line of speculation is best left to random Twitter threads.
Do you believe Logan Paul was knocked out by Floyd Mayweather, or is this just a smear campaign by haters of the Paul brothers? Let us know in our poll below, and for more on the Paul brothers and boxing, check out where Jake inked his new deal for his next pay-per-view event.
This poll is no longer available.
Your Daily Blend of Entertainment News
Mick likes good television, but also reality television. He grew up on Star Wars, DC, Marvel, and pro wrestling and loves to discuss and dissect most of it. He's been writing online for over a decade and never dreamed he'd be in the position he is today.