The Circle Season 3 On Netflix: Everything We Know About The Reality Show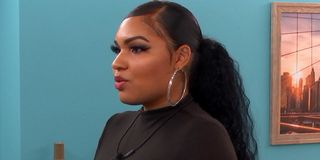 After Season 2 impressed so many subscribers, The Circle Season 3 on Netflix may be the most anticipated reality television season on the platform. Folks are ready to see more strangers from around the nation (and even abroad) compete for a chance to win $100,000. Who will be the next person to win the competition, and will they play as themselves or a catfish?
We don't have the answers to all that just yet obviously, but there are a few things we're absolutely sure of when it comes to The Circle Season 3 on Netflix. Don't worry, we're not trying to catfish anyone with this information, we just want fans to have all the details they need to put this upcoming season at the top of their list in the near future.
The Circle Has Been Renewed For Season 3
To start at the most basic level, fans worrying that The Circle Season 3 at Netflix is still hypothetical needn't worry. The Circle has been renewed for Season 3, and was renewed before Season 2 was a thing. Yep, Season 3 was already guaranteed before Season 2 already premiered, so anyone who worried about it after binging the season did all that worrying for nothing.
The Circle Season 2 introduced a number of tweaks to the game, so it'll be interesting to see if any further changes will be made to further improve the game in Season 3. It was certainly an interesting spin to have two eliminated players re-enter the game as a new catfish player, but it's fair to say the series has not successfully solved the problem of helping late-entries to the game survive and actually stand a chance in the finale.
Season 3 May Already Be Finished Filming
The Circle Season 3 on Netflix isn't just confirmed to be happening, there's a chance that it already happened. The news was first reported by reality television journalist Martin Holmes, who said that Season 2 and 3 were filmed back to back. Obviously, this news hasn't been confirmed by Netflix, but the fact it comes from a noted reality television writer does give it a bit more weight than the average rumor on the internet.
If The Circle Season 3 on Netflix was already filmed, that can be a good and bad thing. The good news here is that it's possible that the season may arrive sooner than expected, and we could possibly even get two seasons in a year. The bad news is that Season 3 would have been filmed without the input from fans after Season 2, which means some of the complaints viewers had could remain in the upcoming season, whatever they may be.
Applications For The Circle Are Now Open
While we don't know for sure whether or not The Circle Season 3 on Netflix has already filmed, we can explicitly confirm that applications are being accepted for a chance to appear on "a future season" of The Circle. Anyone interested in hanging out in a room and talking to strangers on social media all for a chance to win $100,000 can head on over to the official casting website and put in their details for a chance to be included in on the fun.
The application process to appear in The Circle isn't too complicated, though there are some things applicants should be prepared for. Pictures, a video, and some general information are all required to successfully apply, and obviously, there are no guarantees you'll get picked. Interestingly enough though, it's possible someone who applied can be contacted and have their photos used for a catfish profile for another contestant. That wouldn't be quite as cool as appearing on the show, but a decent consolation prize.
The Circle UK Has Been Canceled
As exciting as it may be that The Circle Season 3 on Netflix is coming to American audiences, there has been some upsetting news abroad. The Circle U.K., which was a different style of the series, has officially been canceled after Season 3. The series was beloved by fans both far and wide, and in the opinion of some, believed to be the superior show compared to the American counterpart.
It's unclear what, if any, bearing The Circle U.K.'s cancellation has on its American counterpart. One thing that may worry fans is that the international series had a pretty supportive following, and was reportedly up in its ratings when the cancellation came down. Again, it doesn't seem as though this series being canceled means that The Circle Season 3 on Netflix is in jeopardy, especially since it's already been confirmed. Afterward, it may be interesting to see if the series returns for Season 4.
While there's been some postseason messiness and drama among The Circle U.S.' Season 2 cast, it seems there is no shortage of fans of The Circle that are ready to see the series return for Season 3. Many are ready to see a new season with even more players looking to do whatever it takes to win the game. So far, The Circle has delivered two very worthy likable winners, will that streak continue in Season 3?
As a fan of reality television, I'm personally waiting for The Circle to hand a victory to its first villain. I guess it would be harder for a villain to win than most, considering the point of the game is to be liked by everyone. Still, I have faith that the Netflix series will provide one unlikable player who ultimately ends up winning the game via masterful deception. That's my hope anyway, and admittedly, I know it's kind of messed up I want that to happen. Here's hoping the series will continue and evolve through multiple seasons in the years to come.
The Circle Season 1 and 2 are currently available to binge over on Netflix. Season 3 likely won't arrive by the end of this summer, but that's ok because there are plenty of great things for viewers to check out on our Summer TV schedule to fill out the next couple of months of programming and beyond.
Your Daily Blend of Entertainment News
Mick likes good television, but also reality television. He grew up on Star Wars, DC, Marvel, and pro wrestling and loves to discuss and dissect most of it. He's been writing online for over a decade and never dreamed he'd be in the position he is today.
Your Daily Blend of Entertainment News
Thank you for signing up to CinemaBlend. You will receive a verification email shortly.
There was a problem. Please refresh the page and try again.