The Bold Type's Katie Stevens Shares The Series' Most Impactful Storyline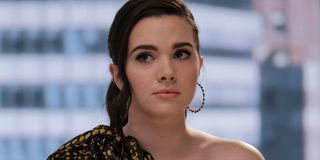 We're halfway through the final season of Freeform's The Bold Type. This show has given us five years of stories ranging from workplace harassment to the trials of new and old marriages. The Bold Type has covered a lot of ground, but one story was particularly impactful for one of the series' stars.
After working on a show for five years, I can only imagine how difficult it must be to say goodbye. Especially on a set that was telling stories as poignant as those on The Bold Type. I spoke with Katie Stevens, who plays Jane Sloane, for an interview with CinemaBlend, and she shared the following about the series' most impactful storyline:
In Season 1 of The Bold Type, we learn that Jane lost her mother to breast cancer. Jane gets tested to learn if she has the BRCA mutation, and once she finds out that she does, this storyline continues through subsequent seasons as Jane makes various medical decisions and discusses her condition with friends and romantic partners. The story is told with great care in a way that is both emotional and informative, and according to interactions Katie Stevens has had with various fans, it's clear that it resonated.
The majority of The Bold Type takes place in the office of Scarlet Magazine, where Kat (Aisha Dee), Sutton (Meghann Fahy), and Jane (Katie Stevens) first meet. As the three friends navigate various work and life challenges, the two aspects are expertly interwoven, to the great credit of the writers. The Bold Type recognizes that people spend the majority of their time at work, so it's only natural that deep bonds would be formed there. Katie Stevens shared the following about portraying these friendships that began at work and remained beyond it:
If you're a viewer who feels like Jane, Sutton, and Kat are your best friends and are sad to see them go, you're not alone. The final season of The Bold Type is now airing on Freeform with new episodes on Wednesdays and streaming the next day on Hulu.
Obsessed with Hamilton and most things Disney. Gets too attached to TV show characters. Loves a good thriller, but will only tolerate so much blood.
Your Daily Blend of Entertainment News
Thank you for signing up to CinemaBlend. You will receive a verification email shortly.
There was a problem. Please refresh the page and try again.