5 Reasons Why Tom Holland's Spider-Man Story Could Continue Past No Way Home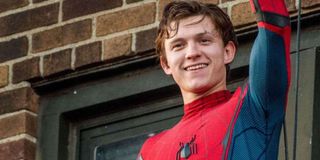 This past week, we learned that Tom Holland's third Spidey movie would officially be called Spider-Man: No Way Home. Although it feels like just yesterday we witnessed Spider-Man debut in the MCU when he nabbed Captain America's shield in Civil War, that will soon be five years ago. Holland has now earned himself a trilogy – the same amount of standalone films Robert Downey Jr and Chris Evans were given before their arcs concluded. No Way Home will also fulfill the actor's Marvel contract.
Will December's release of the third MCU Spider-Man movie mark the end of another Spider-Man era? At this point, I don't think we are anywhere close to say goodbye to Tom Holland's iteration of Peter Parker. Let's talk about it! But first, here's what the 24-year-old actor recently told GQ about his contract:
The end of a contract could create a fork in the road for Tom Holland. The actor is starting to branch out into different types of projects, between his upcoming role in the Uncharted movie and dramatic turn in Cherry. But it also feels like just the beginning for Peter Parker too. He'll likely sign on 'x' amount of additional films once he's taken some time off, which he said he plans on doing once he wraps on No Way Home. Let's speculate why Holland's continued involvement in the MCU is more likely.
MCU Hints At Opening The Multiverse
First of all, we have to look at what Marvel's Phase Four seems to be pointing toward from the outside looking in. Many of us have been tuning into the MCU's Disney+ TV show, WandaVision, week-by-week as the series has offered a number of hints that look to be leading into the opening of the multiverse in upcoming movies. While it's unclear at this point if WandaVision itself is creating the multiverse, Doctor Strange in the Multiverse of Madness certainly will delve into it, and it'll be the movie directly after No Way Home.
From what we can tell, Spider-Man: No Way Home will not be a multiverse movie on its own, because Peter Parker has some other fires to attend to first. But, we know that Jamie Foxx's Electro will return as Electro (he posted about it on Instagram before deleting), and The Hollywood Reporter claims that Alfred Molina from Sam Raimi's Spider-Man 2 will reprise Doctor Octopus in the MCU as well, alongside Benedict Cumberbatch's Stephen Strange appearing in the movie. Rumors have also been swirling about Tobey Maguire and Andrew Garfield playing Spider-Men from other universe. It would be odd for a story like this to begin and end with No Way Home.
So Much Of His World Has Yet To Be Explored
It also should be noted that the Spider-Man property is much different than that of Captain America or Iron Man. Spider-Man is one of the few Marvel characters who truly transcends its comic book fans, whereas so many other characters needed the MCU to appeal to mainstream audiences. Just 10 years ago, many people who now know and love Thor had no idea who he was, and now he and the Mjolnir are common knowledge. But Spider-Man has been ahead of the game for a long time. Now that his movies are in a great place, why would Marvel, Disney and Sony say goodbye?
It also feels as though Marvel has only scratched the surface with Spider-Man characters that are begging to be adapted onto screen. I'm talking about Black Cat, Kraven the Hunter and Green Goblin, among others! Something I could see happening is a tradeoff considering Marvel and Sony share custody with Spider-Man, and the latter is trying to build out its own Marvel universe.
Sony's Spider-Verse Has Room To Expand
Remember when Sony and Marvel decided to break their co-financing agreement in summer 2019, and it freaked us all out over the future of Tom Holland's Spider-Man? Well the underlying tension there between the two studios is likely to be confronted again following Holland's current Marvel contract coming to an end. If anything, that drama showed us that his Spider-Man is important to the big studio parents, and no matter how it all shakes out, both Disney and Sony are proud of its son.
One scenario that could switch things up, but could keep Tom Holland in the mix is if he moves over to the Sony side of things as more Spider-Verse movies, such as Venom 2 and Morbius, come out and buff up the possibility of more projects taking place entirely in the Spider-Verse instead of it being tied to Marvel so tightly. Although we'd miss Holland hanging out in the Disney side of things, if he had his own landscape to fight the bad guys, that'd be fun too!
Spider-Man Could Front The New Avengers Team
But if Sony decides to keep sharing, Tom Holland's Spider-Man could also build out a more important role in the MCU itself and become a prominent member in the Avengers – especially considering he was mentored by Tony Stark himself.
It would be sweet to see Peter Parker take on a leadership role in the franchise, perhaps alongside characters like Ms. Marvel, Black Widow's Yelena, Hawkeye's Kate Bishop, Ant-Man's Cassie Lang and so forth. That's assuming the franchise is creating the Young Avengers, which does seem to be the case to some extent.
To Introduce Miles Morales
And since we're talking about possible endings for Spider-Man, I'll propose my best case scenario for Tom Holland's Spidey: he should pass off the torch to Miles Morales' Spider-Man somehow. Whether they meet across their two worlds is up to Marvel, but how perfect of a send-off would it be if the way we say goodbye to him is through his character pulling a Tony Stark and lining up the next big hero? Of course I want to see Parker and Miles swing together, but once Miles been introduced, we should focus the story on the first live-action Black Spider-Man.
We'll have to wait and see! While I'm hopeful that Tom Holland's journey as Spider-Man has only begun, contracts can get pesky. Which aspect of Spider-Man's future would you be most excited for? Vote in our poll below!
This poll is no longer available.
YA genre tribute. Horror May Queen. Word webslinger. All her writing should be read in Sarah Connor's Terminator 2 voice over.
Your Daily Blend of Entertainment News
Thank you for signing up to CinemaBlend. You will receive a verification email shortly.
There was a problem. Please refresh the page and try again.