Ahead Of The Bold Type's Final Season, Melora Hardin Reflects On Favorite Storylines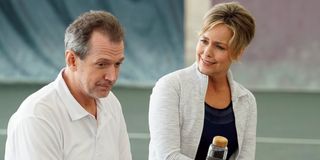 After four years of telling beautiful stories of love, work, life, and relationships, The Bold Type is concluding with its fifth and final season. Sticking with a show from start to finish is a journey, and the loss can be hard (I still have not finished processing Supernatural's end). It helps to focus on why you loved the show, and Melora Hardin has shared some of her favorite storylines from past seasons.
The Bold Type was one of the countless productions that shut down due to the coronavirus pandemic. While it was on break, I decided to re-watch the previous seasons, reflecting on my favorite scenes and storylines. Then I got to sit down with Melora Hardin who plays powerhouse boss Jacqueline Carlyle for an interview with CinemaBlend, so of course, I asked her to do the same. Here are her favorite storylines:
Fans of The Bold Type know to expect a lot of emotions, not only because there are multiple characters with separate stories being told concurrently, but also because these characters are experiencing emotionally taxing things, including trauma. The first storyline Melora Hardin mentioned about Jaqueline experiencing sexual assault in the workplace was powerful because it showed how to have a conversation about this at work. In addition, as Hardin mentioned, this story depicted a lifelong struggle and how one can overcome something while continuing to fight daily.
The second Jacqueline storyline from The Bold Type that Melora Hardin calls out as a favorite is Jacqueline's marriage troubles. This one really gave fans a soft and vulnerable side of the character they'd come to know as an absolute pillar of strength, which humanized her without losing her power.
The Bold Type's ending is bittersweet for fans as many felt some decisions made on-screen in Season 4 were out of character and Season 5 will only have six episodes for all of our beloved characters to find a resolution. We don't have to wait long to see what the writers have come up with for Jacqueline and the Scarlet Magazine staff - The Bold Type Season 5 premieres Wednesday, May 26th at 10 pm ET on Freeform.
Your Daily Blend of Entertainment News
Obsessed with Hamilton and most things Disney. Gets too attached to TV show characters. Loves a good thriller, but will only tolerate so much blood.