Two And A Half Men Star Jon Cryer Almost Starred In Another Fan-Favorite Series Instead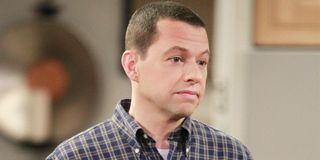 Jon Cryer has played a number of roles over the years, ranging from Pretty in Pink's Duckie to Supergirl's own Lex Luthor. The role that he's arguably best known for now, though, is that of Alan Harper on CBS' Two and a Half Men. Cryer became a household name, thanks to his 12-season run on the Chuck Lorre-produced comedy. However, as it so happens, the actor nearly landed a role on another fan-favorite series ahead of booking the sitcom.
Ever Carradine recently posed a question to her fellow actors on Twitter, asking them to name a role they came close to getting that no one would believe. The actress, known for her work on series like The Handmaid's Tale and Marvel's Runaways, revealed that she tested for the role of Grace on Will & Grace multiple times. Jon Cryer retweeted the question and revealed that in order to a final test for Two and a Half Men, he had to turn down an offer for a major sci-fi series:
The idea of Jon Cryer playing Battlestar Galactica's Gaius Baltar is intriguing, though it's honestly not a stretch. Gauis Baltar actually has a number of similarities to Alan Harper, as the two both have a dry sense of humor and aren't especially liked by everyone. Interestingly enough, Gauis starts off as a self-serving opportunist, and Alan gradually transforms from a well-meaning man into someone who has no problem mooching off others. It should also be pointed out that Baltar has a charisma that's present in Cryer's Lex Luthor, though he's arguably not as sinister as the Arrowverse villain.
Ultimately, Battlestar Galactica would tap James Callis for the role of Gaius Baltar, and fans would probably agree that he was a perfect fit for the role. While some may wonder what might have been with Jon Cryer, the actor doesn't seem to have any problem with the way things played out:
You can't help but love seeing actors show love to their colleagues. Of course, Jon Cryer is also right when he says that things worked out for the best. James Callis became a pop culture icon for his role as Baltar and was able to play the character for years. And today, he continues to have a steady acting career.
In joining Two and a Half Men, Jon Cryer became part of a ratings juggernaut, as the show now stands as one of the most successful shows in TV history. Aside from becoming one of TV's highest-paid actors, Cryer also landed two Emmys over the course of the show's run. So yeah, things worked out quite well.
There's honestly no telling where a role can lead you, even if it's for a show headed by an accomplished producer like Chuck Lorre. When reflecting on their role choices, some actors are sure to have regrets, but it's good to know Jon Cryer is just fine with his trajectory. You can check out the Two and a Half Men era of Cryer's Hollywood journey and James Callis' Battlestar Galactica work by streaming both shows on Peacock.
Covering superheroes, sci-fi, comedy, and almost anything else in film and TV. I eat more pizza than the Teenage Mutant Ninja Turtles.
Your Daily Blend of Entertainment News
Thank you for signing up to CinemaBlend. You will receive a verification email shortly.
There was a problem. Please refresh the page and try again.