Jameela Jamil's She-Hulk Character: Everything You Need To Know About Titania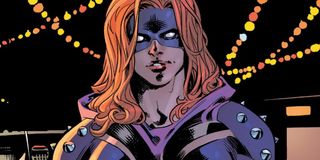 CinemaBlend participates in affiliate programs with various companies. We may earn a commission when you click on or make purchases via links.
Due to the aura of innocence she usually projects, especially in her role on the hit NBC sitcom The Good Place, it is hard to imagine that Jameela Jamil's character in She-Hulk would be the antagonist of the upcoming Disney+ series. However, that is exactly why I am intrigued to see the Pakistani-British actress, writer, model, and radio personality playing Titania, the arch enemy of the green-skinned attorney and superhero (played by Tatiana Maslany), and to learn more about who this fierce, vengeful warrior is. If you happen to know absolutely nothing about the Marvel villain, allow us to help bring you up to speed with the following five essential facts, starting with her not-so-humble beginnings.
Before Becoming A Supervillain, Titania Pretended To Be A Superhero
Created by Jim Shooter and Matt Zeck in 1984, Titania was born Mary MacPherranin in Denver, Colorado, but prematurely - resulting in her frail stature that attracted the mockery of bullies. Her troubles inspired fantasies of having superpowers - not for the purpose to avenge others, but swearing revenge against her tormentors. Her first taste of having that kind of life would turn out to be a lie.
Mary's friend Marsha commented that she bore a resemblance to Spider-Woman, which Mary decided to play along with, leading Marsha to spread the "secret" and, as result, boosting Mary's popularity. The friends were invited to a party, which happened to take place the night The Beyonder made their town a part of Battleworld, at which point the real Spider-Woman showed up to rescue them, outing Mary as an imposter. The angry partiers turned on Mary and Marsha, chasing them into the woods of Battleworld, where they came across a fearsome foe who would change their lives forever.
Doctor Doom Gave Titania Her Name And Her Powers
As they ran into Battleworld's woods, Mary MacPherran and Marsha Rosenberg found themselves alone, lost, and frightened when they happened to stumble upon Victor Von Doom - the criminal mastermind better known as Doctor Doom in the Marvel Universe. The powerful Latverian monarch and sorcerer, who often butts heads with the Fantastic Four, decided to recruit the ladies into his army and give them powers. Doom turned Marsha into a fiery being called Volcano and made Mary a superhuman warrior he called Titania.
Like the root word of her codename suggests, Titania is very strong, initially having the ability to lift a total of 85 tons and, later, up to 100 tons. She can also use her strength at full capacity for 24 hours before any fatigue may set in thanks to her extraordinary stamina and is invulnerable to injury from high caliber bullets, falling long distances, and temperatures that range from 1,500 degrees Fahrenheit to -120 degrees Celsius. All of these gifts made her formidable match for the woman who would become her archenemy.
Doctor Doom Sent Titania To Kill She-Hulk
Titania has taken on, and held her own pretty damn well, against many superheroes from the Marvel Universe, including the likes of Spider-Man, X-Factor, Luke Cage, and all the Avengers, too. However, none have been described as the Batman to her Joker as accurately as Jennifer Walters - a lawyer who came to be known as the permanently green-skinned She-Hulk after her cousin, Bruce Banner, used his own radioactive blood to save her life.
It was actually by Doctor Doom's orders that Titania went after She-Hulk and actually succeeded in besting the superhero. Of course, this would be the first of many, many brutal clashes between the powerful female fighters over the years, most of which see the villain receiving her comeuppance. However, not everyone in Titania's life is out to get her and, in fact, she even has a love life.
Titania Is Criminally And Romantically Involved With Absorbing Man
Spider-Man has Mary Jane. The Invisible Woman has Mister Fantastic (and sometimes Namor). Titania has Carl "Crusher" Creel, otherwise known as The Absorbing Man. This villain - most notably an arch enemy of Thor - used to be a professional wrestler before his nemesis' brother, Loki, tricked him into drinking an Asgardian potion that gave him the ability to absorb the properties of whatever he touches.
Crusher Creel met Titania during the Secret Wars storyline (around the time she was abducted into Battleworld by The Beyonder), at which point their romantic feelings for each other immediately began to blossom. The couple later joined Masters of Evil, led by Baron Helmut Zemo, who ordered them to kill a hospitalized Hercules, which they came close to succeeding in if not for Ant-Man and the Wasp butting in and shrinking Titania down to the size of a bee. Creel and Titania would later marry at a time when they sought they abandon their villainous ways - which did not last too long, however.
Titania Once Become A Member Of The Worthy As Skirn
For as long as Mary MacPherran has been known as Titania, she has been associated with several different teams. Most of these collectives have assumed criminal agendas, such as the aforementioned Masters of Evil and the Frightful Four. There was one collection of superhumans, however, that saw her commit dishonorable acts against her own will.
It was during Marvel's Fear Itself event in 2011 when Titania found herself called by a mystical weapon, similar to Thor's hammer Mjolnir, known the Hammer of Skirn. By picking it up, she made herself vulnerable to become possessed by the evil spirit of the hammer's namesake: Skirn, Breaker of Men. This earned her a spot on The Worthy - a team of many supervillains and superheroes alike all possessed various evil spirits and led by a godly villain named Serpent.
I must say that I am actually quite curious how Marvel Studios intends to depict Mary MacPherran on She-Hulk as the circumstances leading up to her transformation into Titania do not line up with much of anything going in the Marvel Cinematic Universe as of late. Perhaps the character could be redefined as rival a lawyer to Jennifer Walters (at first), unless, Doctor Doom and The Beyonder will be introduced by the time the Marvel series debuts on Disney+? One can only hope.
Your Daily Blend of Entertainment News
Jason has been writing since he was able to pick up a washable marker, with which he wrote his debut illustrated children's story, later transitioning to a short-lived comic book series and (very) amateur filmmaking before finally settling on pursuing a career in writing about movies in lieu of making them. Look for his name in just about any article related to Batman.