The Marvel Movies We'll Probably See In Marvel's Phase 5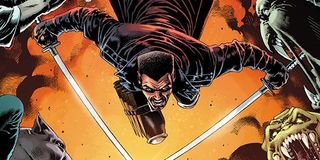 Warning: SPOILERS for Spider-Man: Far From Home and all of the MCU ahead!
At long last, we now know what will follow the Marvel Cinematic Universe's 4-year Phase 3 and the 11-year Infinity Saga. Marvel Studios announced its weird and wonderful Phase 4 slate at San Diego Comic-Con, and we are all still processing the momentous reveals and exciting films that await us in the years ahead. Yet, one thing that was particularly interesting about the Phase 4 slate wasn't what it contained, but what it was missing.
There are several notable titles that we know are coming, but didn't get a spot on the Phase 4 graphic in Hall H. At the end of the presentation, Marvel Studios President Kevin Feige listed off many titles that are in the works that they didn't have time to talk about. Following that presentation, Kevin Feige confirmed to Collider that what was presented was the complete Phase 4 (subject to change, of course) and that Blade is not Phase 4.
This means that we actually already know, or at least think we know, quite a bit about which movies will make up Phase 5. Kevin Feige has talked about having a 5-year plan all mapped out, which, when you subtract the two-year Phase 4, means Phase 5 should be about three years worth of movies, or up to nine titles if Marvel does three a year.
Some of these are no-brainers that seem very likely, while others are movies that we know are coming, but the 'when' is less certain. And of course there are the ones that could fill in those last couple of slots that we'll just have to speculate about. With that in mind, it's time to dive in to the Marvel movies we'll probably see in Marvel's Phase 5.
Very Likely
Black Panther 2
You don't deliver a culturally significant moment, get nominated for Best Picture and make $1.34 billion at the worldwide box office and not get a sequel. Kevin Feige told the Hall H crowd that Black Panther 2 is happening, thus confirming what we already knew. Introduced in Captain America: Civil War, Chadwick Boseman's T'Challa is expected to be one of the faces of the MCU in its next saga and Marvel won't want him on the sidelines for too long.
Ryan Coogler is returning to write and direct the sequel that is a somewhat surprising omission from Phase 4. We thought for a while that Black Panther 2 would land in 2021, but with that year already populated with Phase 4 titles Shang-Chi and the Legend of the Ten Rings, Doctor Strange in the Multiverse of Madness and Thor: Love and Thunder, it'll definitely happen sometime after in Phase 5.
Guardians of the Galaxy Vol. 3
Guardians of the Galaxy Vol. 3 is a strange one because it was originally expected, though never confirmed, to be the film that kicked off Marvel's Phase 4 in 2020. That honor now goes to Black Widow, and Guardians of the Galaxy Vol. 3 has been kicked all the way out of Phase 4. This is undoubtedly due to writer/director James Gunn's firing from the project, and although he has since been thankfully rehired, Guardians 3 has now been pushed back a ways.
James Gunn apologized to fans for this, stating the obvious that he is doing The Suicide Squad for DC first before returning to the Guardians. As Kevin Feige did at Comic-Con, James Gunn confirmed that Guardians 3 is indeed happening, and with The Suicide Squad releasing in 2021, James Gunn should definitely have time to make Guardians 3 for Phase 5. We'll just have to wait a while to see Peter Quill's search for Gamora.
Captain Marvel 2
This is one of the titles that Kevin Feige listed off at the end of the Comic-Con presentation, and it's also pretty much a given to show up in Phase 5. Marvel's first female-led solo film made over $1.1 billion at the global box office, guaranteeing a sequel. Kevin Feige has talked in the past about Brie Larson's Captain Marvel leading and being at the forefront of the MCU, and if she is to fulfill that Cap/Iron Man role moving forward, she has to have a movie in Phase 5.
Carol Danvers is probably the most powerful hero in the MCU right now and an obvious choice for the next Avengers team. On top of all that, the appearance of the Skrulls and whatever the heck the real Nick Fury was doing in the end-credits scene in Spider-Man: Far From Home indicate that Carol and her story will be a big part of things to come. So Captain Marvel 2 in Phase 5 seems extremely likely.
Spider-Man 3
Another notable absence from Marvel's Phase 4 slate was a sequel to this summer's Spider-Man: Far From Home and the third solo Spidey film in the MCU. Unlike Black Panther 2 or Captain Marvel 2 though, which Marvel is clearly saving for Phase 5, Spider-Man 3 is a special case. Because the screen rights to Spider-Man belong to Sony Pictures and Sony distributes the Spider-Man films, Sony would be the one to announce Spider-Man 3, not Marvel.
That means that Spider-Man 3 could actually still be a part of Phase 4, arriving in 2021, 2 years after Far From Home, just as that film arrived 2 years after Spider-Man: Homecoming. The Sony/Marvel arrangement has been great for Sony and it'll probably want another $1 billion Spidey movie as soon as possible. So if it doesn't sneak in for Phase 4 (four MCU movies in one year does seem excessive), Spider-Man 3 will almost certainly be a part of Phase 5.
Blade
The unequivocal mic drop moment of Marvel Studios' Comic-Con panel (although Natalie Portman's return was a close second) was the reveal that a Blade reboot starring Mahershala Ali as the Daywalker is in the works. Fans have been asking for this for a while now, and with the increasing presence of supernatural elements in the MCU, the time seems right. Marvel Studios has wanted to do Blade, but it took the will of two-time Academy Award winner Mahershala Ali to finally make it happen.
However, despite being a part of the Phase 4 presentation, Kevin Feige has said that Blade is not a part of Phase 4. So Blade is a confirmed MCU movie, but when it will arrive is up in the air. You have to think this will be a Phase 5 title because if we operate under the assumption that Phase 5 is two-three years in duration, a Phase 6 Blade wouldn't theoretically arrive until 2024 or 2025. That seems way too long off for a movie announced in 2019, so Phase 5 it is.
Coming, But When?
The Fantastic Four
As Kevin Feige was rattling off the names of all the other non-Phase 4 movies at Comic-Con, one of the biggest pops came when he mentioned The Fantastic Four. Marvel's First Family is finally back home and Marvel Studios is planning to integrate them somehow. The question is when? Just because Kevin Feige mentioned them doesn't mean that they will be a part of Phase 5.
The five-year plan, which I'm operating under the belief encompasses Phases 4 and 5, has been in the works for a while, presumably before the Fox deal closed. Now it's possible Marvel had audible calls ready should the Fantastic Four become available. The Fantastic Four certainly fit with the increasingly cosmic nature of this universe and maybe Marvel will find a way to work them in to Phase 5. However, it's also possible that we'll have to wait until Phase 6 to finally see a proper Fantastic Four movie.
X-Men/Mutant-Related Movie
"Mutants are coming to the MCU." Kevin Feige uttered those words at Marvel Studios' San Diego Comic-Con panel and the cinematic disappointments in the recent past involving the X-Men all melted away, replaced with a hopeful future. So the mutants and the X-Men will show up in the MCU, as we have known since the Disney purchase of 21st Century Fox closed. When this will happen though is a mystery and could be later rather than sooner.
In the past, Kevin Feige has said that it'll be a while until we see the X-Men, and they aren't included in the five-year plan that was made prior to their homecoming. That would seemingly push them out of Phase 5. And unlike the Fantastic Four, who can be incorporated at any time, the mutants are a bit more involved and will require some more legwork to explain their existence. Not to mention that Marvel Studios may want to put some distance between its iteration of the X-Men and the Fox films, which fizzled out at the box office. Marvel knows people want the X-Men though, so now it's just a waiting game.
Other Possibilities
Ant-Man 3
Paul Rudd's Ant-Man played an important role in Avengers: Endgame, and although the diminutive hero's films don't deliver the box office numbers that many of his MCU counterparts to, they are still hugely entertaining and offer something different to entertain fans. I expect Ant-Man to show up in the MCU still, but will he get a third film and sequel to Ant-Man and the Wasp?
Paul Rudd has told fans to campaign for it, so that may not be the best sign. It would be weird to go two full phases without a solo film if one is to happen, so if we are going to see Ant-Man and the Wasp 2, it would probably be in Phase 5. Ant-Man films have been slotted in after big events, so maybe this could come towards the end of Phase 5, following whatever crossover event Marvel has planned.
Nova
Although he's not at as well known as the more prominent Marvel characters, Nova is one that continually comes up as a possible entrant into the MCU. Even James Gunn has mentioned Nova as a possibility, so the powers that be have definitely given Richard Rider a thought. This universe is increasingly cosmic in nature, and that would make Nova, a big player in cosmic events in the comics, an obvious fit.
Nova could show up in Thor: Love and Thunder or Guardians 3 in advance of his own film. If Phase 5 builds towards some sort of crossover event, you have to think that it will involve some space-based threat. A Nova film about the Nova Corps space cop could help to establish that threat while also expanding out the scope of the MCU.
Avengers 5/New Avengers/Young Avengers
Kevin Feige has said that there will be a new and very different Avengers team in the future, and there has to be a movie to bring together that team. We expect Phases 4 and 5 to build towards some type of major event film as the previous Phases have, and a new Avengers film seems like an obvious option. What such an Avengers film would be is anyone's guess at this point.
The film could just be called Avengers with some story-specific subtitle, or Marvel could delineate it by calling it New Avengers, signifying the new team with members like Captain Marvel, Doctor Strange, Spider-Man and Black Panther. Another possibility is Young Avengers. The Hawkeye Disney+ series will introduce Kate Bishop, a future Hawkeye and member of the New Avengers in the comics. We also met an older Cassie Lang in Endgame. Add in Ms. Marvel and a few others and Young Avengers seems like a very doable possibility.
Secret Wars
The MCU is building to something, but what's fun about Phase 4 is that we don't yet know what. Shang-Chi and the Legend of the Ten Rings, Black Widow and The Eternals don't seem to have much in common or an obvious overarching narrative. But whatever it is, it'll be big, and when in doubt, we can look to the comics for storylines to speculate about. Just as Avengers: Infinity War and Avengers: Endgame adapted The Infinity Gauntlet storyline, Phase 5 could end with something like Secret Wars.
Secret Wars involves a cosmic character called The Beyonder teleporting the various heroes and villains of the Marvel Universe to a place called Battleworld where they are told to live up to the planet's name and kill their enemies in the ultimate crossover/Super Smash Bros. style clash. This storyline might make more sense once the X-Men and Fantastic Four are incorporated, but if Phase 5 looks to the comics for inspiration, it's a possibility.
These are just a few of the possibilities for what movies Marvel may have in store for Phase 5 of the MCU, and there are plenty of others I didn't mention and surely countless more I never thought of. Maybe Moon Knight finally makes his long-asked -or cinematic debut. We also don't know what's going on with Hulk. It seems unlikely that he would get a solo movie based on the rights entanglements, but maybe he could be a big part of someone else's movie.
After next year's The Falcon and the Winter Soldier, we'll presumably have a better idea whether or not we'll get a Captain America 4 featuring Sam Wilson's hero. Even a character like Daredevil is technically a possibility, however unlikely, since Phase 5 would be after the two year mark Marvel must wait to develop new films featuring the Netflix series heroes. Plus we have no idea if, how, or when Ryan Reynolds' Deadpool will show up.
So while we know a lot about what movies we will see in the MCU's Phase 5, there is a lot we don't know with the big event that it's all leading to representing the most compelling mystery. The beauty is we have no idea what's coming and we can look forward to all finding out as the next saga of the Marvel Cinematic Universe is about to begin.
Let us know what you think is coming in Phase 5 and what you want to see in the comments below and check out our guide to know when each Phase 4 title will be hitting theaters.
Your Daily Blend of Entertainment News
Nick grew up in Maryland has degrees in Film Studies and Communications. His life goal is to walk the earth, meet people and get into adventures. He's also still looking for The Adventures of Pete and Pete season 3 on DVD if anyone has a lead.