Evil Season 2: Why I'm Really Worried About Kristen's Mom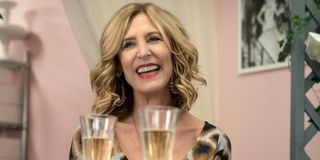 CinemaBlend participates in affiliate programs with various companies. We may earn a commission when you click on or make purchases via links.
Warning: Spoilers for Evil Season 2, Episode 2 are below. Back away unless you want Kristen to come after you with an ice axe!
Evil is off to a demon and scary angel-filled start with Season 2, and has continued to hit viewers with one fantastically creepy visual and / or reveal after the next. While the incredibly disturbing season-opener filled us in on Kristen's activities on the day of serial killer Orson's demise, and helps set up the many ways in which things are going to get way worse for herself, Ben, and David, I think we should all be even more worried about Kristen's mom, because she might be 1000% more evil than we previously thought.
The second episode focused largely on David, Ben, and Kristen being sent to investigate a potential case of angelic possession, with a man's pregnant wife reporting that her husband has said he's being used as the earthly vessel for the archangel Michael, who's told him that they need to renounce all of their worldly possessions in order to finish their work.
While the trio is trying to suss out whether or not the man is really communicating with Michael (who's shown as what must be the creepiest angel to ever be depicted on screen), David has to tell Leland that his upcoming exorcism needs to be delayed, and here's where things really get wild for Kristen's mom, Sheryl.
As you will likely remember, Leland took up with Sheryl in Season 1 so that he could continue insinuating himself into Kristen's life and make things horrid for her. And, Sheryl was very quickly taken with the potential demon, going so far as to choose him over Kristen and her (also sometimes creepy) granddaughters so that they could get married.
David just so happens to inform Leland of his delayed exorcism while he's doing a cake tasting with Sheryl for their wedding. The news enrages him so that he breaks up with her on the spot, actually telling her that he was only with her to hurt Kristen and now that he has, Sheryl should "take your dried-up little ovaries and drag them back under the rock you came from." Obviously, she does not like to hear this news, but instead of getting sad, Sheryl gets mad and gets mad fast.
When Leland next goes to his Demon Therapist appointment office, he sees that Sheryl has written DIE YOU STUPID PIG FUCK on the wall in blood (Which he later notes tastes like hers. Try not to drive yourself crazy thinking about all of those implications.) and is somewhat pleased at her attempt at retaliation. However, when Leland realizes that David, Kristen, and Ben found his hiding spot for the demonic symbol map, he meets with Sheryl to threaten her, but she isn't intimidated in the slightest.
Sheryl slaps Leland twice and twists hand back, reminding him that she knows where all of his skeletons are buried, and that he has quite a few more of them than she does. She warns him to stay away from her, noting that he's not the first "demon" she's dated, and that's when I really got scared.
What if Leland isn't the ultimate agent of chaos in the Evil cast that either he or we see him as? What if it's been Sheryl all along?
Hear me out. Remember how quickly and completely Sheryl fell under Leland's spell in Evil Season 1? What if that was simply her job? I think it's possible that Sheryl has had her own mission for whomever is truly behind all of this, whether that be the actual devil or the leader of some network of psychopaths, for many years. All those "demons" she said she dated? Can't you see the wild Sheryl becoming involved in this far-reaching plot decades ago, and being used to make relatively weak male recruits feel accomplished when they "use" her to help their plans along?
Also, what if it's no accident that Kristen's daughter, Lexis, was conceived with the help of that shady / demonic fertility clinic? Couldn't it be possible that she was chosen because the powers that be already had a hold on someone close to her who could watch Lexis' development and guide her toward her evil path? We saw Sheryl do that in Season 1, when she encouraged the girl to beat the shit out of a bully with a rock. It seemed like Leland's influence, but couldn't it have been Sheryl's true nature / plan coming to the forefront?
She also told Leland that he had much more to lose than her, even though she has an actual family. I'm taking that to mean that she's much further entrenched with and more trusted by the Head Evil In Charge than Leland. And that is bad news to the max for Kristen, the team, and probably all of humanity.
In addition to the disturbing stuff we saw and heard from Sheryl in this episode, the trailers for the rest of the season seem to prove that her behavior is only going to get worse. We got a glimpse of her visiting Kristen's therapist, Dr. Boggs, and that will probably be bad times for everyone.
You can keep up with Sheryl and everyone else's evil antics when Evil airs new episodes, every Sunday on Paramount+. For some demon-free entertainment in the coming weeks, check out all of the 2021 summer TV shows.
Your Daily Blend of Entertainment News
Yennefer's apprentice, Gilmore Girl; will Vulcan nerve pinch pretty much anyone if prompted with cheese...Yes, even Jamie Fraser.