Evil Cast: Where You've Seen The Paramount+ TV Show Stars Before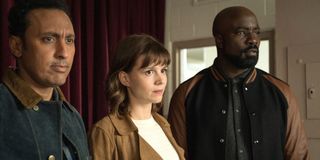 CinemaBlend participates in affiliate programs with various companies. We may earn a commission when you click on or make purchases via links.
Evil brought something quite different to CBS when it premiered in the fall of 2019. Among a sea of sitcoms and procedurals, Evil followed three investigators for the Catholic church, who'd been tasked with deciding whether or not several odd occurrences around New York City were due to demonic possession and other supernatural meddling. Throughout its 13-episode first season, the Evil cast helped the show ride the line between the potentially mundane and the definitely creepy, even if it wasn't because of devils, angels, or the like.
With the show finally debuting Season 2 on Paramount+ (and with a lot of important Evil plot points to remember before then), we thought it was a good time to help you remember where else you've seen the very recognizable Evil cast, so that you can be properly terrified without wondering, "Where have I seen this person before?" Let's dive right in!
Mike Colter (David Acosta)
As one of Evil's leads, Mike Colter plays priest in training, and true believer, David Acosta, who's always willing to see his mysterious cases as those caused by the supernatural. Colter was likely very familiar to you because of coming to Evil nearly right off of his role as the lead superhero on one of Marvel's acclaimed Netflix shows, Luke Cage, which ran for two seasons. But, Colter has racked up over 40 screen credits in almost 20 years, having appeared in TV shows such as ER, three Law & Order series (Trial by Jury, Criminal Intent, and SVU), Royal Pains, Blue Bloods, and Criminal Minds. He's also had much larger roles in shows like Ringer, American Horror Story, Halo: Nightfall, The Following, The Good Wife, and also appeared as Luke Cage in The Defenders and Jessica Jones.
Mike Colter has also been on the big screen in films like Million Dollar Baby, Men in Black 3, Zero Dark Thirty, Girls Trip, and Black and Blue. He'll next be seen in Till Death with Jason Sudeikis.
Katja Herbers (Kristen Bouchard)
Kristen Bouchard is one of Evil's resident skeptics, and Katja Herbers plays to perfection the forensic psychologist with all of her doubts and determination to get to the real truth behind their cases. Herbers got her start on screen in her home country of the Netherlands in 2002, and became known to U.S. audiences with her roles on shows like The Americans, Manhattan, The Leftovers, and most recently, Westworld. She'll next be seen in Rotterdam, I Love You.
Aasif Mandvi (Ben Shakir)
Now we have Evil skeptic Number 2, Ben Shakir, the team's technical expert who tries to find out if their cases are actually related to mechanical mischief or environmental factors. This practical church contractor is played by Aasif Mandvi, who's probably best known to audiences for his long stint as a correspondent for The Daily Show from 2006-2017. But, even if you never watched Mandvi there, he has a long list of credits going back to a 1988 appearance on Miami Vice. On TV, he's also been on series like New York Undercover, Nash Bridges, the original Law & Order (as well as SVU, Criminal Intent, and Trial by Jury), Sex and the City, Oz, The Sopranos, and Person of Interest. He's also had bigger roles on shows such as Jericho, CSI, ER, Younger, Blue Bloods, and A Series of Unfortunate Events.
Aasif Mandvi has also been in a number of movies, including Die Hard with a Vengeance, Spider-Man 2, The Last Airbender, and Mother's Day, and will next be heard in the animated film Blazing Samurai.
Michael Emerson (Leland Townsend)
Evil's current mastermind of, well, evil, is Kristen's polar opposite when it comes to forensic psychology, Leland Townsend, played by Michael Emerson. And, if you haven't seen Emerson in the past decade or so, you may not have watched television during that time, because he's known for his turns as the (also basically evil) leader of the Others, Ben Linus, on Lost, and for his five seasons on Person of Interest. The actor has also been in shows like The X-Files, Without a Trace, and Parenthood, with larger roles on series such as The Practice, Arrow, Mozart in the Jungle, and The Name of The Rose.
Michael Emerson has appeared on the big screen in movies like Unfaithful, Saw, and The Legend of Zorro, and will next be seen in the adventure comedy Man & Witch.
Christine Lahti (Sheryl Luria)
As Kristen's wild, but also easily led to darkness mother, Sheryl, Christine Lahti brought viewers several surprises in Evil Season 1. Lahti has been in a number of well-known and beloved TV shows and movies since she made her television debut in 1978, and has had major roles on series like Chicago Hope, Jack & Bobby, Studio 60 on the Sunset Strip, The Blacklist, and Hawaii Five-O. She's also appeared in shows such as Ally McBeal, Law & Order: SVU, Grace and Frankie, The Good Wife, The Good Fight, and Curb Your Enthusiasm.
The Oscar nominee (for Best Supporting Actress in 1984's Swing Shift) and eventual Oscar winner (Best Short Film, Live Action in 1996), has also starred in movies such as Whose Life Is It Anyway?, Running on Empty, Miss Firecracker, Leaving Normal, Smart People, and A Beautiful Day in the Neighborhood.
Kristen Connolly (Mira Byrd)
Kristen Connolly plays homicide detective Mira Byrd on Evil, who might soon be very disappointed in her friend Kristen during Season 2. Connolly wrapped a three season starring role on the animal attack drama Zoo, but will also be known to fans of House of Cards, where she played Christina Gallagher for the first two seasons. The actress has also appeared in shows like Life on Mars, Nurse Jackie, The Good Wife, The Whispers, Prodigal Son, and the daytime soaps Guiding Light and As the World Turns, with film appearances in Mona Lisa Smile, Meet Dave, The Happening, Revolutionary Road, The Cabin in the Woods, and others.
Connolly will next be seen in the Adrian Lyne thriller, Deep Water, with Ben Affleck and Ana de Armas.
Patrick Brammall (Andy Bouchard)
Australian actor Patrick Brammall plays Kristen's (mostly) absentee husband, Andy, on Evil, and fans will know him from several recent television appearances. Brammall just wrapped Season 1 of the ABC sitcom Call Your Mother, and co-created and stars on the Paramount+ comedy No Activity, which is based on the Australian show of the same name that he also co-created. He also voices Uncle Rad on the animated show Bluey, and has been seen in shows like Lodge 49, New Girl, Life in Pieces, Glitch, The Letdown, Offspring and others, and has appeared in films like The Little Death, Fun Mom Dinner, and Overlord.
Maddy Crocco (Lexis Bouchard)
As Kristen and Andy's potentially demonic daughter Lexis, Maddy Crocco's time on Evil only seems to be guaranteed to get weirder in Season 2. This is Crocco's first on-camera role, but if the trailer for the new episodes is any indication, she might have a lot more to do on the drama this year.
Dalya Knapp (Laura Bouchard)
Dalya Knapp plays another of Kristen and Andy's four excitable daughters, Laura. Evil is Knapp's first major role, but she was also in the short film Gracie's Keeper in 2018, and could be heard in the animated series The Shivering Truth in 2020.
Brooklyn Shuck (Lynn Bouchard)
Oldest daughter Lynn is played by Brooklyn Shuck, who, in addition to her many Broadway roles, has been working on screen more since her 2014 appearance in the film Thou Wast Mild and Lovely. Shuck had a recurring part on the series Rise, appeared on the show Instinct, and was seen in the movie Estella Scrooge: A Christmas Carol with a Twist in 2020.
Skylar Gray (Lila Bouchard)
Rounding out the Bouchard family is Skylar Gray as Lila. Gray has been in a number of short films and TV shows since her debut on the series Married in 2014. On television, she's been on Life in Pieces, Fresh Off the Boat, Me, Myself and I, and Room 104. Her film credits include Now Is Everything in 2019 with Anthony Hopkins, and the shorts The Classiest President, The House That Wasn't There, Condemned, and more.
Clark Johnson (Father Amara)
Clark Johnson portrays Father Amara on Evil, a very devout man who's a bit of an expert on exorcisms and provides backup for David on several occasions. Johnson will be very recognizable to fans who also enjoyed Homicide: Life on the Street, where he played Meldrick Lewis for the entire seven seasons, as well as viewers of The Wire (where he also directed), who watched him as newspaper editor Augustus 'Gus' Haynes during Season 5. Johnson has also appeared in the shows Night Heat, L.A. Law, Forever Knight, Cold Squad, Soul Food, Unforgettable, Homeland, and had a five-episode stint on Amazon's Bosch in 2018.
Kurt Fuller (Kurt Boggs)
As Kristen's personal therapist, actor Kurt Fuller has a recurring role on Evil as Dr. Kurt Boggs. Fuller has amassed over 200 credits since he got his start on screen in an episode of Knight Rider in 1984, and has had roles in series like L.A. Law, Quantum Leap, NewsRadio, Diagnosis Murder, Chicago Hope, Dharma & Greg, The West Wing, Felicity, Alias, Boston Legal, Desperate Housewives, Scandal, Parenthood, and had memorable roles as coroner Woody Strode on Psych, Judge Peter Dunaway on The Good Wife, and high-ranking angel Zachariah on Supernatural.
Boris McGiver (Monsignor Matthew Korecki)
Boris McGiver plays Monsignor Matthew Korecki, who gives the team most of the cases they investigate, on Evil. McGiver has been on series like Third Watch, Rescue Me, The Wire, Blue Bloods, The Carrie Diaries, Damages, White Collar, and Forever. He's had major roles on shows such as Person of Interest, Boardwalk Empire, House of Cards, and recent series For Life, and one of the best Apple TV+ shows to watch, Servant.
Marti Matulis (Devil Therapist / George)
Last, but in no way least, we have Marti Matulis, who will be completely unrecognizable to you, unless you're able to discern the man's true face from his heavily masked performances as the creepy night demon George, who terrorizes Kristen, and his work as Leland's extremely horned devil beast of a therapist / possible demonic leader. Matulis has appeared in a number of movies and TV shows, generally as a heavily made-up alien / otherworldly creature of some sort. His work includes roles in Star Trek: Insurrection, Nemesis, and the series Enterprise, Grimm, Men in Black 3, Harry Potter and the Ten Years Later, American Horror Story, Sleepy Hollow, Teen Wolf, and, most recently, Star Trek: Picard.
The cast of Evil will be back for Season 2, which debuts on Paramount+ on June 20, and will release new episodes weekly. For more on what to watch in the coming weeks, check out our guide to 2021 summer TV premieres!
Your Daily Blend of Entertainment News
Yennefer's apprentice, Gilmore Girl; will Vulcan nerve pinch pretty much anyone if prompted with cheese...Yes, even Jamie Fraser.