After Assault With A Deadly Weapon Arrest, Andy Dick And Fiancee Explain Broken Leg, Their Version Of Events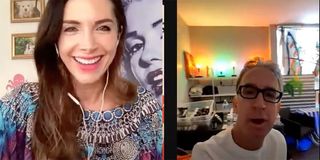 A few months ago we learned that Andy Dick had gotten engaged to former Cobra Starship band member and current "Kermit and Friends" radio host Elisa Jordana. The two seemed happy, that is until news came down the pipeline this week that Dick had been arrested on assault with a deadly weapon charges. Now, both Dick and Jordana are speaking out about what happened over the past weekend, and reportedly a broken leg is involved.
Elisa Jordana has taken to her radio show to talk about Andy Dick's struggles and how he hasn't been the "harmless" man she's known for the past few weeks. The radio host said on "Kermit and Friends" that after Andy Dick's arrest she'd known that things had been off during the week before the arrest. Jordana noted:
According to an interview with guest Sugar on the podcast, Elisa Jordana also recounted what had happened with Andy Dick. The two alluded to him spending time with Lucas when things happened. From what Jordana is saying, some of Dick's behavior was spiraling. While she doesn't see Dick as a dangerous person, she had previously said he was arrested after hitting a pal with a metal chair.
She talked about being the person there for Andy Dick after the tumult, mentioning that a lot of the other people in the comedian's life are not the type of people who could or would be willing to step in and offer help. She's even previously gone so far as to say the comic would be better off "in jail" then he would be spending time with his "friends." She also mentioned her own feelings on the matter:
Following the arrest, Jordana had spoken out about being worried Andy Dick might have killed his partner the night of the event and had said that the actor had had a bad night leading up to the incident with the metal chair and their mutual acquaintance Lucas Crawford, whom Elisa Jordana used to date. Dick himself has since said the two were razzing one another and things got out of hand. In his series of events, he threw the chair only after things had gotten serious and he had allegedly broken his leg during the brawl. That series of events is what led to his arrest, per a Page Six report. Jordana has shared the picture of the cast on her Instagram Story.
Elisa Jordana's birthday was this week and she seems to be standing beside Andy Dick through this latest tumult. She even shared a loyal post about how tough the last year has been but about how there have been people there for her.
This wasn't the first time Andy Dick has been arrested. The Hollywood personality has struggled with substance abuse over the years. In 2018, he was charged with sexual battery following separate incidents on sets for film Raising Buchanan and on Jimmy Kimmel Live! for behavior that had been deemed unacceptable (in the latter case he had allegedly tried to touch Ivanka Trump). The actor had also previously been arrested in 2016 after allegedly urinating outside of a Buffalo Wild Wings as part of an investigation into drug use and sexual battery after reportedly pulling down a teen's top in a bar.
Amazing Race & Top Chef superfan with a pinch of Disney fairy dust thrown in. If you've created a rom-com I've probably watched it.
Your Daily Blend of Entertainment News
Thank you for signing up to CinemaBlend. You will receive a verification email shortly.
There was a problem. Please refresh the page and try again.