9-1-1: Lone Star's Ronen Rubinstein Hypes Intense Storylines For T.K. And Carlos In Season 3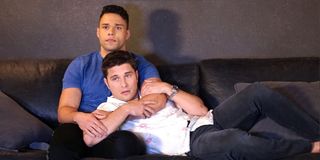 Even though Fox's first responder drama 9-1-1: Lone Star won't be premiering its third season until midseason next year, that doesn't mean the writers' room isn't already cracking out ideas. Perhaps one of the biggest parts of the show is its leading LGBTQ couple, T.K. and Carlos, known as Tarlos. According to Ronen Rubinstein, who portrays firefighter-turned-paramedic T.K. Strand, fans have a lot to look forward to in the upcoming season.
In an interview alongside his on-screen boyfriend Rafael Silva for Entertainment Tonight, Ronen Rubinstein teased Tarlos' future for Season 3 of the 9-1-1 spinoff. T.K. and Carlos took multiple big steps in The actor previewed that storylines will get more intense, even following their house burning down towards the end of Season 2:
It looks like T.K. and Carlos' relationship will be even more intense in the upcoming season than it has been in 9-1-1: Lone Star so far. In Season 2, the two dealt with a near-break up after Carlos introduced T.K. to his parents as his "friend from work." The statement almost cost Carlos T.K. but after sitting down and having a serious talk with him, the two of them worked it out. Then their house caught on fire, not long after T.K. moved in, thanks to an arsonist but all that mattered was that the two of them were okay.
It will be interesting to see what happens with T.K. and Carlos when we come back to them early next year, and what personal matters they'll be getting into, since it will be intense according to Ronen Rubinstein and showrunner Tim Minear. Since we haven't gotten to know Carlos too much and only met his parents a few times, it's possible we'll be getting more of them in Season 3. Meanwhile, with the 126 shut down, at least for now, that leaves T.K. and his 126 family mostly separated.
Even though they will always be a family and still hang out, it's unknown what will happen to the firehouse. And since mother Gwyneth will likely be close to giving birth by the time Season 3 premieres, how will T.K. feel? Even though the baby isn't Owen's, he's still going to be a brother regardless. What will Tarlos be in store for in Season 3 of 9-1-1: Lone Star? The new season premieres during midseason 2022 on Fox! Catch up on the first two seasons now on Hulu.
Your Daily Blend of Entertainment News
Passionate writer. Obsessed with anything and everything entertainment, specifically movies and television. Can get easily attached to fictional characters.