Twin Peaks' Kyle MacLachlan Is Heading To Another Weird And Unexplainable TV Universe: Kate McKinnon's Joe Exotic Series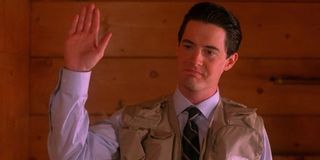 Kyle MacLachlan has certainly had an interesting career, having had stints on both the big and small screens. When it comes to the latter, he's had stints on Sex and the City, Desperate Housewives and Marvel's Agents of S.H.I.E.L.D. However, his most famous role is arguably that of eccentric FBI agent Dale Cooper on Twin Peaks. Many no doubt know just how trippy and strange the original show and the revival miniseries could get but, now, the actor is arguably heading into other strange territory. That's right, he's joining Kate McKinnon's Joe Exotic series in a key role.
Peacock's currently untitled Joe Exotic series has been steadily building its cast over the past few months. So far, it's found some strong actors to portray the eclectic array of figures that were present in the former zoo owner's orbit. Kate McKinnon is portraying Exotic's rival Carol Baskin, and now, Kyle MacLachlan is set to play Baskin's husband, Howard Baskin, according to THR.
Now, just to be clear, Kyle MacLachlan is playing Carole Baskin's third husband, who appeared prominently in Netflix's docuseries. Some may be quick to mistake the role for Baskin's second husband, Don Lewis, the businessman who infamously disappeared back in 1997 and was declared dead in 2002. That situation has put Baskin at the center of massive speculation, and it's also resulted in a few legal issues for her as well.
Joining Kyle MacLachlan and Kate McKinnon on the Joe Exotic series are Wiliam Fitcher (replacing Dennis Quaid) in the role of producer Rick Kirkham, Dean Winters as Exotic's former business partner Jeff Lowe, Joel Marsh Garland as Exotic's friend James Garretson, along with newcomer Lex Mayson in the role of Saff, an employee at the Greater Wynnewood Exotic Animal Park. And last but not least, Exotic himself will be portrayed by actor, director and playwright John Cameron Mitchell, who seems eager to sink his teeth into the role.
While not quite as old as Howard Baskin, Kyle MacLachlan does slightly resemble the man, but MacLachlan's acting abilities should certainly allow him to effectively embody the role. It'll also be fun to see him play off of Kate McKinnon and, with this being a Carole Baskin-centric series, the two are sure to share a lot of screen time.
Believe it or not, this isn't the only scripted Joe Exotic-related production that's currently in the works. Another project is currently in the works at CBS and is set to premiere on Amazon Prime Video at some point in the future. And the eight-episode series has managed to land Nicolas Cage in the role of Exotic.
It's pretty much a given that Kyle MacLachlan and his co-stars have a wild ride ahead of them but, thanks to his past work, MacLachlan should be prepared for the weirdness. But I honestly think the jury is still out on whether the exploits within the town of Twin Peaks, Washington actually top a bitter war between two animal enthusiasts.
Your Daily Blend of Entertainment News
Covering superheroes, sci-fi, comedy, and almost anything else in film and TV. I eat more pizza than the Teenage Mutant Ninja Turtles.