Check Out Game Of Thrones' Kit Harington And It's Always Sunny's Rob McElhenney Winning TikTok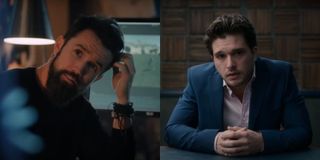 TikTok, like its predecessor Vine, is often a comedic experience. No one's really scrolling the app for the news. We want to see unlikely animal friends and a man skateboarding down a sunny street with a half-gallon of cranberry juice in one hand and a phone blasting "Dreams" by Fleetwood Mac in the other. Comedic actors are taking TikTok by storm - but what happens when they join forces with an actor known for dramatic work? In the case of It's Always Sunny in Philadelphia's Rob McElhenney and Game of Thrones' Kit Harington, the result is pure hilarity.
Rob McElhenney only joined TikTok at the end of June, and he's already amassed over 400k followers and almost 2 million likes. The Always Sunny actor is funny enough by himself, but the real magic happens when his chaotic energy meets Kit Harington's signature Jon Snow puppy dog face. Take a look below:
Admittedly, that got a sensible chuckle. Kit Harington's total and utter indifference as he asks if TikTok is for kids? Rob McElhenney dropping his smile faster than Christian Bale as Patrick Bateman in American Psycho? Pristine. Even Always Sunny's Kaitlin Olson (who's married to Rob McElhenney) standing in the background looking totally disinterested adds to the comedic value. The best moment, though, is the quick cut to Rose Leslie as Ygritte spitting out her meme-worthy line, "You know nothing, Jon Snow."
Comedy from Rob McElhenney is no shock - he's starred on FX's Always Sunny for 14 seasons and Mythic Quest on Apple TV+ for two - but Kit Harington is mostly known for looking distraught in the North of Westeros. Jon Snow wasn't exactly smiling on a regular basis throughout Game of Thrones, so it's nice to see Harington have a bit of fun. You can check out another Kit Harington/Rob McElhenney TikTok masterpiece here:
Looks like Kit Harington found a way to make his perpetually wet-eyed Jon Snow face funny instead of heartwrenching (also: Rob McElhenney and Kit Harington hang out in Vegas casinos together? Talk about the ultimate fan experience). Only time will tell if the unlikely TikTok duo will reunite for future installments, but here's hoping that they do.
If you miss Kit Harington, you're in luck: he snagged a role in the upcoming Marvel film Eternals alongside Game of Thrones co-star Richard Madden as well as Angelina Jolie, Gemma Chan, and Kumail Nanjiani, among others. Directed by Nomadland's Chloé Zhao, the film will be released on November 5, 2021 as part of Marvel's Phase Four. You can catch Rob McElhenney in Mythic Quest on Apple TV+, as well as Always Sunny which is currently streaming on Hulu.
Your Daily Blend of Entertainment News
Actor, singer, and occasional dancer. Likes: fashion, books, old buildings. Dislikes: cilantro, the NJ Turnpike, sneaker wedges.