Josh Duggar Child Pornography Trial Delay Buys Star Time, But How Long Could He Go To Prison For?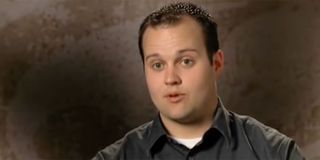 Josh Duggar has been in the news a lot in recent weeks and that's unlikely to slow down. The former 19 Kids and Counting Star is facing charges of receipt and possession of child pornography and was expected to go on trial this month. However, after his lawyers asked for a delay in the case, the star has been bought some time on bail, but could still be facing serious prison time.
A few weeks back, reports indicated that Josh Duggar's lawyers were working hard to delay his trial. The reason? The case is "complex" according to Duggar's legal team, and will require his legal team to sift through the evidence, a process they say will be "a time consuming process that requires review at a government facility for the one device the Government alleges contained child pornography." The legal team wanted the date shifted to February of 2022.
Well, that won't be happening. However, Josh Duggar's legal team did get the trial delayed. After filing the motion, People reports the trial has been pushed back and won't commence until November 30. In the meantime, Josh Duggar is still out on bail and is still staying at the home of Maria and LaCount Reber in Elkins, Arkansas.
The original trial was expected to start on July 6. The overall case delay was approved after the prosecution asked for a three-month delay instead of the longer delay requested by the defense that would have pushed the trial into 2022. It seems that a compromise between the two was reached, and Duggar's lawyer Justin Gelfand stated he was "pleased" with that outcome and the November trial date.
If Found Guilty, How Many Years In Prison Is Josh Duggar Facing?
When Josh Duggar was arrested by federal agents in Arkansas back at the end of April, reports indicated he had been arrested on one charge of receiving child pornography and one charge of possession of child pornography. But that doesn't mean his computer reportedly featured just one downloaded item of child pornography. In fact, reports indicate that over 200 images of child pornography were allegedly found when a raid was undergone at Josh Duggar's former car dealership workplace.
A federal agent on the case at Josh Duggar's bail hearing, Homeland Security Investigations Special Agent Gerald Faulkner, called it "in the top five of the worst of the worst that I've ever had to examine." With that in mind, if found guilty, the former reality star (who did not appear in the TLC now-cancelled sequel Counting On following a separate molestation report scandal) could land a sentence of up to 20 years in prison for each charge. In addition, he also could be facing up to $250,000 in fines for each charge. This means Josh Duggar, 33, could face 40 years if he receives the maximum sentence.
The images found on a variety of devices (including an HP computer and a MacBook) reportedly depicted children between 18 months and 12 years of age. Though it will be a few more months before an official trial gets underway, we will keep you updated if any additional related news breaks.
Your Daily Blend of Entertainment News
Reality TV fan with a pinch of Disney fairy dust thrown in. Theme park junkie. If you've created a rom-com I've probably watched it.