Netflix's I Think You Should Leave: The Best Season 2 Sketches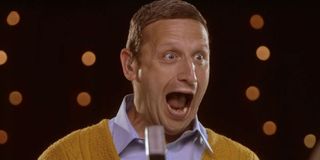 Following a quiet debut in April 2019, Netflix's uproariously absurd I Think You Should Leave with Tim Robinson became one of the most ludicrous and hilarious new sketch comedy shows to arrive in a long, long time. Therefore, expectations were certainly high when it came to its delayed second season, and thankfully, it didn't disappoint.
With a bigger budget, more guest stars, and more confidence to get even weirder, wackier, darker, and more deranged with each skit, the much-anticipated second season proved that creators Tim Robinson and Zach Kanin were still on the top of their game, producing another outstanding season of nonsensical television. It's hard to pick favorites, but here are just a few highlights from I Think You Should Leave Season 2.
"Prank Show"
It's about time someone poked fun of the existential horror that is modern prank shows. Sure enough, I Think You Should Leave was quite willing to make light of the haunting spectacles that come from these antic-heavy programs by producing Karl Havoc (Tim Robinson), a rubbery faced, grey-haired, inexplicably muscled-up wacko costume who causes our spunky television host to have a psychological breakdown in a crowded mall. Already, this skit is ripe for big laughs. The sight of Robinson, struggling to literally jump out of his skin, is intensely funny at (horribly distorted) face value, but the comic adds some extra layers of sadness to the mix when our ghoulish TV star must reckon with whether or not he even wants to be alive anymore. It doesn't help that his chin kills. For my money, "Prank Show" is the season's most hysterical sketch. It's also, quite easily, the most disturbing.
"Ghost Tour"
The beauty of "Ghost Tour" isn't simply how howlingly funny it can be, especially from such a juvenile concept, but how it builds into an acutely moving character examination of a lug-headed paranormal activity enthusiast who cannot process why everyone is mad at him for asking raunchy, X-rated questions at the after-10 p.m., adults-only, "say whatever the hell you want" ghost tour. The skit's premise was uproarious on its own, particularly with Tim Robinson playing up this ghost lover's shallow, semen-obsessed worldview with impressive commitment, but there's something so specifically hilarious about seeing a grown man, tears raining down his face, ask if any of the ghosts have ever blasted out of the wall and had a "huge cum shot," and something so delicately sobering about seeing that same man-child hold his head low as his cheery mom asks if he made any friends on the tour. The power of a great I Think You Should Leave skit.
"Spectrum"
"Spectrum" is non-stop nonsense hilarity from beginning to end, and it's a glorious sight to behold. Centered around the struggling CornCobTV, which only has one hit show to their name, Coffin Flop, and its blabbering spokesperson, this skit is incredibly specific and demented, and it only gets funnier with each second. By the time you see several nude corpses flop out of coffins, accompanied with shots of Tim Robinson's outspoken TV host yelling about the virtues of the station, all while disputing any ethical criticisms that the faux program received, you're in a delirious spiral of deranged reality television.
"Claire's"
Admittedly, "Claire's" is a peculiar conclusion for I Think You Should Leave Season 2. It's a solemn, remorseful skit, one that's initially focused on a nervous little girl watching an educational video about ear piercing at her local Claire's before it takes a giant detour into the gravely dissatisfied life of Ron Tussbler, a 58-year-old wayward soul trapped in a loveless marriage, suffering from intense gastrointestinal distress, and filled with pangs of regret about the sad state of life. The mix of comedy and sorrow is handled wonderfully by Richard Wharton's hollow-eyed performance, though the humor is also heightened by the inclusion of a vocally irate middle-aged man who loudly insists that he doesn't need to watch this video tutorial. The juggling act of watching an older man recount his unhappy life, while a mid-life dullard claims that he's well-aware of these ear-piercing formalities and a perplexed child watches these two very odd spectacles helplessly, results in one of the show's boldest, darkest, but also most hilarious skits.
"Parking Lot"
Every motorist must deal with their fair share of incompetent drivers. Sometimes, you'll wonder to yourself, does this person even know how to drive? Well, what if they didn't? That's the basis for "Parking Lot," a one-joke premise that's milked marvelously by a totally bewildered Tim Robinson. Playing a hapless man who cannot understand how to work his vehicle, much to his fellow driver's confusion, frustration, and alarm, this skit is just the right level of dumb hilarity. It gets a lot of mileage (no pun intended) from its goofy premise and Robinson is great, as always, at playing wide-eyed fools who can't make sense of their unfamiliar surroundings. It's strange and it's stupid and it's sublime.
"Detective Crashmore"
It starts with a simple premise: we're seeing a gritty, macho action movie trailer parody with an inexplicably very old man with a long grey beard. The explanation should be obvious, but the title card reveal of "And Santa Claus as Detective Crashmore" still manages to catch you off-guard. Because, quite frankly, in a world as patently absurd as the one in I Think You Should Leave, would it be weird to have an R-rated action movie with a regular geriatric man? From there, we follow up with the fake film's richly awkward press junket, where Santa doesn't take too kindly to Christmas-related questions, gives several canned or vague answers ("it's a cosmic gumbo"), and dishes out increasingly uncomfortable revelations about what he has seen in his eternal life. It's a classic example of how the show will commit to a dumb bit to see how far it'll go.
"Grambles Lorelei Lounge"
In your typical I Think You Should Leave sketch, Tim Robinson plays the befuddled fool who makes things awkward for everyone. But in "Grambles Loreli Lounge," the tables are delightfully turned on him. An intentionally downplayed fancy dinner skit takes a deliriously bizarre turn when Professor Yurabay (Bob McDuff Wilson), an affluent, slow-drawl mentor figure, tests the patience of his former students when he steals Dylan's (Robinson) delicious burger, the key to the skit's hysterical success is Wilson's sizzling delivery, particularly with the immensely quotable "give me that!" But seeing Robinson get the rare opportunity to play a dressed-down everyman is also extremely satisfying.
"Dan Flashes"
Centered around a starved, couch-bound office employee (Tim Robinson) who forgoes eating for a week in order to purchase an assortment of loud, elaborately "complicated" designer shirts that are made to appeal to tacky customers like himself, "Dan Flashes" has a straightforward, ironically uncomplicated premise, but it's immediately sold by Robinson's explosive energy — as he insists, with spitfire menace, that his dramatically colorful shirts are worth their extravagant price tags. Anchored greatly by his prodding, decades-older colleague, Doug, who revels in his co-worker's deluded desire to buy so many overpriced button-downs, this humorously stripped-down skit knows how to get loony without overdoing it, and it ends before it can ever go out of style. Indeed, it's in and out in a...flash.
"Driver's Ed"
Among the very best surprises of I Think You Should Leave Season 2 was seeing Patti Harrison get more time to shine, both as a writer and performer. Following her standout sketch in Season 1, Harrison became the star of two notable skits this time around — with a late-in-the-game "Driver's Ed" being her funniest and most rewarding, as well as one of this exceptional season's finest bits. Centered around a perplexing instructional video involving dirty tables, "Eddie Munster," "Freddy Krueger," and countless careless driving mistakes, this one is fascinating and entertaining when it comes to depicting the logical (or illogical) thinking behind the oddball folks inhabiting this absurdist world.
"Calico Cut Pants"
In what's easily the longest I Think You Should Leave sketch yet, "Calico Cut Pants" begins with a deliberately low-stakes premise. It follows a careless worker (Mike O'Brien) who is saved from some office embarrassment when an overly helpful fellow employee (Tim Robinson) claims that he's actually sporting a new-age pair of pants with pee stains laced in the design. From there, though, he winds up in an elaborate scheme that involves a faulty website, insistent reimbursements, and an expanding interconnected workplace that's centered around paying it forward. The power of this skit is that it allows us to see the many levels of Robinson's familiar screen presence, bouncing from overreaching to overdemanding to overly aggressive to overwhelmingly loud. It's the essence of this warped series in one skit: a minor social indelicacy that snowballs into a nightmarish, otherworldly experience. Fittingly, it just keeps on giving.
"Diner Wink"
These days, Bob Odenkirk is perhaps better known for his acclaimed starring roles in Better Call Saul and Nobody. But the veteran comedian found his first brushes of fame at the forefront of HBO's beloved sketch comedy series, Mr. Show with Bob and David. Therefore, it was a given that Odenkirk would excel in the demented world of I Think You Should Leave. Playing an affable, sunglasses-wearing diner customer who uses a stranger's casual lie to his daughter as an opportunity to paint his own elaborate make-believe world where he is rich, owns every type of classic car (including doubles and triples), has a wife (who's a model), and absolutely doesn't live inside a hotel, Odenkirk's well-established comedic and dramatic skills are both on display. He brings a mournful, bittersweetly funny humanity to this increasingly ridiculous, touchingly somber fantasy.
I Think You Should Leave with Tim Robinson is available to stream on Netflix (opens in new tab).
Will is an entertainment writer based in Pittsburgh, PA. His writing can also be found in The Playlist, Cut Print Film, We Got This Covered, The Young Folks, Slate and other outlets. He also co-hosts the weekly film/TV podcast Cinemaholics with Jon Negroni and he likes to think he's a professional Garfield enthusiast.
Your Daily Blend of Entertainment News
Thank you for signing up to CinemaBlend. You will receive a verification email shortly.
There was a problem. Please refresh the page and try again.