Real Housewives Of Potomac's Gizelle Bryant Responds After Being Called Out By Wendy Osefo For Those 'Eddie Rumors'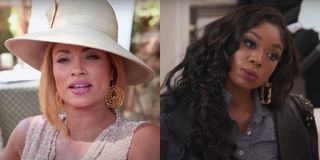 (Image credit: Bravo)
Uh oh, Gizelle Bryant (a.k.a. the Green-Eyed Bandit) has struck again. Her Real Housewives of Potomac co-star Wendy Osefo called her out for bringing up rumors about her husband during Season 6, which is currently airing on Bravo. Now, Bryant has a response for her about the so-called "Eddie rumors" – and it sounds a whole lot like doubling down.
In case you hadn't heard the "word on the streets" like Gizelle Bryant, those "Eddie rumors" being brought up allege that he impregnated one of his co-workers. Wendy Osefo discussed the rumors ahead of the Real Housewives of Potomac Season 6 premiere last week, and it was clear she wasn't happy with Bryant. Along with vehemently denying it, she implied that it was "premeditated" on Bryant's part and that she was "attacking" her family. However, Bryant still doesn't think she was in the wrong for bringing up the speculation. She told ET Online:
Fans of The Real Housewives of Potomac will automatically recognize Gizelle Bryant's rationalization concerning these shaky rumors about Wendy Osefo's husband. For the past five seasons, she has gotten in a lot of hot water for being one of the prime instigators of the drama. She famously asked Katie Price point-blank in a previous season if she had been "on something" and was "clean." Bryant has also questioned the validity and nature of almost all of her co-stars' relationships over the years.
But Gizelle Bryant has been feuding with Real Housewives of Potomac co-star Karen Huger for six years now, and it's still ongoing. Ahead of the Season 6 premiere, Huger had shared that she is keeping Bryant at an arm's distance. And judging from the cliffhanger in last week's episode, we can understand why. Bryant and Huger had a verbal sparring session that had Huger alluding to some cryptic trip to "Sing Sing" in the final moments. (I literally could not make up this kind of drama if I tried.)
It's obvious that the Real Housewives of Potomac cast is divided. Gizelle Bryant, Robyn Dixon and Candiace Dillard Bassett are on one side. Karen Huger, Ashley Darby, Wendy Osefo and the new girl on the other, for the most part. When Bryant was asked specifically about her thoughts on Osefo's claim that the "Eddie rumors" were premeditated, she only said, "That would require me to think about Wendy and I don't."
Needless to say, there's a whole lot of drama happening, which is precisely why The Real Housewives of Potomac has climbed the ranks to be one of the franchise's best spinoffs in recent years. Watch the new episode tonight at 8 p.m. ET to see if the Green-Eyed Bandit and the Grande Dame share more about Sing Sing (because those Eddie rumors will probably have to wait for another time).
Freelance writer. Favs: film history, reality TV, astronomy, French fries.
Your Daily Blend of Entertainment News
Thank you for signing up to CinemaBlend. You will receive a verification email shortly.
There was a problem. Please refresh the page and try again.