The Orville Producer Has Been Sharing Fun Behind-The-Scenes Photos To Get Us Hyped For Season 3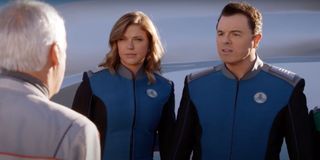 The hype for Season 3 of The Orville has steadily been increasing. Fans are so excited they'll watch Jessica Szohr play with exercise bands. Not that the anticipation isn't justified - the third season of the popular sci-fi show has been in the works since 2019. Now, The Orville co-producer Tom Constantino is amping the excitement to unstable proportions by sharing a crazy amount of behind-the-scenes content on social media as the series continues filming its new episodes for streaming on Hulu.
The Orville co-producer Tom Constantino definitely seems to be having fun with his most recent Instagram posts, and one particular cast image is sure to make fans happy. You can check out the snapshot down below:
These faces have been sorely missed. It's great to see this cast back together after a two-year absence, and they look just as excited to keep moving forward as the fans should be for new episodes. Other cast photos include Penny Johnson Jerald (Dr. Claire Finn) posing with Tom Constantino in full Orville uniform. The stand-out, however, has to be a particularly silly selfie of Adrianne Palicki (Commander Kelly Grayson) and Peter Macon (Lieutenant Commander Bortus) in full prosthetics and a funny filter.
In addition to cast hangouts, there's a ton of special effects to get excited about. Tom Constantino has been sharing the steps to creating The Orville universe. Fans can see multiple molds of Moclan heads in various stages of construction. There seem to be quite a lot of them, so it's likely that other Moclans besides Lieutenant Commander Bortus and his spouse Klyden will be appearing in Season 3. Tom Constantino also shared the construction process for the android Isaac's costume and some images of larger set pieces.
It's understandable that Tom Constantino wants to keep fans interested in The Orville as time continues to pass. The show's excellent second season aired back in 2019, and multiple delays have kept Season 3 from breaking the atmosphere. It was originally announced that The Orville would move from Fox to Hulu with Season 3 slated for a 2020 release. Obviously, this didn't happen - COVID-19 had other plans. The Orville then went back into production in late 2020, only to be shut down again following another COVID spike.
Luckily for fans, the spacefaring saga didn't give up. Production is back and should hopefully be completed soon. There's no word on when fans can expect the third season, although the wait should be worth it. Since the season will premiere on Hulu, it's possible that multiple episodes will release at a time, even if dropping full seasons is more the Netflix norm than Hulu.
Fingers crossed that Season 3 of The Orville flies back into our lives before the end of 2021. In the meantime, CinemaBlend will be sure to keep you updated.
Your Daily Blend of Entertainment News
Actor, singer, and occasional dancer. Likes: fashion, books, old buildings. Dislikes: cilantro, the NJ Turnpike, sneaker wedges.