Who Shot Jack On Virgin River? Martin Henderson Talks Reveal And Why He Wants Fans To Find Out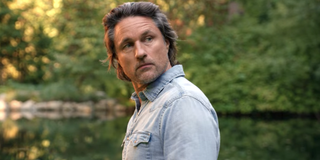 Of the many, many Virgin River Season 2 questions that fans wanted to be answered after the finale, the biggest was probably that of who shot Jack in his bar. Season 3 of the romantic drama hit Netflix just a little over a week ago, and any viewers who binged the new set of episodes will know that one cliffhanger which wasn't totally resolved for viewers was that of what exactly happened on the night Jack got shot, and who did the dirty deed. Now, star Martin Henderson talks the reveal and why he wants audiences to find out.
Virgin River Season 3 made quick work of making sure fans knew what became of Jack after his shocking shooting at the end of the previous season, and I'm sure many of them (if they're anything like me) were surprised to find out that the first episode skipped over all of Jack's recovery to show him back up on his feet and trying to take care of everyone around him again. But, by the Virgin River Season 3 ending, we still didn't have a clear picture of who shot Jack.
Star Martin Henderson recently opened up to Entertainment Weekly about that still dangling cliffhanger, and after noting that he does know who tried to kill Jack, also said:
Well, I never! How dare they, right? I mean, the whole slow buildup of Season 3 was pretty good, though.
Look out! SPOILERS COMING...We saw that Jimmy had been arrested, Calvin had disappeared and his illegal drug businesses shuttered (at least for the time being). And, then, we also got to watch bad boy Brady try to run his logging business totally above board, but have trouble, and try to redeem himself.
Brady then became romantically involved with Jack's sister, Brie, who had no idea about his criminal past and trouble with Jack. Making it extra difficult for the new couple when Brady had to admit he was in the bar the night Jack was shot, and when Brady was arrested for the shooting (as Brie looked on) in the finale. With Calvin popping back up late in the season and telling Brady that the charges against him didn't stick, and attempting to force Brady back into his illegal dealings (which Brady refused), it's looking a lot like the young man was framed for Jack's shooting. END SPOILERS!
You know what? Never mind; it kinda seems like they were right to delay that reveal in the name of good drama, doesn't it?
While Martin Henderson didn't say why, exactly, showrunner Sue Tenney and her team decided to hold off on telling us who shot Jack and revealing the full picture of what went down in the bar that night, he did say that they don't plan to delay the information indefinitely, and he wants viewers to know the answer as much as we do, adding:
Jack is still very unsure of how much of a role Brady may have actually played in his shooting, though we all know that his fellow Marine definitely did some dirty work for Calvin for way too long. Hopefully, future episodes will reveal that Brady really is on the path to redemption. But, we're going to at least need to see Season 4 to find out what actually happened that night.
While Virgin River Season 4 hasn't been officially announced yet, the series is a big winner for Netflix, so it's incredibly likely that fans will get to find out who shot Jack. Until we know more, be sure to see what you can watch right now with our 2021 summer TV schedule, see what else is coming by the way of Netflix TV premiere dates, and take a look at the upcoming romantic TV shows to help fill the Virgin River void in your heart!
Bachelor Nation, Gilmore Girl; will Vulcan nerve pinch pretty much anyone if prompted with cheese...Yes, even Jamie Fraser.
Your Daily Blend of Entertainment News
Thank you for signing up to CinemaBlend. You will receive a verification email shortly.
There was a problem. Please refresh the page and try again.