Kate Winslet Had The Best Reaction To SNL's Mare Of Easttown Parody (But Nothing About Bowen Yang's Titanic Parody)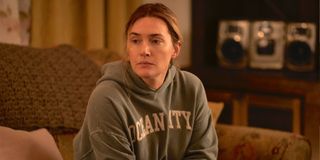 Saturday Night Live is known for doing parodies, so it wasn't a surprise when the sketch comedy show parodied HBO's limited series Mare of Easttown a couple of months ago. Now star Kate Winslet finally speaks out about what she thought of it, though she never mentioned what she thought of a parody to another one of her iconic projects: Titanic, courtesy of Bowen Yang.
In a sketch for the May 9 episode, Saturday Night Live did a parody of Mare of Easttown, titled "Murdur Durdur." The supposed commercial is for an ad for a new TV show that follows a Pennsylvania detective trying to solve a murder. However the accents are very strong and a little hard to understand, which is the whole point. Kate Winslet, who stars on the series as Detective Mare Sheehan, shared her reaction with EW:
It seems like Kate Winslet is enjoying the reception that Mare of Easttown has been getting and it's so great that she loves hearing what other people think of it. The actress even brought up a British program, Gogglebox, where UK residents react to TV shows. One episode of the show involved people reacting to the fifth episode of the HBO series. Winslet compared Gogglebox to the SNL sketch and both are still getting love from her and her family:
In case you haven't checked out the Mare of Easttown sketch from SNL that has so delighted Kate Winslet, you can watch it below!
While Kate Winslet is raking in those Mare of Easttown parodies and reactions, there is another parody that Saturday Night Live did not too long ago of another one of Winslet's projects. During one "Weekend Update" segment, cast member Bowen Yang appeared on the news sketch as the iceberg that sank the Titanic, since it was soon to be the anniversary of the ship's sinking.
It was hilarious and different, and a way to remember the iconic movie. Even though Kate Winslet has voiced no opinion on that parody, plenty of people watched, as the view count is currently over 3.4 million! Take a look:
As an HBO limited series, Mare of Easttown had its finale at the end of May and many people had strong emotions and reactions to how it ended. Even legendary writer Stephen King gave his two cents on the series. It was an exceptional hit for HBO and whether or not the series gets a surprise second season, at least fans can revel in the parodies.
Passionate writer. Obsessed with anything and everything entertainment, specifically movies and television. Can get easily attached to fictional characters.
Your Daily Blend of Entertainment News
Thank you for signing up to CinemaBlend. You will receive a verification email shortly.
There was a problem. Please refresh the page and try again.