How The Haves And The Have Nots' Reneé Lawless Felt Filming Katheryn's Brutal Death In Tyler Perry Drama's Finale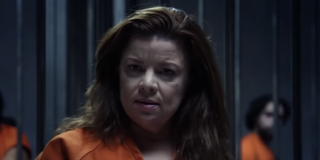 Tyler Perry's The Haves and the Have Nots came to an end after eight immensely dramatic seasons back in July, and the finale packed in enough twists that a Season 9 just to explore the aftermath wouldn't have been unwelcome. That said, the finale also saw some big deaths, so at least some characters wouldn't be back even if The Haves and the Have Nots did somehow return. Reneé Lawless' Katheryn Cryer was one of those to die, and she went out with a brutal on-screen death that left the actress with some distinct feelings about the experience, which she has shared.
In Part 2 of The Haves and the Have Nots final cast reunion on OWN, Reneé Lawless shared her reaction to filming Katheryn's death as she was strangled to death in her jail cell in the series finale. Lawless, whose character's death was dubbed "the series finale's most shocking death scene" by cast reunion host Egypt Sherrod, shared her perspective:
While characters getting shot or stabbed or blown up in TV and film can be accomplished with some special effects magic, filming Katheryn's up-close-and-personal death scene couldn't be faked by just throwing in some blood squibs and asking Reneé Lawless to pretend to be mortally wounded. According to the actress, she really did have a rope around her neck for the strangulation scene, and I for one don't blame her for considering it too real for comfort.
After all, it was an action-packed scene in a small space, and I know I would have been concerned that things would take an accidental and very dangerous turn during filming! Still, I don't think anybody could claim that she didn't get the big dramatic death scene she always wanted as an actor. The scene started with Katheryn demanding a phone call and telling her cellmate not to talk to her, not realizing that her cellmate wasn't messing around with her threats.
In fact, the woman in her cell was Diamond Castillo, Lizzy Castillo's aunt who had a bone to pick with Katheryn for covering up Lizzy's death. Diamond came to the conclusion that there was one reason why she was put in that cell with Katheryn, and... well, in case you missed it or just want to watch Reneé Lawless' performance in Katheryn's final scene again, take a look at what happened:
Kudos to Reneé Lawless for filming a harrowing death scene with the real rope! Obviously the real process of filming wasn't as brutal as what the character went through, but her performance was definitely believable and made for an unforgettable ending to Katheryn's story after so many years. Whether or not it was a satisfying ending for the character is up for debate between fans, but there's no denying that she got a big exit. And Katheryn certainly isn't the only character to go out in a big way!
If you want to relive the journey of Katheryn and all the rest from the beginning, you can find the first seven seasons of The Haves and the Have Nots streaming on Hulu now. Plus, if you're in the market for some new viewing options now that the series has come to an end, our 2021 fall TV premiere schedule is packed with what shows are on the way.
Resident of One Chicago, Bachelor Nation, and Cleveland. Has opinions about crossovers, Star Wars, and superheroes. Will not time travel.
Your Daily Blend of Entertainment News
Thank you for signing up to CinemaBlend. You will receive a verification email shortly.
There was a problem. Please refresh the page and try again.