Simone Biles And Taylor Swift Share All The Love Over Touching 'Hero' Promo For Olympics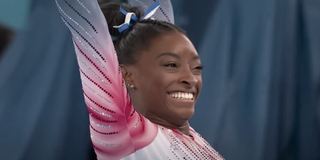 The 2020 Tokyo Olympics are long overdue and now that they are in full swing, people around the world have been tuning in day and night to see their country try to take home a medal. Over the last week, Team USA's fan-favorite gymnast Simone Biles bowed out of several events to focus on her mental health. And NBC and the Olympics released a new promo following news that Biles would be returning to compete in the balance beams portion of the event and it features none other than Taylor Swift.
In the promo narrated by Taylor Swift, clips are shown of Simone Biles and what happened with her at the beginning of the games. In the background, Swift's song "this is me trying" is playing as Biles discusses her mental health. Swift praises the gymnast via voiceover, calling her a "hero" and Biles responded in the most touching way:
Following the tough decision to withdraw, Simone Biles received love and support from many, and to have Taylor Swift in the mix as well is likely more than a dream come true. When she competed in the beams event, she earned a bronze medal and was visibly satisfied with her performance after the dismount. Fans and teammates had been rooting for her and were appropriately excited when they heard she'd be returning. Swift, always one to give back and support her peers, responded to Simone Biles and praised her even more:
As a four-time Olympic Gold Medalist at just 24 years old, the pressure to be perfect is a lot on Simone Biles. Health should always get to be a #1 priority, whether it's mental or physical. And with the games getting pushed back a year because of the pandemic, it gave athletes more time to really push themselves. It couldn't have been easy to walk away from multiple events, but Biles has a great support system in her family, her team, and fans who want the best for her.
If anyone knows pressure from the public, it's Taylor Swift. The singer-songwriter has been making some headlines as of late for her re-recordings and ongoing battle with Scooter Braun and Big Machine Records. And she knows when it's time to step away from the limelight for a bit to just work on herself, as she's done that a lot with quarantine last year. The pressures from the public are not easy to deal with and Simone Biles has taken it in stride while competing in the Olympics.
Passionate writer. Obsessed with anything and everything entertainment, specifically movies and television. Can get easily attached to fictional characters.
Your Daily Blend of Entertainment News
Thank you for signing up to CinemaBlend. You will receive a verification email shortly.
There was a problem. Please refresh the page and try again.